High Peaks Pure Earth has translated a blogpost by Woeser written on October 6, 2011 for the Tibetan service of Radio Free Asia and posted on her blog on October 12, 2011.
This series of posts covers Woeser's travels to Amdo, Kham and Lhasa that started in Summer of 2011 and follows on from the last post "The Used Geta Rinpoche". Woeser continues to delve into the history of Kham with this post. Readers who want to know more about Gonpo Namgyal are encouraged to track down a paper by Tibetan scholar Tashi Tsering titled "Nagron Mgonpo rnam-rgyal: a 19th century Khampa Warrior".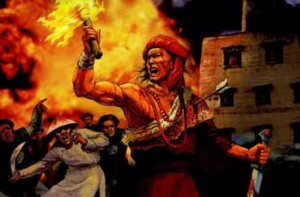 Gonpo Namgyal came from a rich chief family that used to forcefully seize territory and was by the Communists referred to as a hero of the peasant rebellion who "is in tune with the public will", along the lines of "where there is oppression there is resistance". This is an image introducing Gonpo Namgyal found on an official government website.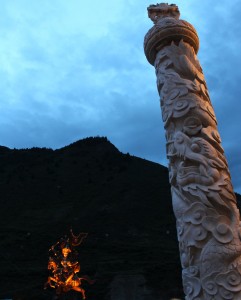 On the square of the tiny Nyarong county town there is a statue of King Gesar (or is it a hidden Gonpo Namgyal?); there is also a pillar engraved with a grimacing dragon spiralling around it. Photo by: Woeser. (I have more photos from Nyarong, which I will share next time)
"Nyarong County's Gonpo Namgyal"
By Woeser
In Tibetan language, Nyarong County has two different names, one is Nyarong, which means river valley running through a glade; the other one is Chakdu, which is related to a famous local senior monk. The former (Nyarong) has been more popular among Tibetan people. In Mandarin, the place also has two names, one is Zhanhua, which derives from the early Republican Period and which means "Chakdu to be assimilated"; the other one is Xinlong, which came into existence in 1951, conveying the message that "with the dragon comes new life". It is obvious that those two names both contain the meaning of "being colonised".
I lived in Kham for many years, have been to many places in north and south Kham, but I have never been to Nyarong, it has simply never been on my way. I knew that it was a place with valiant and well-known folkways, and also with widely known and almost fanatical religious practices. Once in winter at Jokhang Temple I met two tall prostrating Lamas from Nyarong who had pilgrimaged to Lhasa; when they faced the statue of Shakyamuni Buddha they lit their thumbs that were soaked in butter oil – burning ones fingers to sacrifice to Buddha is an ancient tradition and ascetic practice and used to symbolise the highest and most complete level of devoutness.
When we left Kardze by car, we followed the river towards Nyarong and arrived there in only five or six hours. Along the sides of the road one could see the verdant mountain slopes that already showed patches of deforestation, even traces of excessive logging with stem over stem of cut down trees being scattered across the slope. Especially shocking was the soil erosion that had occurred as a result of newly opened mountain roads, appearing like a long scar on the surface of the earth; later on I came to know that the roads were all used to transport ore. As we approached the county town, I saw rows of unified Tibetan style houses with their roofs all painted in bright red or dark blue; it seemed that these were the results of "Socialism's new countryside".
The county town was small, with only three roads. Yet, the hotel was fully booked, full of tourists. Nowadays, most of the tourists coming to Tibet are Chinese; also, since March, the Tibetan areas of Sichuan province have all been closed to foreign tourists. After we found a hotel run by a local Tibetan to stay the night we went out to walk around the small town. A bridge crossing the town and the river reminded me of a photo that I had recently seen online: three young Tibetans are walking along this little bridge, disseminating leaflets while walking and chanting slogans. Presumably, they have already been arrested, we just don't know about the length of their prison term.
I also remembered the famous legendary person from Nyarong, Gonpo Namgyal, who, about a hundred years ago, was known as an ambitious and ruthless character. He not only robbed the headmen of nearby tribes, he also went to war with the Qing court who had killed his father and he even fought against the government of Tibet in Lhasa. What is interesting is his idiotic declaration of wanting to fight his way to Lhasa, steal the Jokhang Temple statue of Jowo Rinpoche and take it back to Nyarong so that from then on all Tibetan pilgrims would no longer have to travel all the way to Lhasa to prostrate but instead would pilgrimage to his hometown to pray.
Gonpo Namgyal came from a rich chieftain family that used to forcefully seize territory and was by the Communists referred to as a hero of the peasant rebellion who "is in tune with the public will", along the lines of "where there is oppression there is resistance", just like Chen Sheng and Wu Guang and many other similar figures that are ubiquitous in the history of China. Some propaganda articles describe how he "beat local tyrants and divided up the land", how he won the hearts of the common people and almost portrayed him as a Communist Party member who "led the common people to liberation".
Why is it like this? It is because in Tibetan history, there have almost never been any peasant rebellions, and this fact does not correspond with the Party's definition of traditional Tibet as the "darkest" serf society. As a result, Gonpo Namgyal was a treasure and widely praised; they even adorned him with the laurels of being the "hero of the peasant rebellion". In today's Nyarong, we not only find the "relics of the Bulungwa stronghold", many hotels of the County government have even changed their names into "Bulungwa Grand Hotel". Bulungwa is the nickname of Gonpo Namgyal and means "blind man".
Lhasa, October 6, 2011