High Peaks Pure Earth has translated a blogpost by Woeser that was originally written for broadcast on Radio Free Asia on October 13, 2010 in Lhasa and posted on her blog on October 18, 2010.
The awarding of the Nobel Peace Prize to imprisoned Chinese dissident Liu Xiaobo on October 8, 2010, created international headline news. In this article from her blog, Woeser congratulates Liu Xiaobo and recounts his articles and views on Tibet. As she notes in her article, Woeser has known both Liu Xiaobo and his wife, Liu Xia, for several years and, as noted before on High Peaks Pure Earth, Woeser was the only Tibetan amongst the original signatories of Charter 08.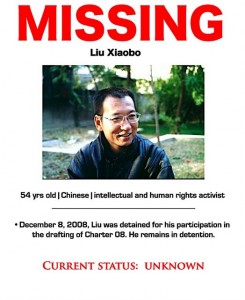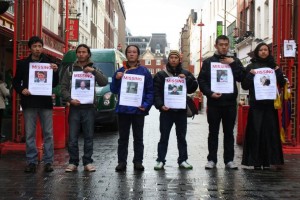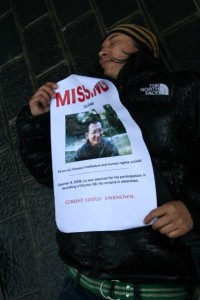 The pictures above show a group of young Tibetans demonstrating on the streets of Chinatown in London, UK on March 10, 2009: in the drizzling rain, they lie on the ground, each of them holding up a poster reading "Missing". 6 people have gone missing, all of them are Beijing's prisoners, 4 imprisoned Tibetans and 2 Han Chinese: Liu Xiaobo and Hu Jia, who have raised their voices for Tibet when fighting for the protection of human rights. One of the protesters, Tenzin Jigdal, said: "These 6 cases make me feel immensely sad about the plight of both Tibetan and Chinese people who are not free to speak out. The Chinese government needs to respect Tibetans and their wishes as well as those of their own people and listen to their voices instead of detaining and imprisoning them".
"Liu Xiaobo: 'Han Chinese Have No Freedom, Tibetans Have No Autonomy'"
By Woeser
I was on the train about to arrive in Lhasa on October 8th when I received a text message from my friend in Beijing saying: "he won the prize". I understood the meaning of this text message and knew that Mr. Liu Xiaobo had won the Nobel Peace Prize! Feeling really excited, I sent a message to his wife, Liu Xia, to congratulate her but I don't know if she received it because when I tried to call her, her mobile phone was switched off. Then I sent the following message to many of my friends, Tibetans, Chinese, foreign journalists based in Beijing: "Let's cheer for the first Chinese person to win the Nobel Peace Prize!"
I have known Mr. Liu Xiaobo for many years, in fact, I have never referred to him before in such a formal and distanced way. I still remember that night when he asked me in his stammering voice on Skype to please sign my name under "Charter 08" as a sign of respect and trust towards him and in memory of his long support of and consideration for the Tibetan issue. I signed my name without any hesitation. Shortly afterwards, he was arrested in his home and one year later, concealed by the haze of Christmas celebrations, he was sentenced to 11 years imprisonment. We will never forget when journalists from international media asked his wife, Liu Xia, how she felt, and she replied: "I think one day would already be too long, how are 11 years justified?!"
I'd like to explain Mr. Liu Xiaobo's position with regards to the Tibetan issue. First of all, after the Tibet-wide protests of March 2008, which the central government forcefully repressed, thus leading to a deterioration of the situation in Tibet, 30 Chinese intellectuals joined forces and approached the central government with 12 suggestions of how to solve the Tibet issue. They did not only gain a big response from within China but also attracted attention internationally and managed to motivate almost 300 Tibetologists and academics to write a joint letter appealing to President Hu Jintao to find a solution for the Tibet issue. Mr. Liu Xiaobo was in fact the initiator of those 12 suggestions.
He even wrote several related articles. He wrote in "The Crisis in Tibet is the Failure of Materialist Dictatorship": "Materialism propagated by the CCP does not take into account that religion holds such great spiritual meanings for human beings, it also fails to understand the spiritual significance of the Dalai Lama for the people of Tibet; the Dalai Lama, who was forced into exile, is not only the spirit of the culture of the Snowland, he is the symbol for the resistance of small and weak citizens against the mighty power of the Han Chinese. Denying a devout citizen the right to meet his spiritual leader for more than 40 years is like depriving Tibet of its core values. To accuse and defame the Dalai Lama is like taking a knife and cutting out the Tibetan people's heart."
In "Han Chinese Have No Freedom, Tibetans Have No Autonomy", he wrote: "As long as the Han Chinese are still living under a dictatorship, it is unlikely that Tibetans will gain freedom before the Han do; as long as inland people are unable to gain proper autonomy, it is unlikely that Tibetans or other ethnic minorities will. Accordingly, solving the Tibet issue fundamentally depends on solving the problems of the political system of China in its entirety. Regardless of what methods are adopted in the future to solve the Tibet issue, a political precondition is that China as a whole undergoes a process of democratisation."
In yet another article, Mr. Liu Xiaobo states more straightforwardly: "In order to really achieve 'great Chinese-Tibetan unity', the Han Chinese need to learn to respect beliefs. And the best way to show this respect is to let the spirit of the Snowland, the Dalai Lama, return home."
As for my own case, when I was punished by the government for a book I wrote about Tibet, Mr. Liu Xiaobo expressed support for me and wrote vWoeser's Beliefs and the Party's Atheism", in which he pointed out that "traditional Tibetan Buddhism is flexible and radiant, just like the transparent sunlight on the plateau of the Snowland, nonviolence is its most important characteristic. The atheistic Party, on the other hand, is stiff and gloomy, just like the dark grave where the Qin Emperor's tyrannical body is buried, power and violence are its most important methods, which it maintains. Hence, the confrontation between a female Tibetan writer and an old political power is actually the confrontation between freedom of belief and the restriction of belief; it is also the confrontation between dignity and humiliation; and it is even more the confrontation between flexible belief and stiff violence. Many times, the Party would first threaten and then repress religious belief as well as politically controversial opinions and then it would show the world its obscene and brutal features characterised by atheistic materialism".
Therefore I am taking this opportunity to extend my deepest respects to the well-deserved winner of this year's Nobel Peace Prize, Mr. Liu Xiaobo. On an auspicious day, I intend to go to the sacred temple in Lhasa to pray that he will also get his freedom back soon! At the same time, I would also like to pay my respects to the Nobel Prize Committee, which did not fear the pressure from the Chinese Government and awarded the Peace Prize to a Chinese dissident, which, after all, manifests the true spirit of the Nobel Peace Prize.
Lhasa, October 13, 2010.