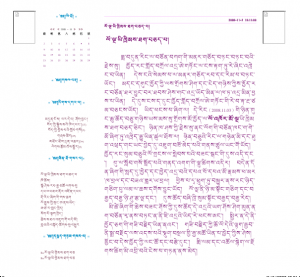 High Peaks Pure Earth has translated two blog posts by Jamyang Kyi regarding her friend Norzin Wangmo (Nor 'dzin dbang mo). The first post was written on 26th June 2008, where Jamyang Kyi is wondering what has happened to her friend and where she voices her sadness of not knowing.
In the second post on 3rd November 2008 (http://www.tibetabc.cn/user1/jamyangkyi/archives/2008/2008113181128.html) note that this post has since been removed, see picture above for how it looked), Jamyang Kyi learns that her friend has been sentenced to five years imprisonment.
Jamyang Kyi's post is interesting in many ways, it not only reveals names of Tibetan people who have been detained but she tells us that another Tibetan named Go Sherab Gyatso (sGo she rab rgya tsho) has gone missing, that his phone no longer works and also wonders what has happened to another blogger called Tsawa Da nyuk (Tsha ba mda' smyug), who hasn't posted since the troubles began.
What is most interesting is the human side of the story, here a woman is longing for news of her friends with apprehension and sadness. The way in which Jamyang Kyi is speaking to her friend in the blog is moving and we can sense the tragedy of the story, a bright and young child left behind and youth wasted in the darkness of a prison cell. The protests in Tibet destroyed the lives of so many bright people who were at the forefront of cultural activism in Tibet. It is apparent that Jamyang Kyi and Norzin Wangmo are close friends who share mutual interests in literature and writing. It appears that Norzin Wangmo is also a writer and whilst in detention her articles titled Games of Politics (chabs kyi rtse mo'i sko ra) was published in the magazine "Popular Arts" (Mang tshogs sgyu rtsal). In the second post, Jamyang Kyi posts additional information about Norzin Wangmo and the charges made against her.
According to Jamyang Kyi, Norzin Wangmo was charged with sending emails (dra thog) and making phone calls abroad. Norzin Wangmo is from Ngapa Trochu County (rNga ba Khru chu Dzong, Heishui 黑水县). She is thirty years old and worked at the Judicial Bureau of Trochu County (Khru chu Dzong khrim 'dzin chu, 黑水县司法局).
Here we have translated Jamyang Kyi's two blog posts from the original Tibetan. For more background information on Jamyang Kyi please see the previous post on High Peaks Pure Earth called "They…".
*19th November 2008 update: Since posting the translations, High Peaks Pure Earth received the following photo of Norzin Wangmo: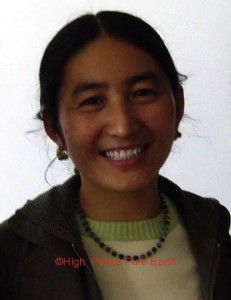 "To Radiant Norzin Wangmo la" by Jamyang Kyi
June 26, 2008
Dearest friend,
When I came out of that darkly lit cell, you certainly must have been taken to a similar house. I pray to the Three Jewels and wait for the word of your release. My hopes linger from day to day and it has been two months of waiting. Yet, as time passes, I haven't heard a sound about you.
The feeling of longing fills me with nothing but sadness. Today, it is raining and the weather is filled with gloom as I look at the peak of greenish hills from the government office. Around this time last year, didn't we go over those hills with our children to have a picnic? That day we talked and talked about future aspirations and dreams in our hearts. You said to me that you were happy that you had met me. As for me, I am even more elated to have met you. You are one of few women with dignity and self-respect that I have met in my life. To me, that is more precious than a diamond. I know you very well. From my own experience I can assume that in the last two months they have been endlessly tormenting you mentally and physically.
Dear friend, when I think about the mental suffering you might be going through, my heart is torn apart. The word is that you have been taken to Chengdu, the capital of Sichuan Province. Till now we have kept the news of your situation from your son. In truth, where can you be? Even though you are in my mind every single day, you haven't come into my dreams even once.
My book on women that you diligently helped me to revise has finally been published. When the book arrived in Xining, that day was filled with sadness for me. You and Dorje Tsering, who helped me to revise the book, are now locked up separately in dark places. You phoned me a few times worrying about the delay in publication of my book. This is a memory that you left behind for me. Your article titled the Game of Politics has already been published in "Popular Arts" (Mang tshogs sgyu rtsal).
Go Sherab Gyatso (sGo she rab rgya tsho), the one you were enquiring about, was arrested a few months earlier. His phone has been cut off and we have no idea about his whereabouts. When people like you have disappeared so suddenly, one after another, I can do nothing but live helplessly and hope day by day. Tonight my heart is aching with sadness and the thoughts of all of you become stronger.

"Norzin Wangmo la…" by Jamyang Kyi
November 3, 2008
After 7 months of imprisonment and repeated torture inflicted on you, all this time I hoped that they might someday release you. And this wish that I cradled brought all forms and shapes of suffering to me. Last night I met with one of your colleagues and we talked about if there was any way to secure your release. I had my hopes high then.
But unfortunately today (November 3rd, 2008), around 12 noon, I heard that you are sentenced to 5 years. I also heard that after some time you will be moved to one of the internal prisons and for the next ten days, it seems that they will not let your relatives visit you. You are in your thirties, the prime of your life, and this is also an important stage in your son's upbringing where your advice and guidance are crucial.
For the truth you, and many other heroes like you, had to separate from your parents, partners, and walk alone leaving your children in a destitute state. Five years is one thousand eight hundred and twenty five days. Forty three thousand eight hundred hours. How sad it is to spend the prime of one's life within these dark walls of prison? Even though you can take pride in the sacrifice and courage you exhibited, you are also well aware that the reality behind this name and courage lies in the unspeakable ocean of suffering. These experiences can hinder your growth, love and dreams.
One thing that relieves my heart is when I heard that you were set and determined to face the challenges that lies ahead. The most difficult challenge must be the thought of separation from your bright son Dhondup Dorje (Don grub rdo rje). If the two of you consent, I have a genuine wish to raise Dhondup Dorje like my own son. Since you have the courage to go to prison for the sake of truth, likewise your son cannot be just an ordinary boy. I have always held and treasured Tibetans like you in the depth of my heart.
Tsawa Danyuk, (tsha ba mda' smyug) the bright young man from Kham hasn't participated in the blog for a long period of time. I have been cautious and worried these days thinking if anything has happened to him. If anyone knows anything, it is my hope that it will be brought to the attention of people.
I will consider today as an important day in my mind. Dear brave friend, Norzin Wangmo, you are close to my heart. I, truly, am helpless and I have only few tears to see you off.
An additional matter is that I would like to ask whether I should let your son Dhondup Dorje know about your imprisonment. Secondly, as I talked about before, I would like your son to study Tibetan well. And my ultimate hope is that there may not be any obstacles to your life and well being of your health.