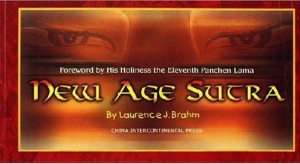 The following blog post was originally written for Radio Free Asia by Woeser and published on her blog on August 22nd 2007. For High Peaks Pure Earth readers who are curious about Laurence J. Brahm, read about his books on China Tibet Information Center's website and more about him on China Today's website.
Following the opening of the Qinghai-Tibet railway, the House of Shambhala hotel has opened as befitting the times. It is situated in Lhasa's old Barkhor district in the middle of a residential area, the area is mostly made up of new houses replacing old ones.
House of Shambhala is a kind of not big but very exquisite boutique hotel and inside, the construction imitates Tibetan courtyard-style architecture.
The hotel also emphasises "Tibetan culture" and it is apparent that the "Yarlu Tsangpo Hotel", which is like an upstart, can not be comparable to the House of Shambhala. The latter looks much more authentic, especially in the sense that much attention was put into details, as is the case of the splendid designs of Tibetan-style window frames, the carved stone images or carved scriptures which are placed on the walls, or pleasantly asymmetrical Tsatsas (miniature statues) etc. All this makes the House of Shambhala the most authentic Tibetan hotel.
However, the problem lies in the fact that its appearance highly resembles a temple. Hotels are not temples, just like hotels are neither Christian churches nor mosques. Everything in the world originally has its proper place, if there is a tendency insistently to make hotels look like temples then is this not a kind of ignorance and arbitrariness? At the House of Shambhala, I saw an old Tibetan Buddhist pilgrim mistake the place for a temple, entering whilst respectfully bowing her head, turning the tall prayer wheels at the door of the hotel with her hands, her mouth mumbling away but she quickly stopped to look around the courtyard in bewilderment, her face expressing confusion, not knowing what to do, as she turned around and ran away.
I still to this day remember the expression on her face, which is bewilderment as a result of one's pious aspirations have not been settled but does not know where to place them.
House of Shambhala was opened by an American called Laurence J. Brahm (Chinese name: ???, Long Anzhi), who is well-known in Lhasa now. He is not only a very successful western businessman in China, but also a writer who has written a dozen books about China. And what the Chinese government likes most about him is that he often writes for English publication articles in which the fundamentals are very similar to those of the People's Daily. Recently, he nurtured a keen interest for Tibet, and wrote several books whose main topic is Tibetan culture. His documentaries have been used by the Chinese government as a propaganda tool, he shakes hands with government officials and was the first foreign disciple of the CCP's Panchen Lama. It's even said that his son recently became a tulku (reincarnated Lama) at a Tibetan monastery overseas.
Visiting his hotel, you would note that he uses the concept of Shambhala to build a new Tibet which has nothing to do with Tibet as it is known now. "Shambhala" is originally an ideal world of Tibetan buddhism but he turns the concept into a hotel; therefore he intentionally has the hotel look like a temple in order to provide strangers with the feeling that they are staying in a "harmonious Tibet", without suffering or risk. It does not matter much if this "harmonious Tibet" only is an imitation or legend, however, books written by him are displayed in every room. In his books, he skilfully carries out misinterpretations about Tibet today which lead to spreading misconceptions. The aim is to ingratiate himself to the ruler of this piece of land. Tibet in fact has been turned into a symbol of consumerism; it is more a tool for him to earn more money. He is a true cultural imperialist. Tibet represents not only a money-making tool but also a garden and a stage on which to fulfil his imperialist interest.
I once saw Laurence J. Brahm at Lhasa's Gendun Choephel Gallery at a lecture about art. There were painters, art lovers and foreigners studying Tibetan culture present. The little room was completely full. Amid the lecture, a foreigner wearing elegant clothes, sunglasses, and latching a big dog as white as his hair suddenly appeared and quickly disappeared after saying goodbye in a very fluent Beijing-accented Chinese. The entire process was carried out in a very theatrical, exaggerated and artificial way.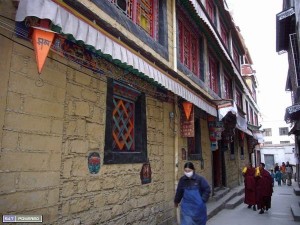 A hotel resembling a temple – House of Shambhala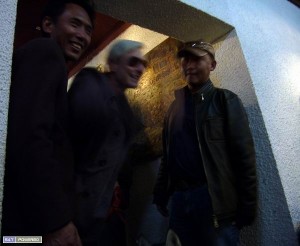 Laurence J. Brahm
(in the centre, the silver-haired man wearing sunglasses)