High Peaks Pure Earth has translated a profile of well-known Tibetan comedy actor from Lhasa, Tashi Dhondup. The profile was distributed via a WeChat Channel on June 26, 2018.
The profile is a summary of an interview with Tashi Dhondup for Kham TV and combines biographical information, photos and quotes from Tashi Dhondup himself. The interview was recorded as part of a series on contemporary Tibetan filmmakers and actors.
For more Tibetan humour, see our post of Tibetan jokes from the beginning of this year.
Interview with Tibetan Comedy Actor Tashi Dhondup:
"Life is Like a Comedy, It Needs Joy and Sorrow to be Complete"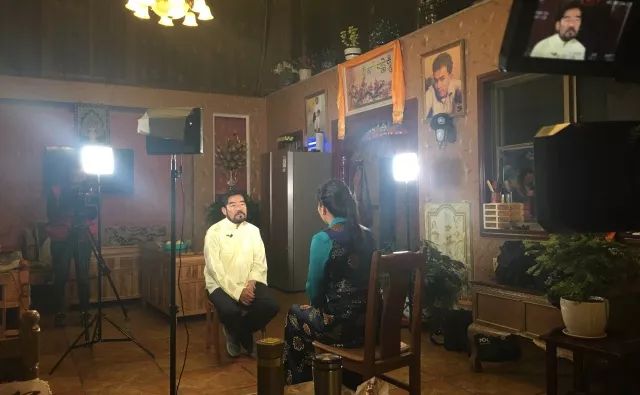 Tashi Dhondup Representative Works: "Lhakpa the Drunk", "Wishing you Peace Year after Year"
Tashi Dhondup is a famous Tibetan actor who has played countless classic roles and whose impatiently awaited sketches are a "must" at the annual Tibetan New Year's Eve show.

"It is extremely gratifying to perform on stage, regardless of whether I have to cry or anything like that. When I play a character, for example an old man, I become him and am no longer Tashi Dhondup. Some elements I don't even understand myself, I have to look for them and experience them in my life." –Tashi Dhondup
"Lhakpa the Drunk"
"In 1992, to prepare for the 'Lhakpa the Drunk', I went to many bars. I would always buy chang for one Yuan, just as the person sitting opposite me; and then we would toast to each other. It allowed me to observe how this person who had just come in changed after drinking, what he was saying and how he would behave and move after coming back from the toilet. When I returned home, I would take notes. I did this many times and then converged all the different characteristics that I observed on the body of the Lhakpa the Drunk." –Tashi Dhondup
Tashi Dhondup was born in the countryside. His mother died an early death, while his father was sick. Without hesitation, the young Tashi Dhondup shouldered the heavy burden of taking care of the family. At the time, the Tibet Autonomous Theatre Troupe came down to the countryside to recruit the best young actors. The young and handsome Tashi Dhondup who could sing and dance was selected. It was a life-changing opportunity for him. As someone who had grown up in poverty, Tashi Dhondup all the more treasured this unexpected opportunity to study and work. He wanted to work hard to give his audiences the utmost pleasure and happiness. It was the best way for him to repay the opportunities that life had provided him with.


In 1997, he was awarded the first prize, the plum award, of the China Theatre Festival for his performance of "The Panchen Lama's Journey to the East" and was thus the first Tibetan actor to be awarded this prestigious prize.
"Charlie Chaplin's sketches are silent, they only include the sounds of laughter. But if one takes them to the heart, one will also cry, because all of them include sad elements. When we are on stage, we are continuously performing, continuously being funny; this is the same for the audience, just like continuously chewing when eating bubble gum; but they will slowly understand what we are talking about." –Tashi Dhondup

Tashi Dhondup's experiences growing up in poverty are his assets, allowing him to play characters that others cannot; his artistic origin is life itself; but only if one continuously polishes oneself and tries to progress can art go beyond life itself. Without a doubt, Tashi Dhondup is this kind of excellent actor who is able to carefully observe life, while also continuously finding new forms of expression. Tashi Dhondup has been acting funny characters for years, but in real life, he has also experienced unknown grievances. But these would never let him abandon his path to make his audiences happy and cheerful.
"Sometimes I do think to myself, well, now I am already retired, I should just enjoy my next New Year. But when it comes closer, everything changes; I am concerned about my audiences, because they are expecting me. This performance is my destiny. So I have to persist. I want to keep creating and passing on happiness and joy." –Tashi Dhondup