High Peaks Pure Earth has translated a blogpost by Woeser written on January 16, 2011 for the Mandarin service of Radio Free Asia and published on their website on March 14, 2011. 
In this blogpost, Woeser reflects on the importance of collective memory for Tibetans and focuses on the autobiography of Naktsang Nulo which has been translated into Chinese and was published in Taiwan on March 10, 2011. 

The autobiography of Naktsang Nulo titled "The Joys & Sorrows of a Boy from Naktsang" was originally written in Tibetan and published in June 2007. The newsletter of Trace Foundation's Latse Library 2007-2008 Volume 5 contains some background information to Naktsang Nulo and his work. The newsletter tells us:
The book was not published by a formal publishing house, but was printed by the Siling (Xining) Tso-ngon (Qinghai) Printing House in a run of 3,000 copies. Generally, books of Tibetan literature in China are printed in runs of no more than 2,500 copies. Despite the fact that Naktsang Shilu Kyiduk was not published by a formal publishing house, and therefore had no established means of distribution, the first run of 3,000 copies sold out in six months, and the book had to be reprinted, an unusual occurrence for a work of Tibetan literature.
To read the full article and also an excerpt of the book translated into English by Lauran Hartley and Pema Bhum, download the Latse Newsletter (in pdf form) from this link: http://www.latse.org/newsletter/2007vol5num1/Latse_Newsletter_no5_web.pdf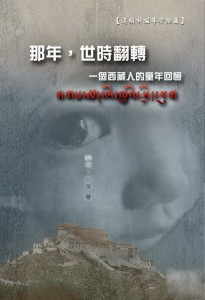 Cover of Chinese language edition of Naktsang Nulo's autobiography
"I Remember, Therefore We Are"
By Woeser
Eastern European author Milan Kundera once said: "The struggle of man against power is the struggle of memory against forgetting". This does not mean that "man" wants to forget, but rather that "power" or authority, is forcing "man" to forget, so that their constructed lies become the collective memory. The true memories of man are thus forfeited and destroyed.
The truth is, until now Tibetan people have always persevered against this very struggle. For example, there are a lot of existing memoirs by exiled Tibetans, inside Tibet there are the memoirs of Naktsang Nulo about the people and Tibet, there are also His Holiness the Dalai Lama's memoirs and documentation such as Dawa Tsering's "Blood Sacrifice in the Land of Snows". I have also carried out research about Tibet during the Cultural Revolution in my books such as "Forbidden Memory" and "Memories of Tibet", as well as "The Roar of the Snow Lion in the Year of the Mouse", a book about the 2008 uprising, and many more.
The history of a nation should be made up of the individual histories of its people. Silent for so many decades, a witness and survivor of the time when "heaven and earth were overturned", what Naktsang Nulo finally penned was not just a memoir, but a page in the most important record that we have of the history of our culture. I wish that one day, we can build a museum exhibiting the individual histories of Tibetan people, and he will be the model for this project. Western philosophers have the phrase "I think, therefore I am", but in this Tibet museum we will have "I remember, therefore we are" written on the walls. It will be made up of the accounts and memories of all the "I"s that make up Tibet, of those who witnessed Tibet's past, as well as the accounts of their children and the future generations.
Just as Naktsang Nulo said in the prologue to his book: "Perhaps because of my karma, or the changing times, I experienced and witnessed much suffering, and not only I, but many thousands of other people too. Each person's mind contains their own account of these events, and each chiefdom and family will have its own long story or legend of the ups and downs of their particular chiefdom or family. Writing these stories in the form of a book has its disadvantages, but if they are not preserved in print, no-one in the future will know what happened. The stories will only remain true in the mind of one individual. If they want the next generation to know about what happened in their lifetime, the previous generation must write down the history of that period carefully and hand it on to the next one. This is especially important if you want your own children to pass on your story. So, I decided that my story could only be preserved by writing it in the form of a book, otherwise it would not survive. These things are true for a nationality and a family, just as they are for an individual."
Maybe people will have questions about this kind of early memoir, for example how can a child whose mother has passed away remember their family?  How can a child who accompanies their father on a pilgrimage to Lhasa remember the snowy mountains or lakes they pass along the way? I have also asked questions such as these to the author Naktsang Nulo but his answer was in fact very simple. Some things in life will always be carved into your heart. For many days and nights, he, his brother and his clansmen would all be remembering the past, so that in fact they were constantly reliving their childhood years of suffering. In fact, it would seem that their later experiences in life would appear vague in comparison to these early memories.
Without memory, there would be no Naktsang Nulo, nor his father who died under the gun of "liberation", nor the thousands upon thousands of our fellow brethren. His memories do not proliferate the lies by our aggressors, but are simply the personal recollections of an ordinary Tibetan survivor. In his own memories, in addition to the period of "heaven and earth overturning" which brought about the massacring of our people and the cultural extinction of our monasteries, there is also the everyday life of the nomadic people in the land of snows, which in fact was very rich and unique. The rays of Buddhism seemed to shine through this spiritual world, and whenever I read passages that describe these bygone times, I cannot help but shed a tear:
"The sunshine is here," one of the monks called out a little later. All the pilgrims ran over to the middle of the pass. When we got there, we saw the golden roofs of the monasteries and the cone-shaped golden roof of the Jokhang Temple shining in the sunlight. We prostrated and burned incense, and so did all the pilgrims. The crowd of people yelled with happiness. I was gripped by an excitement and joy I could not explain, and cried uncontrollably. "The Three Precious Jewels… Oh, the precious stone of the Buddha that fulfils all wishes. I have finally made it to Lhasa!".
January 16, 2011, Beijing

This post is also available in:

English