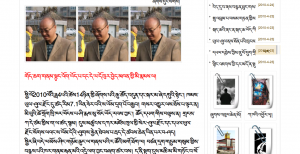 The photo shows well-known Tibetan writer Tagyal (Shogdung) who was arrested this year in April in Xining
"Latest news: Tagyal (Shogdung) Released on Bail and Returned Home!" By Woeser
This year in April, well-known Tibetan writer Tagyal (Shogdung) was arrested in Xining, following half a year of imprisonment he has been released on bail and has returned home.
Tagyal's lawyer Li Fangping confirmed that yesterday (October 14, 2010) afternoon, Tagyal obtained release on bail pending trial and is now home and in good mental and physical state.
Although the specific reason is unknown, in July the Public Security Bureau had hinted to the family-appointed lawyer that the case was soon to be turned over to the procuratorate. However, in light of the subsequent release on bail, some major policy changing decision must have taken place since then.