High Peaks Pure Earth has translated a blogpost by Woeser that was written and posted on her blog on August 24, 2011. In this blogpost, Woeser reports the re-arrest of Lama Jigme. 
Interestingly, the first news of the arrest emerged in a Tibetan blogpost hosted by Sangdhor.com on August 23, 2011, that has since been removed, see the screenshot below of the original post in Tibetan.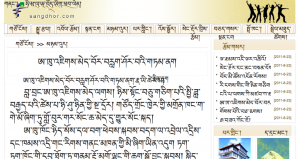 A reference is also made in Woeser's blogpost to the Chinese Panchen Lama's visit to Labrang Monastery, for more information on this visit, see this article from the New York Times.

Attention: Lama Jigme Arrested for the Fourth Time!
By Woeser
Lama Jigme, born in 1966, 45 years old this year. Labrang Monastery monk. Legal name Jigme Gyatso, name on ID is Jigme, also known as Jigme Guri. His hometown is Gansu Province, Kanlho Prefecture, Sangchu County, Juicha Township, Lhutang Village. He was born into a farming family and at 13 entered Labrang Monastery to become a monk, was a former head of the Vocational Training Centre and served as Vice-Chairman of the Democratic Management Committee of Labrang Monastery. However, from 2006 until 2011, within a period of five years, Lama Jigme was arrested four times:
1. First arrest:
In January 2006, Lama Jigme travelled on his passport to India to take part in Kalachakra initiations being given by His Holiness the Dalai Lama and received an audience with His Holiness the Dalai Lama. On his return to Labrang Monastery he fell under the suspicion of the authorities, subsequently in April he was arrested by Kanlho Prefecture Public Security Bureau, detained for forty days, released due to lack of evidence and he returned to the monastery. This was the first time he was arrested. At the time he was fined over RMB 10,000 in cash, money that was to be donated to other monasteries as a result of fundraising for the sewing of tents, to this day that money has not been returned to him.
2. Second arrest:
On March 14 and 15, 2008, Labrang monks were rising up in large-scale protests in response to the events in Lhasa, the protests were suppressed on the 15th and a large number of monks were arrested. Lama Jigme was in his quarters at the time and did not participate in the protests but he was suspected of being the mastermind, from March 22 onwards he was arrested for no reason, tortured for over a month and almost died during interrogation, after spending time in hospital he was released on condition of bail and returned to the monastery.
3. Third arrest:
On September 3, 2008, in a video made public to the world, Lama Jigme talked to the camera for 20 minutes, showing his face, using his real voice and real name, he provided a complete testimony on the events of March 2008 in Tibet and voiced the hopes of ordinary Tibetans. ( See: http://www.voanews.com/tibetan/archive/2008-09/2008-09-03-voa1.cfm )
After the video was broadcast by Voice of America's Tibetan service, on November 4 at about 1pm, more than 70 armed police (some were from Xiahe County PSB) suddenly surrounded his quarters and arrested him. After he was detained for six months, thanks to the efforts of two Chinese human rights lawyers, Li Fangping and Jiang Tianyong, Lama Jigme was released on May 3, 2009.
4. Fourth arrest
On August 20, 2011, Lama Jigme was arrested in Kanlho Tibetan Autonomous Prefecture. The reason for arrest is unknown, could perhaps be a late settling of accounts related to his video testimony telling the world the truth about the oppression of Tibetans. But it's not known whether the arrest is related to the visit of the government appointed "Chinese Panchen Lama" to Labrang Monastery.
On the afternoon of August 21, more than fifty police officers raided Lama Jigme's quarters in Labrang Monastery and confiscated computers, Dalai Lama photos and CDs and Lama Jigme's texts. The police who arrested him could have been from Kanlho Prefecture and Gansu Province.
At the moment, Lama Jigme's whereabouts are unknown.
A Tibetan website first reported Lama Jigme's arrest: http://www.sangdhor.com/list_c.asp?id=4381
Radio Free Asia and other media have reported the incident.
Strongly appeal for international attention!