High Peaks Pure Earth has translated a blogpost by Woeser, originally written for the Mandarin service of Radio Free Asia on September 29, 2020 and also published on her blog on October 3, 2020.
The post is a commentary on the recent suspension of Woeser's Facebook accounts, Messenger and restricted activity on Instagram. High Peaks Pure Earth previously translated Woeser's tweets about this incident.
About the Suspension of my Facebook Accounts:
Facebook, What's Going On? By Woeser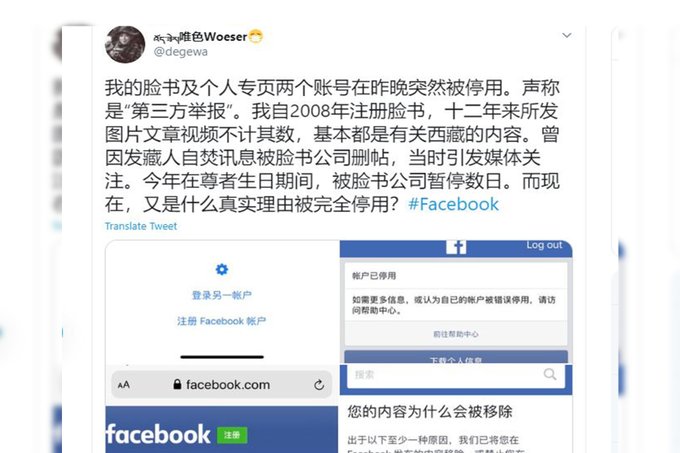 Something happened on September 24, which I believe is not merely a private matter. In today's day and age where social media and the internet has an extraordinary influence, it is a social case that deserves further attention. What I am talking about is that my personal Facebook account, which I have used for 12 years and also my public account, in use for seven months, including my private Messenger app, were suddenly suspended on that day.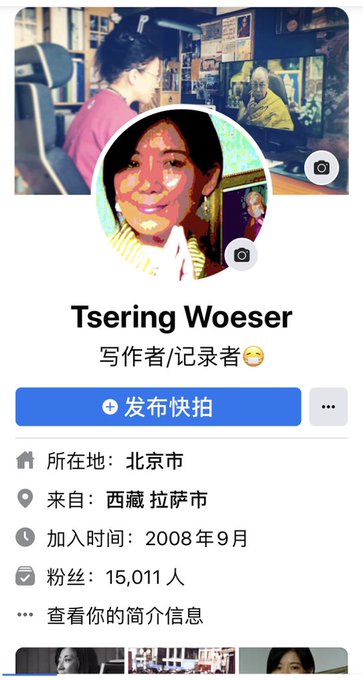 This is to say that I was, without any warning, kicked out from a virtual world. This virtual world is called Facebook, which, according to Wikipedia, "is an American online social media and social networking service platform… giving people the power to share and make the world more open and connected." While we are at it, let me ask you: "what exactly are the principles behind 'making the world more open'? Shouldn't this be about the spirit of freedom of speech?"
But when I noticed that I was no longer able to use my Facebook and Messenger, I was not actually very surprised. Or rather, I was nowhere near as surprised as six years ago when one of my posts was deleted. This shows how much freedom of speech existed back then outside "the wall" (referring to the Chinese Firewall), to the point that deleting a single post was unacceptable and made me lament: "This is the first time that one of my posts got deleted! I never imagined that Facebook would also have 'little secretaries!'" (a sarcastic appellation among Chinese netizens referring to Weibo censors).
The post that was deleted was a piece of news that I shared on December 23, 2014 about the Tibetan monk, Kalsang Yeshi, self-immolating in front of the Public Security Bureau of Tawu County, Kardze Autonomous Prefecture, Sichuan Province. It included text and a video. Self-immolation is a form of political protest that has been widespread over the past years both across Tibet and in the exile communities of India and Nepal. Up until the present day, a total number of 165 have self-immolated; devastating! Related news is strictly prohibited in Chinese media; revealing, sharing or spreading news is forbidden and would result in serious punishment. And so in an article titled "Which Post did Facebook delete?" I wrote: "That one of my Facebook posts was deleted quickly became an important matter… a matter that goes beyond Tibet, business activity, political position or Internet technology, it is, above all, a matter of freedom of speech and censorship."
Six years later, however, it is no longer a simple matter of deleting one post. Back then, they even sent me a notice explaining the reasons for deleting the post. Today, my entire account was suddenly suspended (or rather the account that I assumed was "mine"), I was just kicked out. I cannot help but feel sad. I have been using Facebook for 12 years and posted countless times, mainly about Tibet; have all my efforts and time just gone up in smoke? 
I should have probably taken the temporary suspension of my Facebook account two months ago on the 85th birthday of His Holiness (July 6) as a warning. The notice issued by Facebook back then gave me a time of suspension and stated that "you have repeatedly violated the regulations of our community," but did not tell me which regulations I had violated. I had several guesses and even tried to contact Facebook to find out, but never received any reply. Oh well, I thought, it will only be suspended for three days, I will just be patient. 
This time, I also filed an inquiry with Facebook's help centre to ask for the reason for the suspension. The official explanation was: "We received a third-party report, claiming that the content you posted infringes or otherwise violates some of their rights." "After one or several warnings issued by Facebook, you have repeatedly violated rights and regulations."
But I remember very clearly that the last posts before suspension were a video by the famous singer Patti Smith and a live broadcast of His Holiness. Would these posts really "infringe or otherwise violate some of their rights?" Who is the "third party" that reported me? Plus, I have never actually received any warning from Facebook, unless the suspension during His Holiness' birthday should be considered a warning. 
After several attempts to contact Facebook and submit a complaint using the designated form, and after sending a copy of my ID photo to no avail, I had no choice but to post the news that my Facebook was disabled on Twitter. I even directly addressed Facebook to "provide an explicit and genuine reason for completely suspending both my personal and my public Facebook accounts and that they will not use 'false account' as a pretext to block free speech. I have been using Facebook for over ten years. I am one of the extremely rare, perhaps even the only voice from within China that provides real information about Tibet. I have to muster my courage and am putting myself at risk only to be blocked by a company that claims to defend freedom of speech?! What irony!"  
I even informed my friend, the Hong Kong writer Pazu, who has a lot of Facebook followers and whose voice would be noticed by Facebook. He shortly after posted a message: "Woeser frequently posts about the situation in Tibet, requesting people to pay attention to Tibet and Tibetan people's situation; now, I don't know which person or internet police reported her, but Facebook followed suit and suspended her account. What is the reason for that? How can silencing the most important Tibetan and dissident voice from inside 'the wall' be in any way conforming to Facebook's policy?"
The resonance on Twitter was huge: "even someone as gentle as you can no longer tolerate being chased and blocked even abroad." "This is so disrespectful, after so many years of hard work." "Most of these malicious reportings do indeed lead to a suspension of the account, this has also happened in Taiwan and Hong Kong." I also received some replies from computer engineers, giving me instructions, but I didn't understand them and wouldn't be able to do any of it.
A debate about Facebook and other social media erupted on Twitter. As Ai Weiwei said to me: "It would have been strange if they had not suspended your account. Hypocrisy pervades Western capitalist societies through and through." The American artist Ian Boyden said: "Facebook is really a tool for dictators. This is very dangerous." He then tweeted: "Freedom of expression is seriously sabotaged if the platform for that expression is not neutral, and in the case of FB, it is rotten to the core." He subsequently posted that he deleted his Facebook account. His friend commented: "Facebook is eroding democracy … we are all facing the same danger as Woeser."
Some of the English tweets provided profound discussions about internet censorship and about the impact of dictators on international business companies in suppressing the voices of political dissidents etc.
The International Campaign for Tibet (ICT), Students for a Free Tibet (SFT) addressed messages  to Facebook on Twitter, inquiring about the suspension of my account. Radio Free Asia, Voice of Tibet, Hong Kong's Stand News and High Peaks Pure Earth reported, translated and forwarded my case. Many people fighting for justice and rights paid attention to it. 
It was probably because this issue aroused such widespread discussions and attention that Facebook finally responded. What is interesting is that it was Facebook's Head of Public Policy for Hong Kong, Taiwan and Mongolia who left a message on Pazu's page, stating that "It is actually a matter of violating intellectual property … it has nothing to do with so-called political censorship." When Pazu asked on my behalf which content of mine had violated intellectual property rights, he replied: "For reasons of privacy, we cannot reveal who reported her for which content… but her accounts should have been recovered … but if she violates the regulations again, they might be suspended again." Pazu refuted: "Facebook's investigation mechanisms are not transparent, the situation you describe is different from what Woeser encountered, it is extremely difficult to understand whether it was simply a matter of 'violating online community regulations' or whether there is another reason, including political censorship." 
Moreover, on September 27, I noticed that my Instagram account was also restricted, I could not like or comment on a post. A notice said: "We restrict certain actions to protect our community." What kind of "certain actions" had I taken? Could it really be that my making the suspension of my Facebook account public constituted a "a certain action?" Could it be that this inflicts damage upon "our community?" Instagram was bought by Facebook and already belongs to the Facebook group. I cannot help but sense that this virtual world has already become one big authoritarian empire. Magic realism repeatedly occurs inside the virtual world that, outside "the wall," claims to have freedom of speech. It's too absurd! Of course, I will keep posting my Instagram status on Twitter.
Subsequently, that Head of Public Policy for Hong Kong, Taiwan and Mongolia appeared once again, asking Pazu to notify me: "Woeser's Facebook pages have been recovered, we also sent her an email, but you can tell her that if she violates the regulations again, it will not necessarily be recovered again." The virtual world is changing. I have no choice but to make this public on another virtual platform: Twitter. The scholar Zeng Jinyan asked: "If there is another 'violation' I am really curious about how FB would explain it then…" Indeed, that Facebook official sounded very much like a censor and his warning was like an inhibition. It reminds me of many years ago when my Weibo account kept getting shut down again and again. In the end, I had to abandon it. 
So, after having been suspended for four days, my Facebook accounts have been recovered, my Messenger works again and the restrictions on my Instagram have been lifted. When I returned to my Facebook page that seemed to have been gone for a long time, it felt like a game and a dream. Don't I need to thank Facebook and that particular manager? A friend congratulated me: "Great! It seems that it may be indefinite now! I also tried to log on to my account again the day before yesterday and just got a notification to download my entire profile. But there was no channel to file a complaint. I am speechless!" I replied: "If we just rely on our own efforts, FB will definitely ignore us." Actually, my "resurrection" is not at all representative of what most people experience. 
Ian Boyden, who just closed down his account and gained a certain kind of personal freedom through this, asked me: "Why do you continue using it?" That is a good question and it is a dilemma. I replied somewhat awkwardly: "I also discussed this question with my Hong Kong friend Pazu. He said: for people like us who are slowly losing their freedom, any platform that allows us to have a voice can be seen as 'using other people's power for one's own ends.'" Of course, this may be quite naive. A few days ago, I watched the Netflix documentary "The Social Dilemma" (2020). It unmasks the gradual expansion of Facebook and other social media platforms; it is almost impossible to control them, like being swallowed by a giant. And when this giant joins hands with totalitarianism, what will this world become? No one can really tell, but it will most certainly be disastrous. 
September 30, 2020