High Peaks Pure Earth has translated an anonymous blogpost titled "Can I Call 110" that was posted on February 28, 2011 on a Tibetan website Rangdrol.Net.
Rangdrol.Net is a relatively new Tibetan language website and is based in Xining, provincial capital of Qinghai Province. Interestingly it carries the same name as Dhondup Gyal's penname and, as we wrote before on High Peaks Pure Earth, Rangdrol means "self-liberated".
This bold blogpost describes the situation that Tibetans find themselves in today and cites, even though supposedly hypothetically, several concrete examples of injustice and inequality. The phone number for the police in China is 110 (Ch: yao-yao-ling) and is equivalent to 911 in USA or 999 in UK. A subtext to the blogpost is the general impression amongst Tibetans is that the police are overly concerned with splittism whilst criminal acts are rampant and go unpunished.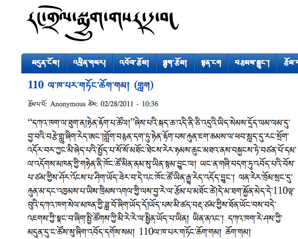 Screenshot of the blogpost on Rangdrol.Net
"Can I call 110?" By Anonymous
"You can call the Security Police when there is trouble". What sweet words like a melodic song that pleasingly flows from the heart. In films, police are not afraid to even sacrifice their lives to defend the public against robbers and thieves. Such a situation would give the feeling that they are true divine protectors, like kinsmen, who stand up for the powerless and protect against those who threaten the peace. Or like local protective deities, who give aid at once, just by calling their names. When robbers and thieves commit crimes in the streets or markets we are not worried because securities agencies like 110 exist. This security agent does not only exist but approaches at once for assistance just by making a signal, and this makes the whole of society feel secure. But who do we call then for some other troubles? Can we call 110?
If I am a writer's wife and the security police burst into my room and forcefully took away my husband without giving any reason. Though he was kept in custody for more than 12 hours, all they said were "we have some questions for your husband". In such an open abuse of human rights and breaking the constitution that says "a person is not to be kept in detention for more than 12 hours", can I call 110?
If I am Tsering Dolma, just arrived in the city, from a long distance, and am changing my sweat drenched and soaked clothes. Suddenly a group of police burst into my room by taking the key from the owner of the hotel, and ask for identity cards. In such a disrespectful manner, can I call 110?
If I am an old man called Tashi, on my way home, and I mistakenly pass through a prostitution area…. I am picked up by the Security Police, and am taken into custody and tortured. When I give the true reasons for being there, they torture me more, as if I was accusing them, just in order to save my own life. In this situation, can I call 110?
If I am a driver taking a patient in a serious condition to the regional hospital, when the police stop me for allegedly speeding, and demand to see documents… and meanwhile the patient dies. For the loss of a soul, can I call 110?
Or if I am an ordinary monk from Amdo, on the way to Lhasa on pilgrimage, when a cluster of police block the way and beat me from head to toe, just asking meaningless questions. For this abuse of human rights, can I call 110?
What if I am a nomad from the Tibetan plateau, who grazes yaks, and one day suddenly a group of police approach and order me to move to a settlement where nomads are being sent. They empty and ruin my house and force me to accept starting over in a new livelihood. In such a coercive and humiliating situation, can I call 110?
If I am a call-girl, living in a building, and in the dead of night the security police suddenly break into my room without any warning… I am scolded and taken outside even during a chilly winter. I catch a cold, get a fever with headache and cough. Sometimes they force us into sex. In such ill-treatment and sexual harassment, can I call 110?
There are so many such examples of if, but I won't write more because it may be claimed such things could only be made up. But such cases are always happening in our society and they are absolutely real. In our society, when robbers and thieves make trouble, we do call 110 whether it will help or not. But suppose sometimes the troublemakers of our society are not thieves and robbers but the police themselves.  Then to whom should we call for help? Can we call 110? Can we call?
Comments:
Very impressive article, about the police and society, written so clearly.
Really a touching article.
It is written smartly and the theme is so precious. It moves my heart, and makes me think and feel sad.
Really a moving article.
This is really a striking article. It gives a feeling of happiness, sadness, and anger for days and nights.
This post is also available in:

English