A post from December 2020 on the China Channel from LA Review of Books looking at past China blogs made us also feel nostalgic for past Tibet blogs. It's safe to say in general that blogging has declined and is no longer what it was in today's world. Tibetan Instagram accounts have now superseded Tibetan blogs in exile whilst blogs inside Tibet are no longer online for a variety of reasons and instead their content might be found on WeChat.
Established Tibetan blogs still going strong today are Invisible Tibet by Woeser la and Shadow Tibet by Jamyang Norbu la to name two. Honourable mentions to Lhakar Diaries and Angry Tibetan Girl which have been around for many years and are in an in-between stage of not being very active while not being completely dormant… The translations project Tibet Web Digest was last updated in 2017 while Bhuchung D. Sonam's blog Burning Tibet shows signs of re-activation after a three year gap in posts.
Which Tibetan blogs are active today that you enjoy reading? Which blogs do you miss? Or are blogs completely over? Let us know what you think in the comments section or on social media using the hashtag #TibetanBlogs.
Oh and no sooner were we nostalgic for lost blogs, the China Channel also announced it was closing its doors last month after four years. While they are all still online, please take a look at the high quality Tibet related content that they published over that time.
The China Channel identified the 2000s and early 2010s as the period when the English-language Chinese blogosphere was at its most vibrant. We've compiled a short list of English-language Tibet blogs we miss reading below, mostly from the 2010s, fortunately they are still online as an archive.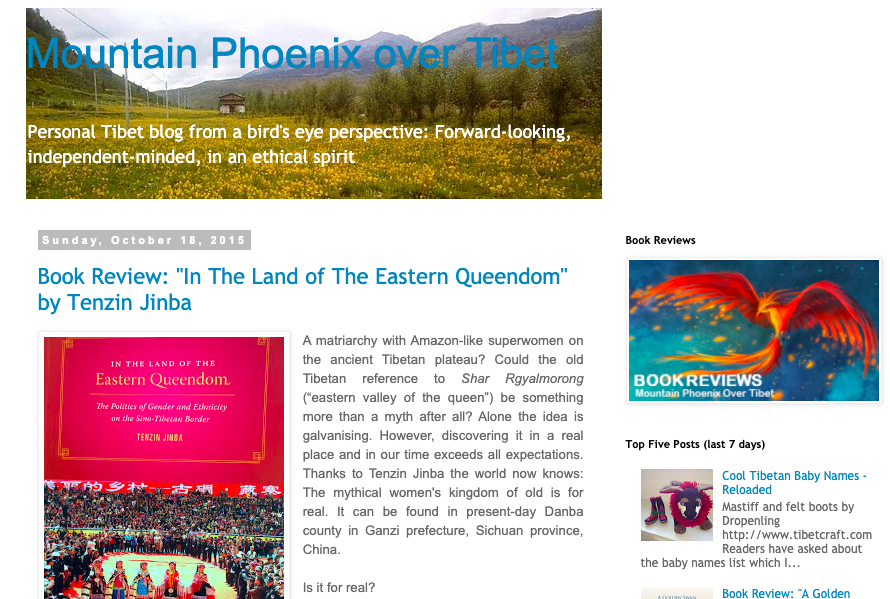 Name of Blog: Mountain Phoenix Over Tibet
URL: https://mountainphoenixovertibet.blogspot.com/
Platform: Blogspot
First Post: February 22, 2008 – "Are You A Buddhist?"
Last Post: October 18, 2015 – Book Review: "In The Land of The Eastern Queendom" by Tenzin Jinba
Even though we never found out who the author of this blog was, it didn't stop us from admiring it and always looking forward to new posts. Beautifully and thoughtfully written, tackling all kinds of topics often from the heart, we miss you Mountain Phoenix and hope you are still writing!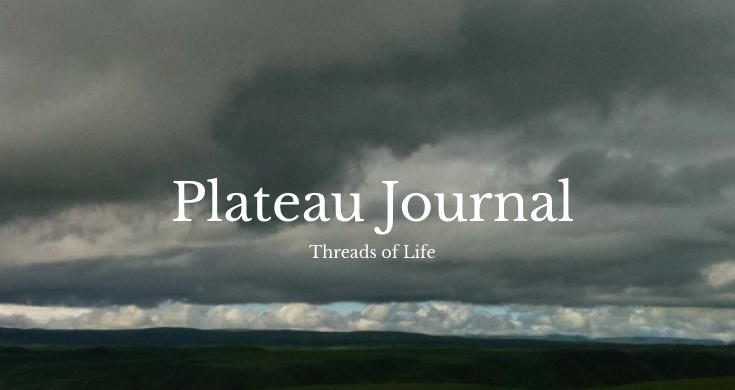 Name of Blog: Plateau Journal by Dechen Yeshi
URL: http://www.dechenyeshi.com/
Platform: Self-Hosted
First Post: May 1, 2014 – Starting Out..
Last Post: November 5, 2016 – Rako
Uniquely written from the perspective of an exile Tibetan of mixed heritage living in Amdo, Dechen Yeshi wrote about her living environment, running a business and raising a family. These glimpses into her life were accompanied by wonderful photos. This blog is worth looking through while it is all still online!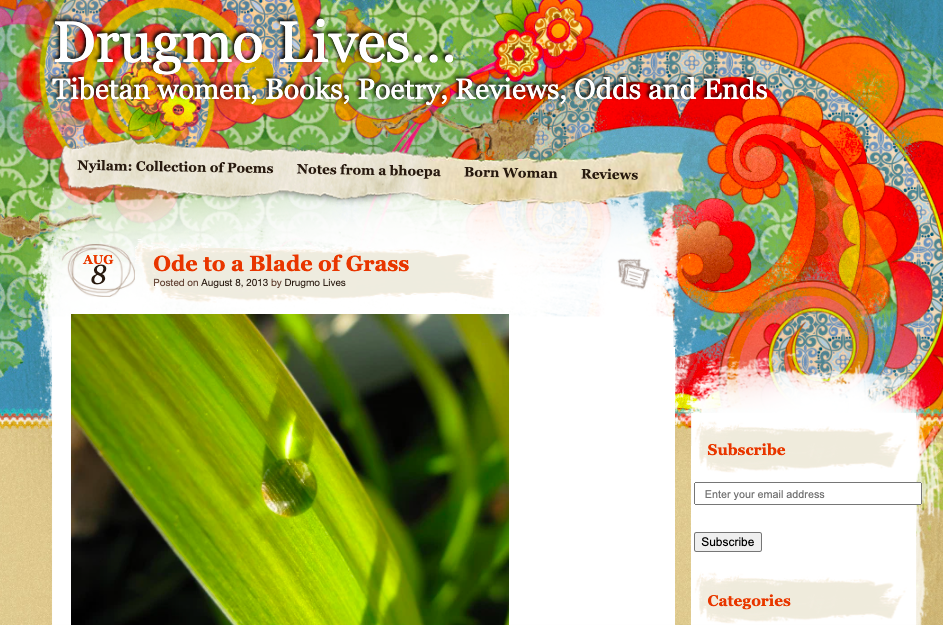 Name of Blog: Drugmo Lives
URL: https://drugmo.wordpress.com/
Platform: WordPress
First Post: September 17, 2009 – Fated
Last Post: August 8, 2013 – Ode to a Blade of Grass
"Drugmo Lives…Tibetan women, Books, Poetry, Reviews, Odds and Ends" – this blog was always a delight and clearly written by someone with a passion for reading and writing, both poetry and prose.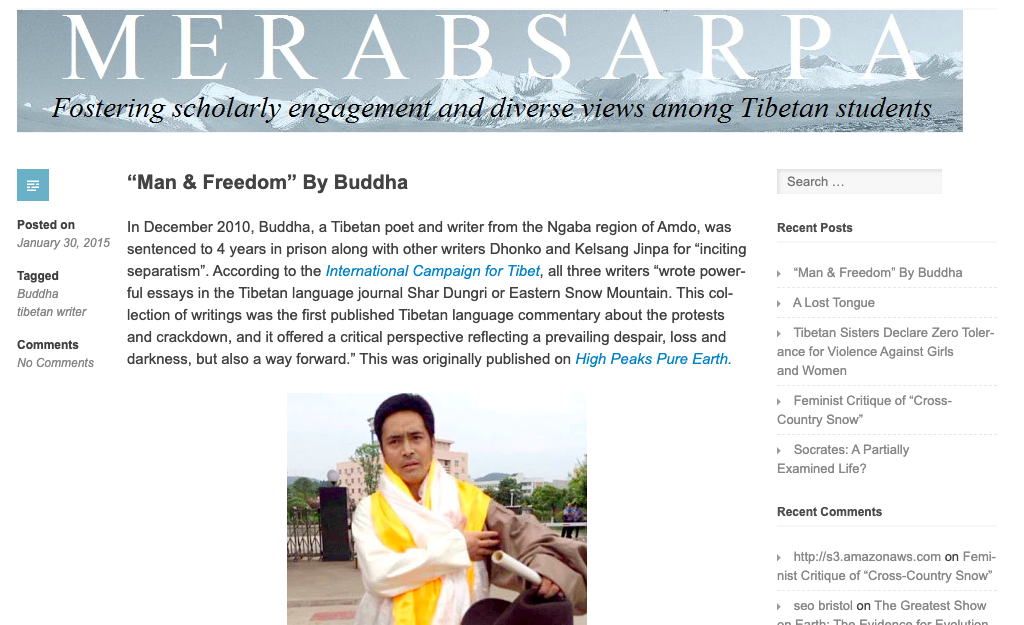 Name of Blog: Merab Sarpa
URL: https://merabsarpa.wordpress.com/
Platform: WordPress
First Post: September 18, 2011 – The Hardliner's Approach to Tibet By Pema Norbu
Last Post: January 30, 2015 – "Man & Freedom" By Buddha
Merab Sarpa (New Generation) Journal was an online academic journal project initiated by a group of young Tibetan students. The Journal was a place to share work and ideas and served as a platform for intellectual and academic debates. For those who enjoy an intellectual challenge, it's a pleasure to look back at the rich content in this blog!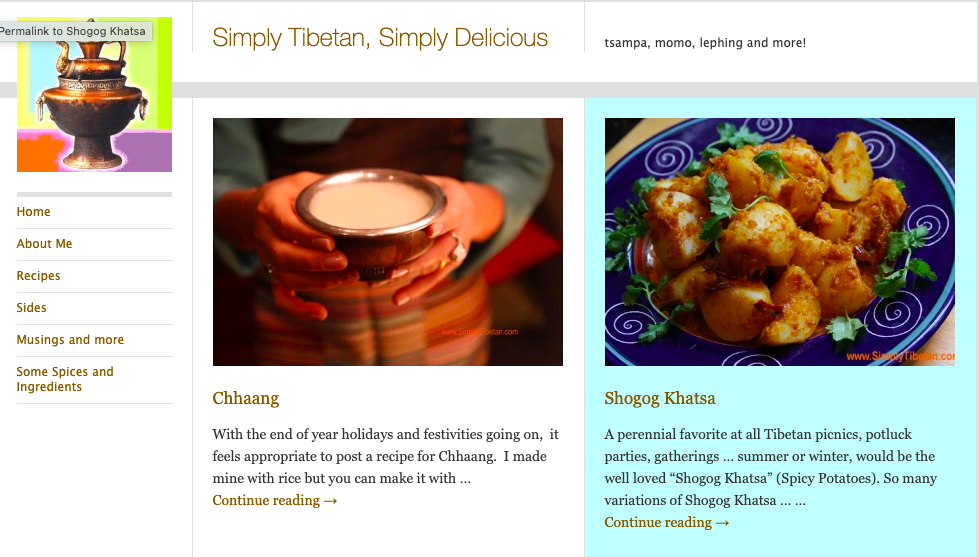 Name of Blog: Simply Tibetan, Simply Delicious
URL: https://simplytibetan.com/ 
Platform: Self-hosted
First Post: December 7, 2010 – Bho-ja
Last Post: November 23, 2014 – Dre-ngo (Roasted Rice)
A recipe blog but so much more, this blog doesn't feel like it hasn't been updated since 2014 because it's a go-to reference point for so many people when it comes to cooking all the classic Tibetan dishes… Fun to read and easy to understand, thank goodness all the recipes are still accessible, this blog is crying out to be turned into a book!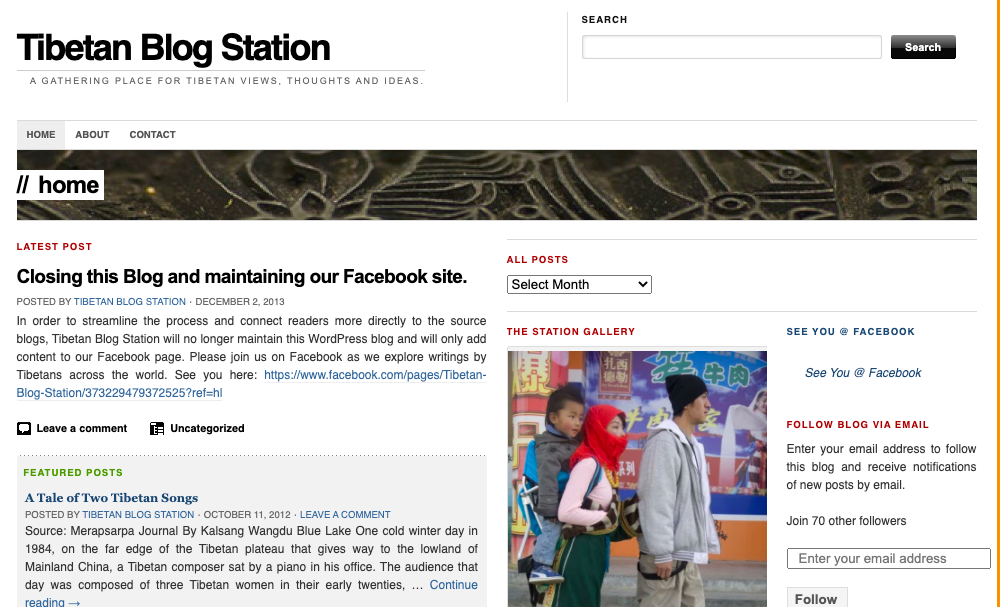 Name of Blog: Tibetan Blog Station
URL: https://tibetanblogstation.wordpress.com/
Platform: WordPress
First Post: February 5, 2012 – Pomp Without Circumstance
Last Post: December 2, 2013 – Closing this Blog and maintaining our Facebook site
At one point there were so many Tibetan blogs that there was even a blog to keep track of interesting posts! Tibetan Blog Station wasn't online in blog form for long, it transferred to Facebook where it continued to be updated until May 2017.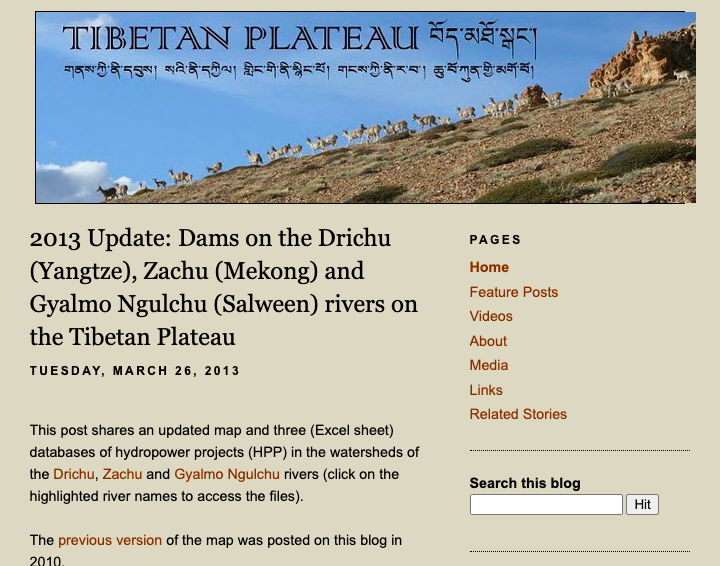 Name of Blog: Tibetan Plateau
URL: https://tibetanplateau.blogspot.com/
Platform: Blogspot
First Post: January 2009 – Tibetan perspectives on the significance of mountains and lakes
Last Post: March 26, 2013 – 2013 Update: Dams on the Drichu (Yangtze), Zachu (Mekong) and Gyalmo Ngulchu (Salween) rivers on the Tibetan Plateau
The Tibetan Plateau blog was the personal initiative of Tashi Tsering, a founding member of Tesi Environmental Awareness Movement (TEAM) and Ph.D. Candidate in Resource Management and Environmental Studies program at the University of British Columbia. The blog at one point was frequently updated containing high quality research. It remains a rich resource for those interested in Tibet's environment and development issues.