High Peaks Pure Earth has translated a blogpost and a poem both on the topic of Tibetan language.

Since the student protests of last month, October 2010, against the proposals to restrict the use of Tibetan language in classrooms in Qinghai province, the serious issues facing Tibetan language have evidently been weighing on the minds of Tibetan netizens.

Interestingly, the Tibetan language blog sites have been very quiet and prefer not to directly talk about the issues the recent language protests have raised, whilst on the Chinese language blog sites frequented by Tibetans, there is much chatter about the issue. Perhaps the language issues are felt more acutely and painfully by those who have lost their language. 

 The poem below titled "Sorry" was first posted by a Tibetan blogger on their blog on October 23, 2010, and mourns the loss of their ability to read Tibetan. The poem associates the loss of Tibetan language with a concomitant loss of heritage, tradition and culture, as can be seen by the references to Sambhota, the inventor of Tibetan script and the 6th Dalai Lama, an accomplished poet.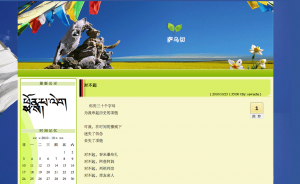 "Sorry"
Using the 30 letters of the alphabet
You string a necklace of history for me
But I, due to the ravages of time
Lost my principles
Lost my necklace
Thonmi Sambhota, sorry
Father and Mother, sorry
Forefathers, sorry
Teachers, friends and family, sorry
What you carved on stone
I am unable to understand
Tsangyang Gyatso's poems
I cannot read out loud
I have no tsampa
I have no Buddhist lamp
I have no mala
I have no khata
Today, I have also lost my voice
From today onwards, there are no pastoral songs
There is no Achi Lhamo
There is no kyi kyi suo suo
There is also no Mani and sounds of nature
It's not that I don't love you, sorry
It's not that I want to abandon you, sorry
I am powerless, sorry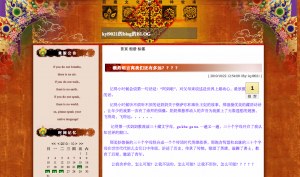 The blogger has a verse in English on their sidebar that reads, "if you do not breathe, there is no air. if you do not walk, there is no earth. if you do not speak, there is no world. so, please speak your native language!"
How close are we to having an endangered language?
I remember when I was small the first word I learned to say was "Amala", according to my Mother, this was the most moving thing in the world, the most gratifying word.
I remember growing up and never tiring of hearing my Grandmother's tales of King Gesar and Queen Drumo, in that romantic and beautiful poetic Tibetan language, it was the first time I had idols to worship. Grandmother's kindly words have stuck with me like wings of imagination, flying high and far.
I remember the first time my Mother taught me the thirty letters of the Tibetan alphabet, ka kha ga nga. Over and over again, thirty letters opened a window to my understanding of the world.
Those wonderful melodious thirty letters combined to pass down well-known stories of heroes, those thirty letters full of wisdom and passion passed through the mouths of generations of sons and daughters, telling the history and heritage of tradition, praised heroes, inspired warriors, educating the younger generations, encouraging the youth.
That I abandon you, how could that be?  That I don't speak you, how could that be? That I don't use you, how could that be????