High Peaks Pure Earth has translated a blogpost by Woeser written in April 2014 for the Tibetan service of Radio Free Asia and published on her blog on April 22, 2014.
In this post, Woeser remembers Tenzin Delek Rinpoche who has been serving a life sentence in prison since 2002. Aside from knowing Tenzin Delek Rinpoche personally, Woeser has been active in publicising information about his case for many years, such as posting the text and photos of a petition by supporters on her blog in December 2009.
Most recently, news came out just a few days ago of a prayer ceremony for Tenzin Delek Rinpoche taking place in Kardze's Golog Township.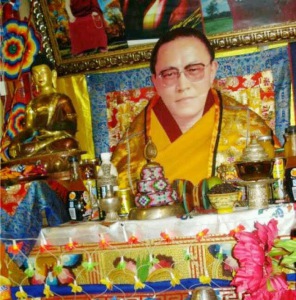 "Remembering Tenzin Delek Rinpoche Who Has Been Wrongfully Serving A Prison Sentence for 12 Years"
By Woeser

On April 7, 2002, in Nyakchukha, Kham (today's Yajiang County, Kardze Autonomous Prefecture, Sichuan Province), Tenzin Delek Rinpoche was wrongfully imprisoned. He has been locked up for 12 entire years. It is reported that the 65-year-old is held at Chuandong Prison in Dazhu County, Dazhou Prefecture, Sichuan Province.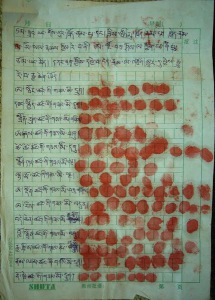 Accused of "starting an explosion and trying to overthrow the system", he was first sentenced to death, which was later changed to life. Responsible for this was the then-head of the Public Security Bureau, Zhou Yongkang. Tenzin Delek Rinpoche is the most well-known Tibetan political prisoner of the 21st century and has gained much international attention. Around the same time, Tenzin Delek Rinpoche's disciple, Lobsang Dhondup, was also sentenced, and his death penalty was actually carried out.
For thousands of Tibetans from eastern Kham, Tenzin Delek Rinpoche serves as a moral and spiritual authority in today's world. The hardship he is currently enduring in prison engulfs the hearts of the people of this vast area; they feel a deep, hard-to-overcome pain. Over the course of the past 12 years, almost no joyous festivals have been held, and many elder left this world with tears in their eyes, knowing that they would never meet him again.
Over the course of the past 12 years, over 30,000 Tibetans signed and left their fingerprints on countless petitions, sending representatives to Chengdu and even Beijing to appeal to the higher authorities, expressing that "we can no longer bear Tenzin Delek Rinpoche being imprisoned, his so-called 'bombing case' needs to be reviewed", many Tibetans were arrested, beaten and sentenced for these efforts; but they have not given up, they have been sharing the pain and humiliation with their teacher.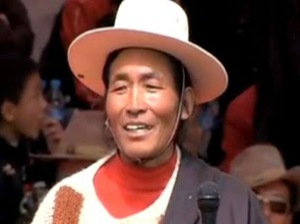 In 2007, at a large-scale horse racing festival organised by the local authorities, the herdsman Rungye Adak from Lithang went up to the rostrum and said into the microphone: "If we cannot have the His Holiness the Dalai Lama back in Tibet, we will never have religious freedom and happiness… Tenzin Delek Rinpoche must be released." He was sentenced to 8 years in prison.
In 2011, at a big gathering in Nyakchukha County, monks and lay people held up huge photos of His Holiness and Tenzin Delek Rinpoche and offered khatas and commemoration songs. At Kham Nalanda Thekchen Jangchup Choeling Monastery built by Tenzin Delek Rinpoche in Khola Township, Nyakchukha County, portraits of Tenzin Delek Rinpoche have been regularly revered during Buddhist ceremonies.
No support has ever been more persistent, more loyal and more desperate. Thousands of Tibetans remember the words that their teacher passed on from within his prison cell: "Some people say that if you keep raising my case, it will make my situation even worse. I can only say, I have already reached the bottom, it cannot get any worse. So, you can appeal to the higher courts for me, you can initiate any movements in my support."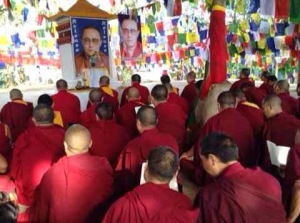 Outside Tibet, every time when Tenzin Delek's birthday or day of imprisonment draws nearer, at Drepung, Ganden and other monasteries in southern India, in New York, London and the whole exile community all across the globe, people gather together, pray and demonstrate. This even happens among Tenzin Delek Rinpoche's followers within Tibet.
In 2013, his followers from all corners of the world wrote in a petition letter requesting the release of Tenzin Delek Rinpoche: the many years "…of being wrongfully imprisoned have severely ruined Tenzin Delek Rinpoche's body and mind, but the tough and unyielding attitude towards him by the local authorities has not changed at all." In March this year, during Tibetan New Year, the Secretary of Lithang County Party Committee warned Tenzin Delek Rinpoche's younger sister that she was not allowed to go to Chengdu to visit her brother, and even if she arranged a lawyer to review the case, she must only follow the orders of the local authorities, otherwise she and her family would also be arrested.
April 2014
This post is also available in: Chinese (Simplified)