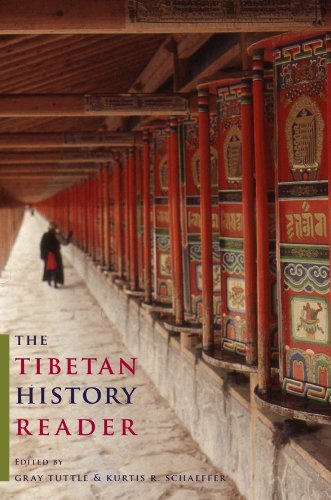 From the Columbia University Press website:
Answering a critical need for an accurate, in-depth history of Tibet, this single-volume resource reproduces essential, hard-to-find essays from the past fifty years of Tibetan studies. Covering the social, cultural, and political development of Tibet from the seventh century to the modern period, the volume is organized chronologically and regionally to complement courses in Asian and religious studies and world civilizations.
Beginning with Tibet's emergence as a regional power and concluding with its profound contemporary transformations, this anthology offers both a general and specific history, connecting the actions of individuals, communities, and institutions to broader historical trends that shaped Asia and the world. With contributions from American, French, German, Italian, Chinese, Japanese, and Tibetan scholars, the collection reflects the international character of Tibetan studies and its multiple, interdisciplinary perspectives. Contributors address many aspects of Tibetan culture frequently neglected in popular accounts, and the editors render Tibetan person and place names in an easy-to-pronounce phonetic system—a key component increasing the volume's accessibility. They also standardize complex and sometimes cryptic references to cited works, clearing the path for additional research in directly related and peripheral fields. By far the most concise scholarly anthology on Tibetan civilization in any Western language, this reader clarifies the history of Tibet, its relation to its neighbors, and its role in world affairs.
Buy the book on Amazon: http://amzn.to/121nUMx