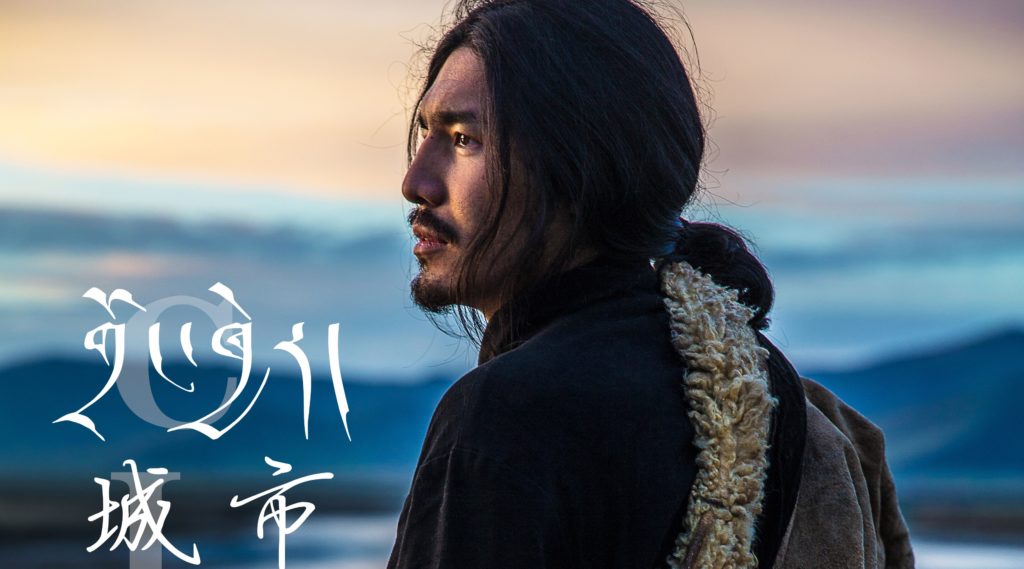 High Peaks Pure Earth presents the music video "City" by Lobsang Nyima which came out in January 2018. 
[Scroll down past the introduction to see the music video]
The Tibetan-style blues of "City" by Lobsang Nyima are a departure from the Tibetan hip hop/rap/trap music we have recently been translating from ANU and Uncle Buddhist.
Lobsang Nyima is a musician from Tsennyi Township in Ngaba County of Amdo, eastern Tibet. The song and accompanying music video, produced by the Alalamo media company, reflects on and contrasts the transition from a traditional nomadic way of life to the modern city lifestyle with crowds, pollution and connected social issues like alcoholism. Alalamo's Lhudrub Dorje has also been behind the camera of ANU's 1376, It's All A Game and FLY. The acclaimed, respected and well-known writer and poet Menla Kyab is the lyricist for the song, he also wrote the lyrics to Uncle Buddhist's recent song "Tsampa".
For various reasons, among them nomadic resettlement, increasing urbanisation, migration from rural to urban settings, Tibetans are rapidly having to come to terms with and adapt to new realities and hybrid identities. It is therefore not surprising that anxieties about urban life are being reflected in contemporary cultural output. Memorably in Pema Tseden's film Tharlo, the main character is a shepherd who has a shocking encounter with the city and modernity. In music, the young rapper Uncle Buddhist from Golok describes himself as "born in the pasture area but (having grown up) up in the city and thus confronted with sharp contact between the Tibetan tradition and modern life." He even named his debut album "City Tibetan".
In the music video "City" by Lobsang Nyima, Tibetans coming from a traditional lifestyle are shown to give up their dreams and lose direction in life. However, an argument in this piece from China File also states that growing numbers of Tibetans living in cities might be an opportunity "for Tibetans to mobilize in defense of collective identities and to pursue other shared goals."
"City"
By Lobsang Nyima
Lyrics: Menlha Kyab
Melody: Lobsang Nyima
Music Arrangement: Tenten
Choreography and Direction: Lhudrub Dorje
The sky was bluer than turquoise
From the mountain peaks I came
The buildings are taller than steep mountains
In this city where I am left
The buildings are taller than steep mountains
In this city where I am left
The true path is covered in dust
People's minds are driven by the rush
Although the city is bustle and noise
There is no one to be trusted
Although the city is bustle and noise
There is no one to be trusted
Accompanying the white-tailed vulture
This mind has slipped out of its den
The vast expanse of my love
Is lost in this city
Accompanying the white-tailed vulture
This mind has slipped out of its den
The vast expanse of my love
Is lost in this city
The true path is covered in dust
People's minds are driven by the rush
Although the city is bustle and noise
There is no one to be trusted
The city of electricity
The path is a painting of a rainbow
Yet there is no bridge for the mind
In this great ocean of samsara
Yet there is no bridge for the mind
In this great ocean of samsara
Accompanying the white-tailed vulture
This mind has slipped out of its den
The cloud that is whiter than yogurt
Is lost in this city
Accompanying the white-tailed vulture
This mind has slipped out of its den
The cloud that is whiter than yogurt
Is lost in this city
Accompanying the white-tailed vulture
This mind has slipped out of its den
The cloud that is whiter than yogurt
Is lost in this city
The cloud that is whiter than yogurt
Is lost in this city
Translation by High Peaks Pure Earth