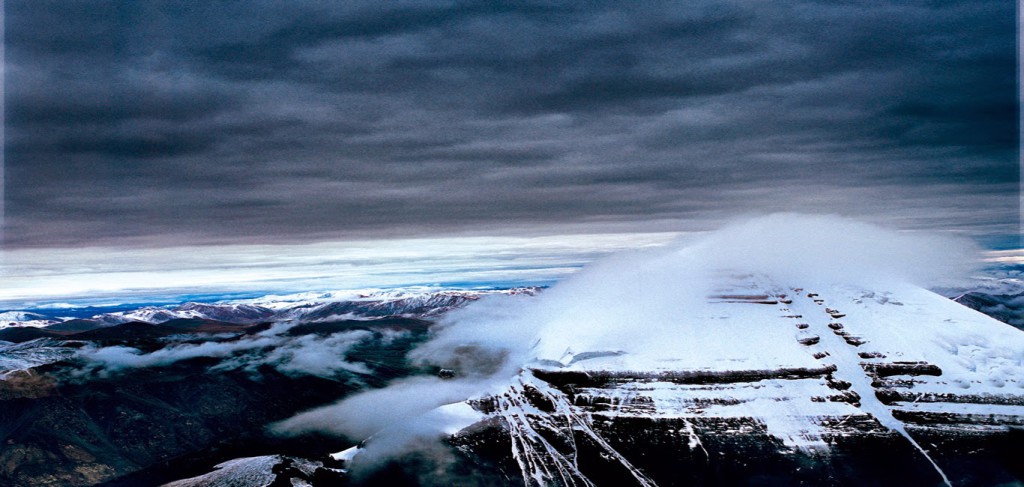 High Peaks Pure Earth has translated a blogpost by Woeser written in June 2014 for the Mandarin service of Radio Free Asia and published on her blog on June 29, 2014.
This article follows up from Woeser's previous post, "Local authorities Limit the Issuing of 'Border Permits', Prohibit Tibetans to go on Pilgrimage to the Sacred Mountain". Woeser highlights the exploitation of these sacred pilgrimage sites for commercial purposes whilst the movements of Tibetans are restricted and prices prohibitively expensive.
"Money is Welcome, Tibetans Are Not"
By Woeser
This year, Tibetans are not allowed to make a pilgrimage to Mount Kailash, yet, as an "unwritten rule", Chinese people are not hindered from circumambulating it; a Tibetan netizen criticised: "Locals are forbidden to go to the mountain, but people from other areas can clearly obtain the so-called border pass at the place where they are registered. This is an outright trampling of the law of religious freedom. Restricting only some groups of people is already a form of apartheid!" At the same time, the following news appeared on Weibo: tourists are part of the scheme of a Beijing company that has long been using Mount Kailash to fill its own pockets with money.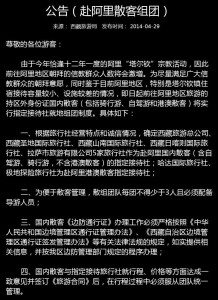 These photos were taken from Weibo and have already been deleted

On April 29, the tourism bureau of the Tibet Autonomous Region made the following announcement: "With immediate effect, domestic tourists (including cyclists, those on self-drive tours as well as travellers from Hong Kong and Macao) who hold a non-local hukou (household registration) and want to go to Ngari Prefecture will have to join any of the specially-appointed local tour operators." Five travel agencies have been chosen (including one specifically in charge of trips to Mount Kailash) to serve as specially-appointed local tour operators for Chinese travellers and another two for tourists from Hong Kong and Macao. Also, each group must consist of three or more people and include a tour guide.
A netizen who works in the tourist industry reported: "Between May 28 and June 27, during Saga Dawa, as the tourism bureau announced, in order to circumambulate the holy mountain one must join a group (one of the five officially appointed travel agencies); the daily quota is 1500 people. There will be inspection points at Baga and Darchen, with personnel from the tourism bureau of Purang County (Ngari Prefecture) reporting any violations to the higher authorities." According to online sources, there are 16 inspection points on the way to and from the sacred mountain, and more on the main northern highway. Without an official border pass, it is impossible to get through.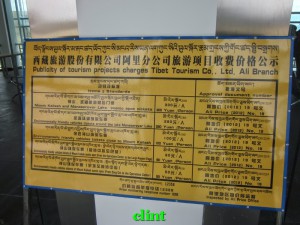 This photo was taken from Weibo and has already been deleted

A netizen complained: "I am speechless; the daily rate for a tour guide is 600 Yuan, plus an extra 400 for the guide's and driver's lunch and accommodation, the entry ticket and necessary documents cost 100 per person, and including self-arranged meals and hotel this amounts to about 20,000 for 10 days." Another netizen grumbled: "… An inflexible travel group, a rigid tour guide and without even knowing whether the ticket for the mountain is also valid for Lake Manasarovar, this f… government does everything to steal our money!" A traveller who has been to Mount Kailash said: "The entrance ticket to the mountain is 150 Yuan and it is another 150 for the sacred Lake Manasarovar."
In early July 2011, travellers revealed on Weibo that they witnessed construction projects on the mountain trying to widen the paths, and build a new highway. Soon, all kinds of vehicles were able to get from the foot of the mountain directly to the mountain waist; some reported even seeing the erection of cable poles along the hillside. With regards to this, I carried out a small survey and came to know that a subordinate to the Beijing Guofeng Group, Tibet Tourism Co. & Ltd "contracted" Mount Kailash and Lake Manasarovar to turn them into tourist areas, using the sacred mountain and the sacred lake as a way of selling shares. It is now known as the "Tibetan Kailash Manasarovar Tourism Development Project", and includes "the development of the scenic area, the building of hotels and restaurants, purchasing of environmentally-friendly vehicles, oxygen plants and other facilities".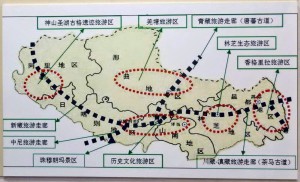 At the time, I wrote an appeal titled "Please Stop the 'Development' of Mount Kailash and Lake Manasarovar for Profit", in which I emphasised: "The walk around the mountain and lake is a continuation of the traditions of pilgrims in the past, because only through the physical act of walking, and the 'labour of the bones', can one achieve religious sublimation. It is completely unnecessary to build highways, or have tourist cars travel these paths. On the contrary, highways and touristic cars will only attract a certain kind of person. If we take the logic of cultural anthropology, this is a kind of "touristic imperialism" in order to blaspheme and destroy the holy mountain and lake (…) At the moment, Tibet has become "open for development" to all kinds of mines, dams and tourism projects. But these developments will cause irreparable damage to the Tibetan nation, culture, and way of life, the sacred mountains and lakes, and in turn, the ecology of the world."
The Tibetologist Elliot Sperling responded in his article "Kailash: An Appeal" that it "is a depressing example of the commodification of what would otherwise be considered a sacred historical site (…) But the degradation of this religious site for the benefit of Chinese investors is not simply another insult for Tibetans to bear; it is a slap too at Indian pilgrims who also venerate Kailash as the abode of Śiva and visit and circumambulate it."
The scholar He Qingliang also published an article, "Please Keep Tibet", in which she points out: "In fact, Tibetans living in the area have long been unable to escape from the damage caused by 'development' (…) Because of the special Tibet policies, the environmental and ecological destruction in Tibet is even more sensitive than in other areas of China, it is difficult to obtain any data (…) If Beijing really wants to genuinely keep Tibet, it needs to genuinely respect Tibetan people's belief and stop using their holy monasteries and mountains as a 'tourism resource to be exploited'."
The author Zheng Yi writes in his article "To Preserve Tibet's Last Pure Land": "Circumambulating a mountain is meaningless to people who do not believe; for those who firmly believe, however, a pilgrimage can wash away one's sins, purify and sublimate one's life. We can imagine what scenery we will see after the highway has been paved and tourist hotels built. Various modern means of transportation will load off thousands upon thousands of novelty-seeking tourists who bring in the colours of the non-religious, ordinary world, and who indulge in fast-food-like tourism. They come to go on a scenic tour, they are not pious pilgrims who cherish the holy mountain and sacred lake and the traces they leave will make it impossible to ever maintain the site's divinity; frankly speaking, it is blasphemy (…) Turning Mount Kailash and Lake Manasarovar into a tourism area is nothing but neocolonialism and touristic imperialism (…) We have already commercialised and vulgarised all sacred mountains and lakes in Chinese areas, we have polluted and destroyed them; can we not preserve the last pure land of our Tibetan brothers Mount Kailash and Lake Manasarovar belong to all human beings."
On the other hand, for tourists going to Mount Kailash these "touristic imperialists" are quite a burden. During "Saga Dawa", for instance, one person has to spend 20,000 Yuan; every single day 1500 people spend 30 million, so during the 30 days of Saga Dawa, 900 million can be earned; I am not sure about the share the 5 or 7 travel agencies get. Yet, at the same time, not that many people are willing to spend so much money and many tourists who went to Tibet did by no means join one of the official tour operators. They would find Chinese drivers and use their "guanxi" (connections) when passing checkpoints, hereby avoiding penalties. These individuals would only end up spending about 6000 Yuan. In fact, just like a netizen said: "It is the coalition of government and private investors that steals people's money".
June 2014
This post is also available in: Chinese (Simplified)