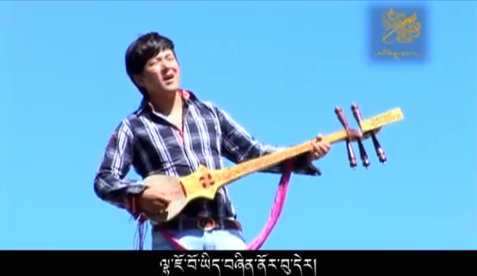 High Peaks Pure Earth has translated a music video from Tibet by Sonam Rinchen called "Three Provinces".
"Three Provinces" is a track from Sonam Rinchen's album (pictured above) released at the end of 2011. The video "Three Provinces" has been online on video hosting sites such as YouTube and Chinese video hosting site Youku since early 2012.
Each verse of the song is dedicated to a province of historical Tibet, U-Tsang (central Tibet), Kham and Amdo. Each province's traits are praised, such as compassion for central Tibet, the courage of people from Kham and the Tibetan language prowess of the people from Amdo, often the scholars and intellectuals of Tibet.
This is the 55th Tibetan music video translated by High Peaks Pure Earth since the Wednesday music video series started towards the end of 2012. Please go back and watch our other videos using this link: http://highpeakspureearth.com/category/music-from-tibet/
Below are the subtitled music video and translated lyrics of "Three Provinces":
"Three Provinces" By Sonam Rinchen from HPeaks on Vimeo
"Three Provinces"
Lyrics: Lekshay Gyatso
Composer: Sonam Rinchen
Singer: Sonam Rinchen
The beloved region of U-Tsang
Where the snow mountains of Tibet are imbued with compassion
The divine Buddha Yeshe Norbu
Who Tibetans tell their happiness and sorrows to
The beloved region of U-Tsang
Where the snow mountains of Tibet are imbued with compassion
The divine Buddha Yeshe Norbu
Who Tibetans tell their happiness and sorrows to
The beloved region of Kham
Where the snow mountains of Tibet are imbued with loyalty
The courageous heroes
Who will fight for the freedom of Tibet
The beloved region of U-Tsang
Where the snow mountains of Tibet are imbued with compassion
The divine Buddha Yeshe Norbu
Who Tibetans tell their happiness and sorrows to
The beloved region of Amdo
Where the language of the snow mountains of Tibet flourishes
The compassionate Tibetan youth
Who will think about the future of Tibet
[Translation by High Peaks Pure Earth]
For those unable to view the videos on Vimeo, there is also a High Peaks Pure Earth YouTube channel here with our music videos: http://www.youtube.com/highpeakspureearth