High Peaks Pure Earth has translated a blogpost by Woeser written in February 2014 for the Mandarin service of Radio Free Asia and published on her blog on February 5, 2014.
Woeser writes about a high-profile event that took place in Lhasa at the beginning of the year, the "Sunlight City Walk", spearheaded by Chinese film star Chen Kun. Read a China Daily report about the event and watch an English language video report here.
The Tibetan film director Sonthar Gyal from Amdo features in this piece, Sonthar Gyal is the director of the internationally acclaimed 2011 film "The Sun-Beaten Path".
Enjoying the Privileged "Sunlight City Walk"
By Woeser
I am not sure if this group of Chinese film stars ever read the recent Washington Monthly article "The Disneyfication of Tibet". But then again, even if they had read it, they would not necessarily consider themselves those tourists rushing into Tibet that the author writes about. "Rather than threatening Tibetan monks with army troops, the government is smothering them with throngs of pushy tourists". These film stars all think of themselves as majestic and sublime, so when they entered Tibet they thought that it was for "spiritual reasons" and to "practice Buddhism".
On January 12, 2014, a group of Chinese film stars and about 1500 followers pompously set out "from Lukhang Park, passing the Potala Palace, the Lhalu wetlands, Jokhang Temple, and finally arrived at Potala Palace Square", a walk that was heavily exploited by Chinese media under the grand sounding name of "Power Walk #SunlightCityWalk". The actor Chen Kun who was leading the group said: "We are promoting a kind of spirit and attitude: regardless of what one experiences in one's life, one must always enjoy and relax."
This instigated a heated discussion among Tibetan netizens on Weibo: "What would happen if more than ten of us Tibetans walked around like this!?" "They would send out special and military police". "How would they deal with 150 Tibetans walking together?" "Aren't they saying that it is against local laws to have more than 6 people gather together? They would inspect people's ID cards, lock them up for a month; this is totally incommensurate with what we see here!!!" In fact, this is not only the case today, in 1998, during Tibetan New Year, 200 to 300 Tibetans from the countryside and monasteries followed the traditional pilgrimage path around Lhasa to prostrate and were obstructed by the local authorities.
Just as Chen Kun and other stars embarked upon this "Sunlight City Walk", the Tibetan film director Sonthar Gyal landed in Lhasa, but he was confronted with all kinds of obstacles until he was allowed to enter Lhasa. He complained about the difficulties of being Tibetan on Weibo and posted a photo on which he pointed at a "TAR residence permit" and a "reminder card" of his appointed hotel. These were part of the new measures for people from the "four Tibetan areas" (Qinghai, Gansu, Sichuan, Yunnan provinces) coming to Lhasa that were enforced on June 30 last year. They included that when entering Lhasa they had to register at one of the inspection points and exchange their ID cards for a special permit used in Lhasa. Unfortunately, Sonthar Gyal's Weibo comment was quickly deleted and I only managed to download the photos.
Someone asked why these stars like Chen Kun enjoy such different rights in Lhasa. This is very simple. It is more or less the same as what the British did when they colonised India; in beautiful areas, they built holiday resorts and clubs that were exclusively for the British themselves. Just like the Uyghur professor from Minzu University of China, Ilham Tohti, who was arrested many days ago commented: "These are differential ethnic policies and the privileging of the dominant group."
In fact, this "Sunlight City Walk" is the government's work. According to a media report, the Lhasa Deputy Secretary appointed Chen Kun as the "Ambassador of Lhasa" at a press conference and he even presented him with a khata. After the walk, a group of cadres declared the "launch of the spiritual public welfare project – the walk of power", as if every single one of them had been transformed into noble figures. Moreover, the report tells us that "the 1500 cadres, student representatives and journalists accompanying the group…" had been carefully selected and screened, so all participants were wearing the same yellow armbands. As the group "walked" through Lhasa, all plainclothes police had disappeared and cars were temporarily forced to wait. This kind of "spiritual project" really holds Tibetan characteristics.
I wonder whether these Chinese stars, as they were striding through Lhasa side by side in the same manner as military troops, were actually aware of scenery they were passing? Over 60 years ago, during times of turmoil, the Dalai Lama said: "your home, your friends and your home country are suddenly all gone…"
There is nothing that could illustrate Lhasa's current cruel yet ironic reality better than this "Sunlight City Walk". These Chinese "red movie" stars are not only using Tibetan religion and "Buddhist practices" to polish their own image, they even help local authorities with their evil "Tibet policies" of beautification; but it covers up that in reality, true Buddhist practices in the entire Tibet are ruthlessly suppressed; and from a different angle, it also makes it very apparent that Tibet is still a place that is ruled by "apartheid".
January 21, 2014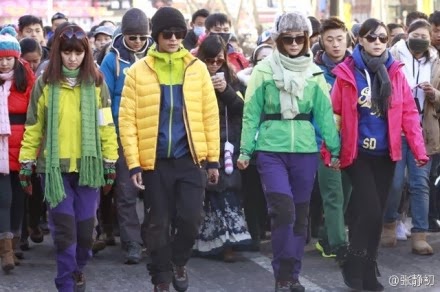 This post is also available in: Chinese (Simplified)