High Peaks Pure Earth has translated two blogposts by Woeser written on December 17 and 25, 2013, for the Tibetan service of Radio Free Asia and published on her blog in two parts on December 29 and December 31, 2013.
In the first post, Woeser introduces Chinese human rights lawyers who have defended Tibetans and in the second post provides background information about the situation in Chamdo concerning Kagyu monasteries. 
Readers may remember the Chinese human rights lawyers in April 2008 who offered legal aid services to Tibetans involved in the protests at the time.
For more updated information by Woeser about detained Khenpo Karma Tsewang, please follow this link: http://highpeakspureearth.com/2014/the-cross-provincial-arrest-of-khenpo-karma-tsewang-from-nangchen-by-woeser/
"A Short Introduction to Chinese Human Rights Lawyers who Defend Tibetan Rights"
By Woeser
Part One
As I documented in my book "The Snow-Lion Roaring in the Year of the Mouse: A Chronicle of the Events in Tibet of 2008": "There are 21 Chinese lawyers who are willing to help arrested Tibetans by giving them legal aid; on a jointly signed document they wrote: "According to reports from within the country, hundreds have already been arrested for the "March 14" incident which occurred in Tibetan areas. As professional lawyers, we hope that the departments concerned will deal with arrested Tibetans in strict accordance with the Constitution, laws, and related criminal procedures; put an end to the extortion of confessions by torture; respect the independence of the judiciary; and uphold the honour of the law. We express here that we are paying close attention to related cases, and are willing to offer legal aid to arrested Tibetans". But the lawyers who jointly signed this document were immediately confronted with a strict warning by the local officials, telling them that they were not allowed to intervene in any legal cases concerning Tibetans.
The outside world might not be so aware that the whole of Tibet is a world without justice, that Tibetans have been deprived of their legal right to protection, that many Tibetans are facing unfair legal hearings; but the outside world might be equally unaware that there are a number of genuine Chinese lawyers who have for many years been going through the difficulties of helping Tibetans defend themselves and the truth. Just as Teng Biao, the human rights activist who lost his legal license because he had signed that document, said: "In terms of human rights, in terms of every aspect of the most basic rights, Tibetans suffer from more obvious and more severe oppression than Chinese… For Chinese, cases such as the ones of Xu Zhiyong and Liu Xiaobo are considered sensitive. But for Tibetans, all cases are sensitive."
As someone who documents events, I would like to briefly introduce some of the cases that I know of:
1. The lawyer Zhang Sizhi: served as the defending lawyer for Tenzin Delek Rinpoche who had been sentenced to a commuted death penalty in Sichuan Province in 2002, but the local authorities refused him any involvement in the case. Tenzin Delek Rinpoche is still imprisoned in the eastern Sichuan Prison of Dazhu County in Dazhu Prefecture, Sichuan Province.
2. The lawyers Li Fangping and Jiang Tianyong: served as the defending lawyers for Buramna Rinpoche of two nunneries in Sichuan Province in April 2009. It was the first time since 2008 that in a legal case the defending lawyer was not appointed by the local authorities. Yet, during the second trial the lawyers were deprived of their authority to defend Buramna Rinpoche who was sentenced to eight years in prison.
3. The lawyers Li Fangping and Jiang Tianyong: acted as defending lawyers for Jigme Gyatso of Labrang Monastery in Gansu Province in May 2009, with the help of these two lawyers, Jigme Gyatso was released.
4. The lawyer Li Fangping: acted as the second defending lawyer for the monks Tsultrim Gyatso and Thabkey Gyatso of Labrang Monastery in Gansu Province in July 2009, but was harshly refused to intervene in the case. The two monks were arrested because they had taken part in the uprising of March 2008 and were sentenced to life imprisonment and 15 years respectively. Today, they are still in prison and it is said that due to severe mistreatment they are now disabled.
5. The lawyer Li Dunyong: acted as a defending lawyer for Dhondup Wangchen, the producer of the documentary "Leaving fear behind", in July 2009. He managed to meet Dhondup Wangchen once in prison in Xining. But the Justice Departments of Qinghai and Beijing joined forces to exert pressure, trying to prevent Li Dunyong from intervening in this case, claiming that Dhondup Wangchen could only be represented by a local lawyer.
6. The lawyer Chang Boyang: acted as a defending lawyer for Dhondup Wangchen, the producer of the documentary "Leaving fear behind", in February 2010. He had been sentenced to six years imprisonment. He went to Xining but was not able to meet Dhondup Wangchen and even received a warning from the local authorities that if he did not give up this case, his law firm would be closed down.
7. The lawyers Pu Zhiqiang and Li Huiqing: acted as the defending lawyers for the Tibetan businessman, environmentalist and philanthropist Karma Samdrup in May 2010. This case was heavily politicised by the local authorities and ended up being a case of shocking injustice; Karma Samdrup was sentenced to 15 years in prison. Today he is still serving his sentence in the Shayar prison in Xinjiang.
8. The lawyer Li Fangping: acted as the defending lawyer for the famous Tibetan author and editor of the Qinghai People's Publishing House, Tagyal (aka Shogdung) in October 2010. In April 2010, Tagyal was arrested in Xining and thrown into prison but was released on bail pending trial half a year later.
9. The lawyers Teng Biao and Zheng Jianwei: acted as defending lawyers for Dawa, a teacher at the Ngaba County Middle School for Nationalities in Sichuan Province and the Editor-in-Chief of the Tibetan magazine "Modern Self" in early 2011. But after Teng Biao was secretly arrested and kept for 70 days in the course of the Chinese authorities suppressing the "Jasmine Revolution", lawyer Zheng Jiangwei was forced to resign from representing Dawa by the Justice Bureau.
10. The lawyers Wang Yayun and Zhang Kai: acted as defending lawyers for the monk Jigme Gyatso of Labrang Monastery in Gansu Province who had been arrested for the fourth time accused of "inciting national splittism". But they were refused to intervene in the case by the local authorities.
Due to the time constraints of this broadcast, more examples of Chinese human rights lawyers fighting for the Tibetans who have been deprived of their basic rights and justice will follow in the next piece.
December 17, 2013
Part Two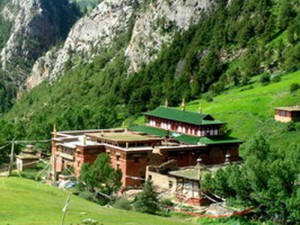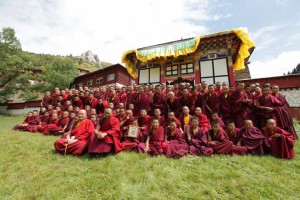 (Above) Karma Monastery situated in Karma Township, Chamdo County, Chamdo Prefecture, TAR.(Below) The over 100 monks taking part in the study of sacred texts at Karma Monastery. Most of them have already been expelled by the work group. The two monks in the first row are the two who were arrested and sentenced.
In my last article, I briefly introduced some cases of Chinese human rights lawyers helping Tibetans suffering from injustice to defend their rights. In this piece I would like to talk about the human rights and religious disasters as well as the efforts of human rights lawyers that occurred in the famous Kagyu Monastery, Karma Monastery, in Chamdo County, Chamdo Prefecture, TAR.
In the early morning of October 26, 2011, an explosion happened inside the Township government of Karma Township, Chamdo County. The local authorities blamed the monks of Karma Monastery for this incident. The real reasons behind it were that the local cadres had been bullying ordinary people and the monastery for a long time, which instigated great conflicts. The stationing of a work group inside the monastery led to great fear among people in the monastery and Township. The over 100 monks taking part in the study of sacred texts inside the monastery were all children of local villagers, between 10 and 20 years old. But the local policy was that people under the age of 18 were not allowed to become monks, or else they would be expelled. Due to strong resentment against these various oppressions, about ten young monks used some of the explosives left over from a building site in the monastery and threw them into the local government building. In actual fact, the explosion did not cause much damage, no one was injured. The young monks even posted some leaflets in which they expressed their opposition against these policies.
But the local cadres in order to avoid investigations and being held responsible by their superiors and even more to benefit from "fighting against separatism", turned this quite small matter into a big issue, claiming that it was a "terrorist attack" by separatists. Since then, Karma Monastery has been suffering from a terrible calamity. The temple was surrounded by military police, all monks were photographed, their blood was taken, their mobile phones were collected and their handwriting was registered. About 70 monks were arrested at once, many left the monastery out of fear. A large number of villagers were also interrogated and forced to confess.
At the end of November 2011, Khenpo Lodoe Rabsel and Khenpo Namsey Sonam of Karma Monastery and the learned Dhondup Gyatso also from the same monastery were arrested while taking refuge to meditate in a mountain cave in Nangchen County, Yushu Prefecture, Qinghai Province. They were locked up in the detention house of Chamdo County security bureau, accused of "separating the country".
For this reason, the Karma villager and monk of Karma Monastery, Tenzin Phuntsok, self-immolated in front of the Township government on December 1, 2011. He shouted out "My master and Lama of Karma Monastery was arrested, I cannot take it anymore". In the four letters that he left behind he wrote: "If Khenpo Lodoe Rabsel, Namsey Sonam and all the monks and nuns of Karma Gon Monastery, the true and unmistakable practitioners of Buddhist dharma, have to endure torture and imprisonment like this, then it is better to sacrifice my life."
Karma Monastery was once home to over 200 monks, 104 of them were expelled by the local work group as "unregistered monks", forced to return to normal life as farmers. Now 124 monks are left. The work group stationed inside encompasses 10-12 Chinese and Tibetan cadres, in addition, 40-50 military police officers are staying in its vicinity, turning Karma Monastery into a prison-like place.
Between January and May 2013, the Chongqing lawyer Tang Tianhao, the Xining lawyer Cheng Bin and the Chengdu lawyer Ran Tong were asked by family members to act as defending lawyers for the three monks Lodoe Rabsel, Namsey Sonam and Dhondup Gyatso and they accepted. During the bitter cold winter months on the plateau, putting up with inconvenient transportation and the extremely high altitude, these three lawyers visited Chamdo many times. Thanks to their efforts, the charges against the three monks were altered from "separating the country" to "harbouring criminals"; they were sentenced to 2 1/2 years. The lawyers considered this charge of "harbouring criminals" a "fallacy" that was completely unfounded and asked for a verdict of not guilty, but the local authorities could not change it.
Besides the above, Boeyag Monastery in Menda Township, Chamdo County is also a Kagyu Monastery; on March 10, 2012, two persons in charge, Jamyang Yeshe and Drubgyu, were arrested. The reason was that they were suspected of having posted "We don't celebrate Tibetan New Year" flyers around town just before Tibetan New Year and that they expressed their protest against the persecution of Karma Monastery. Secondly, they were suspected of praying for the Dalai Lama during the Tibetan New Year celebrations and also for the people who self-immolated over the past years. The two monks were originally accused of "being suspected of national separation" but thanks to the efforts of the lawyers Tang Tianhao and Liang Xiaojun, they were released in June 2013.
At present, however, more monks from Karma Monastery who tried to find refuge somewhere else are being arrested. Even the wise and venerable Khenpo Karma Tsewang of Jhapa Monastery (also a Kagyu monastery) situated in Nangchen County, in Yushu Prefecture, Qinghai Province, just next to Chamdo County, was arrested on December 6, 2013 by the security bureaus of Chamdo and Chengdu and then locked up in Chamdo. It is said that local authorities believe that he was involved in the Karma Monastery incident. This is why Khenpo Karma Tsewang is in urgent need of legal support from a human rights lawyer.
December 25, 2013
This post is also available in: Chinese (Simplified)