High Peaks Pure Earth has translated a blogpost by Woeser written on October 26, 2011 for the Tibetan service of Radio Free Asia and posted on her blog on October 30, 2011.
This series of posts covers Woeser's travels to Amdo, Kham and Lhasa that started in the Summer of 2011 and follows on from the last post "Nyarong County's Gonpo Namgyal".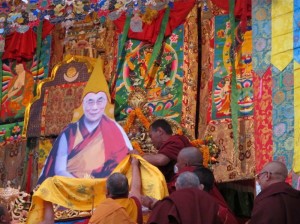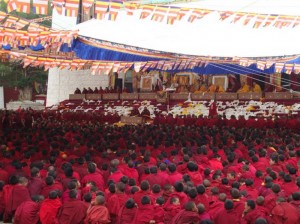 July 15, 2011, at the Buddhist gathering in Lithang, Kham, thousands of monks from several hundred monasteries of different Buddhist Schools from Kham and Amdo worshipped a portrait of His Holiness the Dalai Lama. (Source: Voice of Tibet, Norway)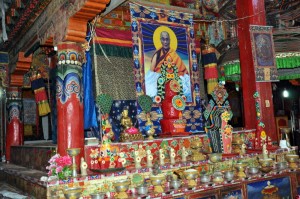 October 2011, in Nangchen County, Kham, 1500 monks from 35 different monasteries of different Buddhist Schools from Kham and Amdo worshipped a portrait of His Holiness the Dalai Lama (Source: a local Tibetan)
"Tibetan Buddhist Gatherings Worship a Portrait of His Holiness"
By Woeser
In the following article, I want to continue describing my journey through the Kham region in July 2011. Originally, we had planned to spend a few days in every place we visited, but because of the fact that as soon as we arrived in Yushu we were shadowed by a Yushu County (Qinghai Province) police car, and later, when travelling from Mani Gego onwards, we were followed by police from Kardze County (Sichuan Province), we had no choice but to rush through many places and could often only stay for a few hours or one night. We were very aware of the fact that the reason for following our every step was to reduce the time we would have to contact fellow Tibetans in all those places and, even if we had done so, this would have led to the manufacturing of groundless accusations that would have been sufficient to get our friends into trouble.
On the bumpy road leading from Nyarong to Lithang, I used my mobile phone to note a few sentences describing my feelings at the time: road inspection points have been set up in every county, there are piles of ordinary and armed police forces registering people's ID cards in a suspicious manner. The ordinary police are mainly Tibetans, whereas the armed police are basically Han Chinese. In Gyangpa township, Lithang County, we stopped to take pictures, the police car that was always following us stopped right in front and waited, afraid that we would start a conversation with any local Tibetans. I walked over to the police car and questioned why we were being followed but the young Tibetan policeman only used his phone to take a photo of me while at the same time falsely claiming that this must have just been a coincidence.
I lived in Kham for over 10 years and have returned many times since so I am almost as familiar with this area as I am with Lhasa, including the changes that have occurred from the past to the present day reality. When I once more got to see the tall and lofty Khampas clothed in Tibetan garments as I was walking through the streets of Lithang, I realised that the Tibetanness had decreased a lot compared to previous years; instead, what had increased were Han Chinese gold diggers. There is one street that is referred to as "Gourmet Street", many of the restaurants there are selling fish and their doors or windows carry signs reading "Plateau Cod" in Chinese characters and of course, along the main road these kind of restaurants are also found everywhere; the holy Tibetan water creatures have become delicacies in the stomachs of gluttonous and greedy pigs.
Lithang Monastery (also called Tupchen Chökhor Ling Monastery) has a special meaning in the history of Tibet. In March 1956, the Chinese Communists who claimed to bring happiness to the Tibetan people, flew over Lithang and bombed the Monastery and on the ground they sent troops of the PLA that massacred monks and laymen; only in the 1980s did the monastery recover, albeit with great difficulties. I have been to Lithang Monastery many times but because we were being followed I discarded the thought of paying it another visit. This was probably sensible because otherwise I would have been subject to great analysis by concerned parties. Many days later, on the road when I was online and unexpectedly managed to "jump the great firewall", I saw the following shocking news: On July 15 (precisely 2 weeks before we passed through Lithang) Lithang Monastery held the 4th Winter Buddhist Assembly, which was attended by thousands of monks from several hundred monasteries of different Buddhist Schools from Kham and Amdo. What made this one different from previous gatherings, however, was that at the beginning, during the prayers, a large portrait of His Holiness the Dalai Lama was revealed on the solemn altar; monks and devotees respectfully offered khatas, many with warm tears in their eyes. According to the report, prior to the assembly, many monks had revealed to the local government and public security department that a portrait of His Holiness would be worshipped during the meeting and that if this was stopped by the local authorities, they could not guarantee the smooth running of the event and protests may erupt.
I saw photos of this assembly, indeed showing scenes of great excitement. A Lama who participated in the assembly confirmed this news to me. He was not a monk from Lithang Monastery, but from a Kagyu Monastery somewhere in northern Kham. When he saw the portrait of His Holiness whose size exceeded that of a real person, he could not help but put his palms together for prayers, his cheeks streaming with tears: "it really felt as if Gyalwa Rinpoche was attending in person, it was as if our internal wounds were suddenly healed." He then moved on to express in a suppressed and low voice that could hardly cover up his excitement that the revival of traditional Tibetan Buddhism is already approaching and that during the critical and determinative times today, the efforts of many visionary Lamas from different Buddhist Schools have brought back to life the united religious movement that had been initiated over 200 years ago by the monasteries of Derge County, Kham.
Indeed, three months later, the 7th Kagyu Buddhist Assembly took place in Nangchen County, which is situated near Yushu; it was attended by 1500 monks from 35 different monasteries of different Buddhist Schools from Kham and Amdo. Once more, a large portrait of His Holiness the Dalai Lama was presented and most sincerely revered by practicing Buddhists and believers. Clearly, the portrait of His Holiness has already become a distinct symbol for the unification of monks from different religious schools and regions in Tibet.
Beijing, October 26, 2011
This post is also available in: Chinese (Simplified)