High Peaks Pure Earth has translated a blogpost by Woeser written in April 2012 for the Tibetan service of Radio Free Asia and posted on her blog on May 2, 2012.
The blogpost talks about a successful legal case against the Lhasa Public Security Bureau brought forward by Chinese Christian Song Xinkuan. At the same time, Woeser points out unsuccessful attempts by Chinese lawyers to represent Tibetans and the punishments handed out to those lawyers. As an example, Woeser mentions the Chinese lawyers who offered their services to Tibetans after the protests in March 2008 and subsequently some lost their licenses.
To read a 2009 post by Woeser about Tibetan legal cases, follow this link: http://highpeakspureearth.com/2009/the-chinese-and-tibetan-legal-contexts-which-is-worse-by-woeser/
Finally, this blogpost by Woeser comes in two parts, check back on Wednesday for Part Two!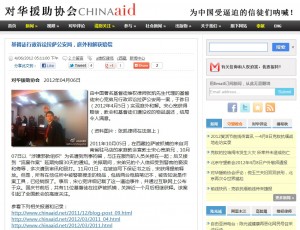 The picture shows a screenshot of China Aid's report about Song Xinkuan's case, "Christian Wins Compensation in Out-of-Court Victory of Civil Suit Against Lhasa Public Security Bureau"
How Did a Christian Win A Religious Lawsuit?
(Part 1)
By Woeser
On April 7, I came across the RFA report "Lhasa Public Security Bureau achieved out-of-court settlement in the lawsuit of the Christian, Song Xinkuan." Prior to that, I had posted Song Xinkuan's "Elaboration on the Tibet Lhasa Missionary Persecution Case", originally published from China Aid and re-posted on my blog http://tibet.woeser.com/
Of course, this incident represents a case in which religious believers are persecuted by the political regime. On October 5, 2011, the Priest of a house church from Zhumadian, Henan Province, who was doing missionary work in Lhasa, was arrested "on suspicion of organising an evil cult group", and later detained as a criminal for "committing crimes everywhere", repeatedly enduring interrogation and beatings. After he was released, Song Xinkuan asked the Beijing-based Christian rights lawyer Zhang Kai to represent him and file a civil lawsuit against the Lhasa Public Security Bureau (PSB). On April 5, the case was settled out-of-court.
Zhang Kai, who had gone to Lhasa especially to appear in court, left a message on his Weibo: "Good news: we filed a civil lawsuit in Lhasa against the city's PSB. Today, the Lhasa PSB not only returned confiscated property but also compensated for any related loss. We deeply appreciate how the Security Bureau redressed their mistakes promptly, the Security Bureaus in the whole country should learn from the one in Lhasa. May God bless Lhasa that managed to solve problems by abiding to the law and also to the Party's policies."
The fact that a Beijing based lawyer could win this religious case in the city of Lhasa, in such a highly sensitive environment, where religion is persecuted more often and harsher than anywhere else is really gratifying. This is probably the first case in the history of the Tibet Autonomous Region. Of course, this case was not about Tibetan Buddhism, and neither was it about Tibetan Buddhists that live in Tibet. I remember in 2008, many Tibetans were arrested because of the protests that had erupted in March that year, and as a result over 20 legal rights lawyers joined forces and declared to offer legal aid to the arrested Tibetans; however, simply because of this statement, all the lawyers that had signed the declaration were warned that they were not allowed to act on behalf of the arrested Tibetans, some even lost their law licenses.
Song Xinkuan is not Tibetan, so even though he was prosecuted in Lhasa for religious reasons, the lawyer acting on his behalf did not meet with the same restrictions from local authorities and could go to Lhasa and handle the case. However, in other cases, the Beijing lawyer Li Dunyong and the Henan lawyer Chang Boyang were commissioned twice, in 2009 and 2010, by the family of Dhondup Wangchen, imprisoned for filming the documentary "Leaving Fear Behind", to go to Xining and handle their legal case, but they were pressured by the Qinghai Judicial Department and the Beijing Bureau of Justice and had to thus withdraw from the case. At the same time, the Beijing lawyer, Li Fangping, who agreed to represent the monks Tsultrim Gyatso and Thabkey Gyatso of Labrang Monastery who had been arrested for participating in the 2008 protests, went to Lanzhou twice to handle their legal cases but was refused by the local court and also because of the extremely rude and unreasonable behaviour of the police, he had to finally drop the case. Before that, the Beijing lawyer Jiang Tianyong lost his law licence because he had represented a Tibetan client. All and all, legal rights lawyers have no way to enter Lhasa to act on behalf of arrested Tibetans in lawsuits.
It is possible to say that regardless of whether someone is Tibetan or Chinese, as a PRC citizen today, everyone should have the right to enjoy open and fair judicial hearings. The Chinese authorities, regardless of whether it is to prove the self-appointed image of China being a country ruled by law, should always protect the rights and benefits of the people involved in a legal case and the most important right is for anyone to be free to independently hire a lawyer. If even this most basic right is being taken away, then China's "rule of law" is reduced to being a simple verbal appellation that is nothing but smoke and mirrors. What is particularly regrettable is that the local authorities always use the argument that the people involved in a legal case can choose and commission their own lawyers, to reject independent lawyers, which in turn means that the monks and ordinary people who are persecuted in Tibet are unable to obtain legal assistance.
April 2012
This post is also available in: Chinese (Simplified)