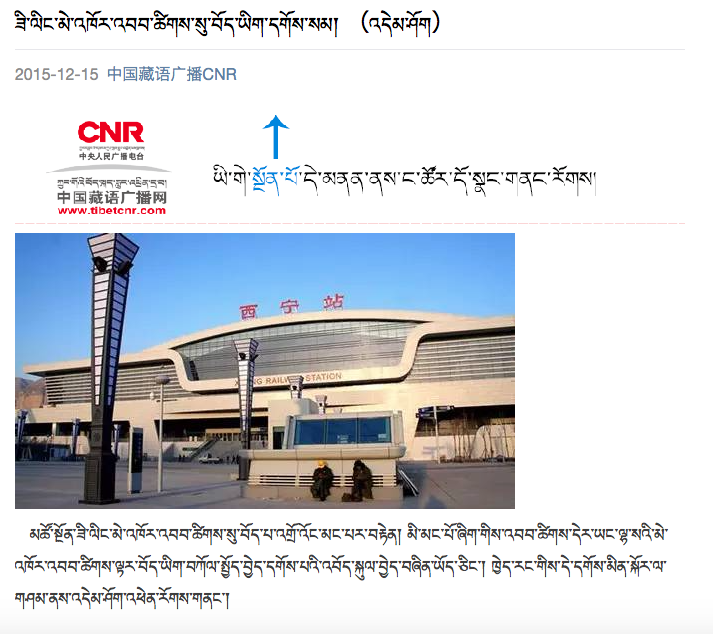 High Peaks Pure Earth has translated a short post and comments to an online poll that circulated on WeChat in December 2015. The online poll was related to Tibetan language, pointing out that Xining Railway Station only has Chinese language signage. 
The online poll is now closed but the participation of a high number of Tibetans and the comments left on the post and translated below show strong opinions held by local people. The poll was started by official media platform China Tibet Radio.
Earlier, in November 2015, a separate online poll about the need for a Tibetan language school in Xining, the provincial capital of Qinghai Province, had resulted in 96% of respondents answering Yes before being deleted. 
In 2008, a petition had been submitted to local authorities proposing to establish a Tibetan language primary in school in Xining, see the translation here: http://highpeakspureearth.com/2008/a-proposal-to-establish-a-tibetan-language-primary-school-in-xining/
I Think There Needs to be Tibetan Language Signage at Xining Railway Station
Because there are many Tibetans coming and going through Xining (Qinghai) Railway Station, many people have raised the issue that there is a need for Tibetan signage to be used, like in the Lhasa Railway station. Below please cast a vote indicating whether you think there is such a need.
Selection of Comments:
Nangmi Khamde: It's necessary for there to be Tibetan
Sum Med: There's a need. I have great hopes!
Tsoyed Shonu: There needs to be Tibetan. Thank you!
Dukyi Yangda: If there's no Tibetan, it's a sign there is no Tibet! It's necessary!
Tenpa: It's necessary. If there isn't, we've reached the point where it's not allowed.
Gangri Langtso: There's a real need. For those like myself who don't know Chinese there would a huge benefit
Lharu Karbo: It would be good if there were both Chinese and Tibetan.
Mandzinpa: In Tibetan areas it's necessary we have Tibetan and use Tibetan.
Kawai Thogda: It's essential.
Dzachu'i Padma: There must be! Where there are Tibetans we have to use Tibetan.
(Chinese username): Necessary. It would bring benefit to the people.