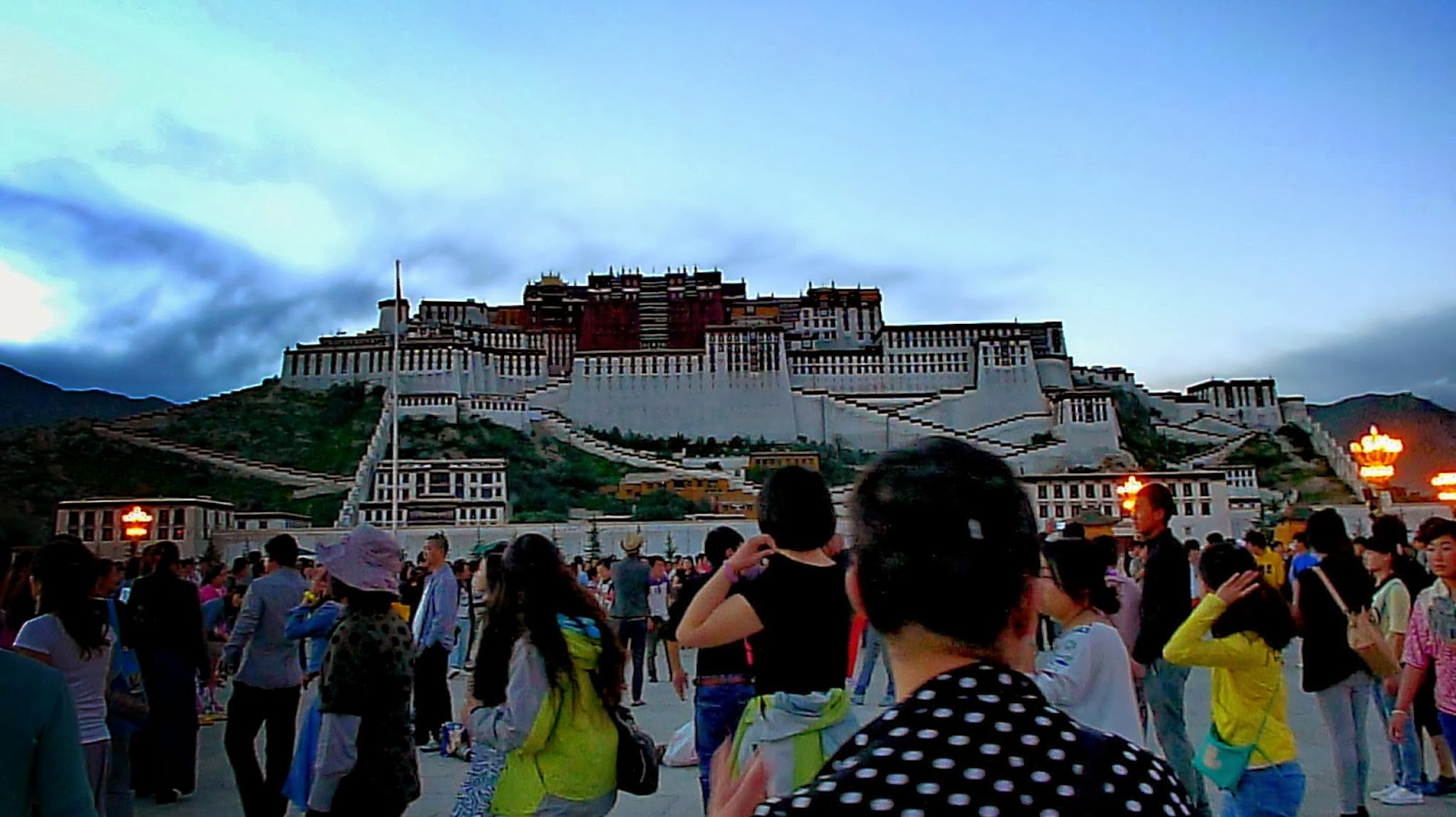 Potala Palace square, tourists are doing ballroom dances to newly revised Tibetan-style revolutionary songs
High Peaks Pure Earth has translated a blogpost by Woeser written on August 13, 2013 for the Tibetan service of Radio Free Asia and published on her blog on October 24, 2013.
In this post that was written when she was spending time in Lhasa, Woeser continues to focus on the transformation of Lhasa but this time mainly quotes from a Chinese tourist's Twitter feed. The "Disneyfication" of Tibet has often been written about recently and Woeser starts her piece by referring to this.
It is ironic that Chinese tourists to Tibet using microblogs are able to report more on what they see than locals are. This was the basis of a recent report by International Campaign for Tibet titled "Has Life Here Always Been Like This?" that published photos and social media posts in English translation by Chinese tourists visiting Tibet. 
Potala Palace square at night, a tourist dressed up as "Spider-Man" offering to take group photos for money
"A Netizen on Twitter Describes her Experience of Visiting Lhasa"
By Woeser
Before the Qinghai-Tibet railway was opened, the BBC documentary "Himalaya", showed scenes from Lhasa and Yushu. The TV presenter stood in front of Potala Palace and narrated how Lhasa was being transformed into a Disneyland for tourists. Recently, the Indian media group Niti Centra published an article by a French Tibetologist titled "China wants to turn Tibet into an amusement park", talking about how the flood of Chinese tourists has more or less drowned the Tibetan plateau and how Tibet is rapidly turning into one of the world's largest amusement parks, a thousand times larger than Disneyland.
However, among the tourists there are also some very clear-headed people. On Twitter, a netizen named "Tiantian Haitun" @leewua99 describes her feelings of experiencing the Lhasa Shoton festival in 2013. She also compares it to her first visit nine years ago. Even though the Lhasa of 2004 was what the BBC TV presenter commented on in the documentary, but as someone who is currently also in Lhasa, I can very much relate to the stories of this netizen. I know they are true and so I compiled the Twitter comments for this blog, to share them with those who cannot visit Lhasa:
"Lhasa nine years ago was really Lhasa, Tibetan people's Lhasa. Today's Lhasa is somehow divided… the construction projects that are going on everywhere, the Chinese propaganda slogans about the Chinese dream; the worn down stones from all the Tibetans prostrating in front of the Jokhang; the advertisement screens in taxis with the words 'Unity and stability is happiness, separatism and turmoil is misfortune' being displayed in an endless loop."
"At the end of July 2013, we had just arrived in Lhasa, my flatmate queued up for an entire evening to buy a 200 Yuan ticket to gain entry to Potala Palace. On August 7, I heard that it was even hard to buy a ticket for 2000 Yuan. Besides, tickets booked in advance had to be exchanged for a real ticket with your ID card. There were people after people and they even reminded you to not spend more than one hour inside. How can one appreciate the culture of a people, let alone a place of religious belief, when flogged along like a donkey?"
"This neatly polished, brightly lit and brand new Potala Palace made me cry, made me feel hurt, I did not want to go inside. Nine years ago, many Tibetan prostrated on the shiny black stones on the sidewalk, today they put up iron railings. The white stupa behind Potala Palace has been more or less razed to the ground, all that is left are various boutiques. One would need hundreds of years of time and human effort to revive what has been destroyed here."
"Near the train station, next to the many street lights there was a Chinese flag made from a thick metal piece. The area around the Jokhang was densely populated with fake five-starred red flags floating in the wind… religious belief is one thing, the nation another. I was sad to see this blood-reeking flag at the main entrances of other monasteries."
"At the end of July 2013, when exiting Lhasa train station, there was a soldier every five metres, not letting you wait, not letting you take photos. When I came back in August, the space in front of the station was one big empty patch of land, there was only one narrow entrance and exit. I don't know why. Is it that they are afraid of someone wanting to blow up Lhasa train station or throw a bomb somewhere?  Or has the military done something that we don't know about?"
"Unlike nine years ago, around the Barkhor, every intersection leading to the Jokhang was equipped with a police and security checkpoint, unbelievable. The feeling of taking a relaxing stroll around was gone. The Barkhor stalls were going to be moved into the department store opposite Banak Shol. I guess it will vanish within the next two years, the scenery surrounding the Jokhang will fade away."
"On August 6, it was Lhasa's Shoton festival. On the 5th, at midnight, we had taken our sleeping bags to go to Drepung Monastery. On the 4th, all tickets had been sold out. On the 6th, at 3 in the morning, we started walking towards the two sides of the thangka display mountains, at 8, the great Buddha started to be bathed in sunlight, it was over-crowded, Tibetans kept streaming up the mountain, it was impossible to turn around… and CCTV still said it wasn't crowded? Nonsense."
"At the end of the festival, when everyone was going down, I saw many people randomly throwing away their rubbish. Many Chinese tourists threw their litter on the ground, I was too furious and shouted at them, but those people did not even look at me. On our way down, Tibetan civil police were complaining how after the festival the entire mountain was a pile of rubbish…"
"The lady who started selling Tibetan ornaments eight years ago in Namtso said that in the past, between September 28 and October 1, one could see three white dragons when facing the lake on the Dangla mountains, when facing the direction of the sunset, one could see one black dragon. But in the past three years, one could no longer see them because of the many newly built sheds and huts and the various construction vehicles; also, there was the constant noise of tourist buses and the holy Namtso lake had been polluted from laundry detergent and other pollutants."
"Lhasa has changed so much that it isn't Lhasa anymore, from various aspects, including the way people are organised to come to Drepung Monastery during Shoton festival or the overall urban development, the way Lhasa is managed is full of problems. It seems that a brainless person is irreparably destroying an ancient civilisation."
August 13, 2013
This post is also available in: Chinese (Simplified)