High Peaks Pure Earth has translated a blogpost by Woeser written on March 30, 2013 for the Tibetan service of Radio Free Asia and published on her blog on April 21, 2013.
The post is about the Hong Kong Tibet Documentary Festival that took place in Hong Kong earlier this year. The documentary films screened were "Leaving Fear Behind", "Art in Exile", "Undercover in Tibet", "Tibet's Cry For Freedom", "The Forbidden Team", "The Tibetans: A Life in Exile" and "Fire Under the Snow".
For a description of a home film screening in Beijing as described by Woeser in this post, see this blogpost from 2007 titled "Tibet Does Not Exist, Tibet Does Exist" where she writes about watching "Dreaming Lhasa" with friends.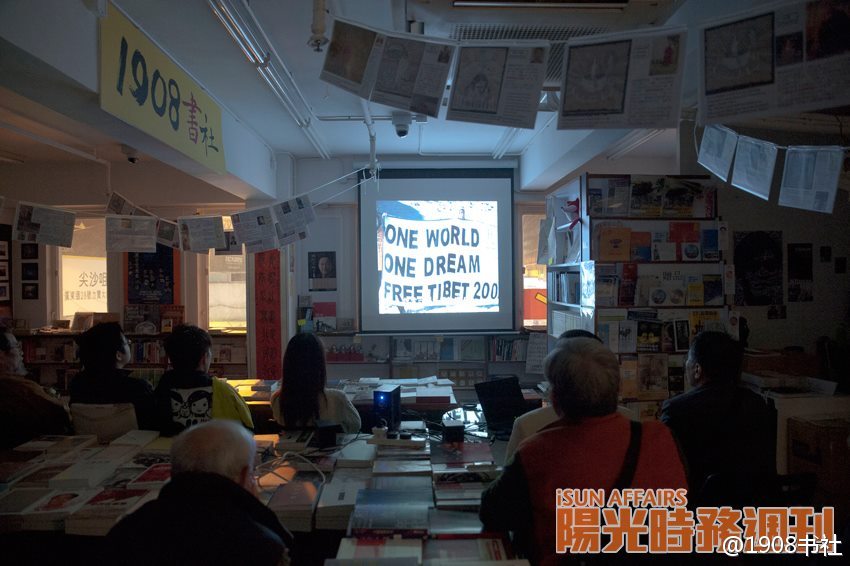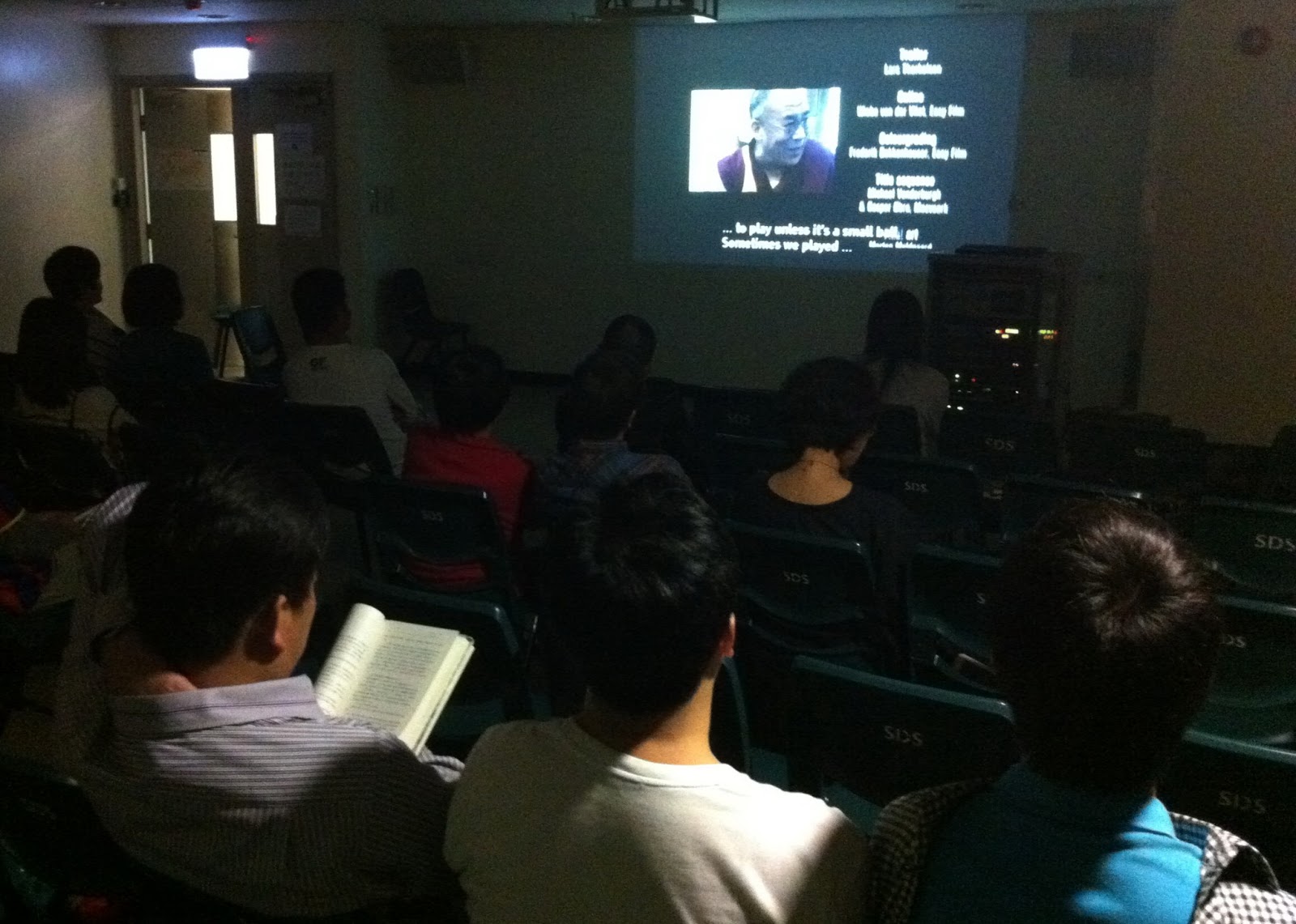 Photos of the first Hong Kong-Tibetan documentary film festival
"Today's Tibet is Hong Kong's Tomorrow"
By Woeser
March 10 is an important commemoration day in the history of Tibet and on this day the first Hong Kong-Tibetan documentary film festival was held in Hong Kong earlier this year. According to a report by Apple Daily on that day, it was organised by "'Muke Studios', a Mainland Chinese studio paying attention to issues related to Tibet, as well as many organisations in Hong Kong; starting from today all the way up to April, seven Tibet related documentaries will be shown. All of them are forbidden in mainland China." The goal of this festival was "to appeal to Hong Kong people to pay attention to human rights issues in Tibet", because "today's Tibet is Hong Kong's tomorrow".
This made me remember many related stories. For example, last year I spent three months in Lhasa and one day when I passed through a small alleyway in the old town I happened to meet an old friend who recognised me. As we spoke quietly, she suddenly started to cry, her husband had been sentenced to three years because he had watched a video of a Buddhist teaching by His Holiness the Dalai Lama. Another example is that even saving songs in ones mobile phone that have been classified as "reactionary" by the local authorities but that are all songs reminding people of His Holiness or advocating ethnic consciousness may result in acute danger. In 2008, for instance, the local authorities in Lhasa arrested 59 young Tibetans who "had illegally downloaded reactionary songs from the internet". In recent years, from Amdo and Kham more and more songs have been released whose metaphors are becoming increasingly direct, quite openly speaking out the Buddhist name of His Holiness, the Tibetan flag, the names of lamas in prison and even the names of the leaders of exiled Tibetans; and because of this many singers have been arrested.
Watching any of the seven documentaries in Tibet would represent an enormous risk. Many people don't believe in such stories but in Lhasa rumours have been spreading widely that people have been questioned in less serious cases and arrested and sentenced in more serious cases simply because they watched a film that the local authorities considered "reactionary". The fact that such stories are being spread so extensively shows the inextinguishable wish to see the truth; all sorts of desperate measures are being taken, such as people unplugging their cable TVs while watching films or wrapping up the ends of their TV cables with isolated black rubber tape; it is said that in this way, when watching "reactionary films", nothing can be transferred through the cable to neighbours' TVs. From this we can see how afraid people are, but at the same time we see that they are not willing to compromise either.
Out of those seven documentaries, I have watched a few, most of them at home in Beijing. The interesting thing is that even though the power holders in Lhasa and Beijing are the same, but the degree of freedom in these two places differs greatly. What I want to say is that in Beijing one can breathe a great deal more freely than in Lhasa, of course this is a metaphor, as the air pollution in Beijing has already reached a damaging degree, whereas Lhasa with its blue sky with white clouds, albeit also experiencing some pollution, is much more pleasant for people to live in.
A few years ago, there was a time when young Tibetans from their university or work unit dorm rooms came over to my home. We were mainly occupied with watching films related to Tibet. I never dared to turn up the volume, I could not help but worry that the films telling the truth about Tibet would be heard by eavesdroppers through the walls, which would get my friends into trouble. But I noticed that whenever His Holiness appeared on the screen, all my friends would fold their hands in respect and whenever past or present images of suffering were shown, my young friends were on the verge of tears…
Actually, the reason for these long-winded words here is that I want to express my feelings that being able to watch so many Tibetan documentaries that show the truth and real history in a relatively free place such as Hong Kong, is a very fortunate thing.
For Tibetans living under such serious suppression, this kind of fortune cannot even be dreamt of. Or to use different words, being free means being happy. Even though we don't know how long this happiness will last.
What I also want to say is that one of the seven documentaries that was shown at the festival was "Leaving Fear Behind" shot by the Tibetan Dhondup Wangchen and the monk Golog Jigme; it is not only forbidden in Tibet, but Dhondup Wangchen was also sentenced to six years because of it and is still suffering in prison as we speak; Golog Jigme was arrested many times until he disappeared without a trace in September last year; he is now listed as a wanted criminal by the local authorities and to this day, no one knows whether he is still alive or dead.
March 30, 2013
This post is also available in: Chinese (Simplified), Tibetan