High Peaks Pure Earth has translated a blogpost by a Tibetan blogger that was written on March 3, 2013 and posted on their Sangdhor.com hosted blog on March 24, 2013.
The blogger recounts a trip back to their home village and gives an insight into the lives of the people there and the issues that are discussed during informal gatherings. The main topic of conversation amongst villagers is a government loan that can be paid back over three years. It is unclear to the blogger exactly what this loan is and what lies behind it. If these loans are related to the "Nomadic Settlement" project, as described in this academic paper, then it is not explicitly mentioned. However, the assertions seems to be that these loans are somehow linked to maintaining political stability in the area.
The "Nomadic Settlement" project in Qinghai province seems to be parallel to the "Comfortable Housing" project that started in the Tibet Autonomous Region in 2006. This New York Times article from 2010 states that government subsidies to build new homes, usually $1,500 per household, are not enough to cover costs and "families have generally had to take out multiple times that amount in interest-free three-year loans from state banks as well as private loans from relatives or friends."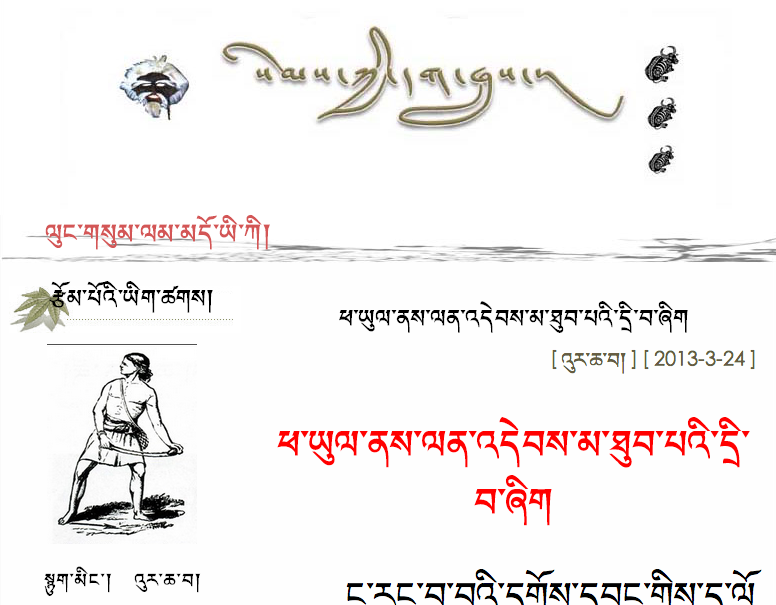 "An Unanswerable Question From My Native Land"
I spend most winters in Xining due to work reasons. I didn't have the time to return to my home village. I had hoped that during the New Year I would be able to visit my relatives. I stopped my urgent work for a while and came back to my village. The children's lifestyle and the beauty of my homeland made my half-month go by so quickly. However, I talked with my relatives about our life and read a few books whenever I could. At the same time, I asked about news from the village.
There are a number of things that happened during those days. One of the news that caused difficulty and was unclear to me was news of a state-level policy implemented in the village. Each Tibetan household has to take a loan of 50,000 RMB. Every three months, interest must be paid to the government. The people are saying the loan is for three years, if you can pay back the entire loan in three years, the interest collected every three months will be returned. It is tradition in the village over the New Year that the relatives invite each other for gatherings, this year, the same thing was done as in the past. For three days there were discussions of horse races and what position the horses came in. They are saying this year racehorses fetch between 300,000 and 400,000 RMB. The conversation lead to a discussion on the quality of modern cars, the young ones talked about brands and prices of trucks. Some youngsters sold their wife's jewelry and farm animals to purchase a car.
There is another piece of news, about the implementation of the above-mentioned state policy. I listened very carefully. The older people said this is a crafty policy of China and there are no benefits in taking out the loan. Moreover, this is the start of selling the tradition, language and customs of one's nationality. Even one's lamas and monks can be purchased by money. If within three years, other events happen, the 50,000 RMB will be used to prevent our village and people from getting involved in these events. If you stay quiet, not complain about the political system and not get involved, then you do not need to pay back the 50,000 RMB to the government. The government will also return the interest that you paid before for this loan and it will provide further money to win people's hearts.
For some households that purchased yaks and sheep with this 50,000 RMB loan, they were not able to make cash until the animals were fully grazed in the summer for sale. Even though they have not completed the three years loan term, they still have to return interest on time to the government. Otherwise they will be charged with additional interest. If they do not pay the interest after a few days of passing the deadline, they will be made to suffer with threats of imprisonment. Therefore, some people are saying that one should not accept this loan at all. I thought that this was a reasonable comment.
Some older people said that this might be a new nationwide policy. Generally, loans are not given to monks and old people over 60. But the new policy not only disqualifies the monks and people over 60 years, it also disqualifies people in their 40s and 50s. The loan is only for young couples who could prove and provide an affidavit for their household. This is a strategy to oppose division amongst nationalities, political opposition, demonstrations and to create national security and happiness in the society. If one faces genuine hardship, there is no problem in borrowing the loan (there are a number of different versions and speculations on this topic, however, I only focused on writing up a few lines based on my questions to people on this subject).
The talk turned to a subject which I cannot ignore. If within the next three years after taking the loan, all families in the village are able to make improvements, then it is good. But will this policy make improvements? If we don't take the loan and continue taking care of animals, producing butter and barley to lead a farming, herding and township lifestyle, although this will not be a great leap forward in terms of development but still ….? Is the 50, 000 RMB loan initiative as bad as it is believed to be, a deceitful and cunning policy buying people's hearts, ill-intentioned and damaging?
Although I am not sure, but if it is indeed true as some people mentioned above, then forget about development, even under life-and-death hardship one should not be deceived by this policy. We should not provide any assistance in accomplishing the goal of this cunning policy. Please do not fool us by this temporary relief policy packaged with sweet words and sycophancy. Please do not lie. Do not treat us as stupid. Should we totally oppose this policy? Should we support this? Why and for whom? A lot of questions, that other people also might have come across, came to my head, as always…
This post is also available in: Tibetan