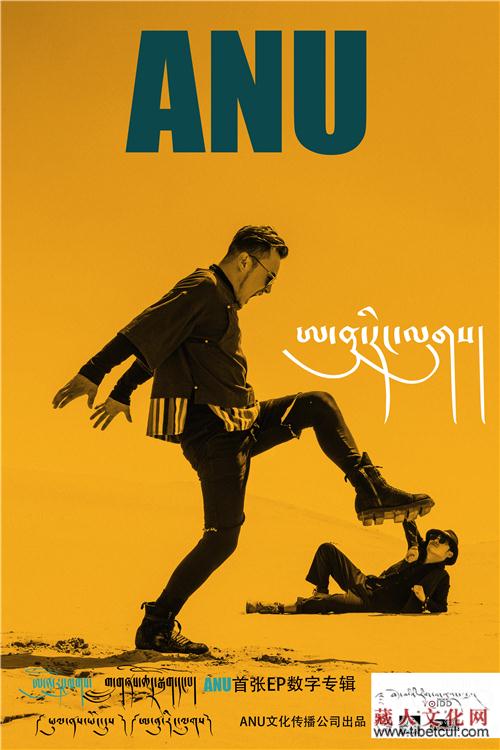 Going further into the back catalogue of songs by popular Tibetan duo ANU, High Peaks Pure Earth presents two videos from their debut "ANUism" EP which was released in July 2016. 
[Scroll down past the introduction to see the music videos]
Their debut self-titled EP was presented on the TibetCul website with the two music videos, "Leaving Home" and "ANUism". ANU means youth and their full name in Tibetan ཨ་ནུ་རིང་ལུགས། (anu ring lugs) literally means the doctrine/philosophy of ANU, or, ANUism.
By way of introduction, the duo simply stated:
Hi everyone we are ANU,

Maybe you have never heard about us before.

ANU((youth) is transliterated from Tibetan,

which means we will fulfill our dreams through holding attitudes of youth.

We hope you'll feel happiness through our music.

We just love music 、arts and life
Although these two videos pre-date their huge hits of It's All A Game, Fly and 1376, a certain visual style and level of branding was already in place even then. 
Our thanks go to Bhuchung D. Sonam for translating the lyrics from Tibetan into English.

"Leaving Home"
By ANU
This morning when I was leaving my hometown
I had my parents in my heart
So, don't tell me I don't miss them
I may be travelling afar, but my heart is in my hometown
When cuckoos return from the south
When my dreams come true
Like vagabonds I and my travelling companion
Missing our parents we return home
Aro-la, yardo rok
Like vagabonds I and my travelling companion
Missing our parents we return home
This morning when I was leaving my hometown
I had my beloved's affection on my shoulders
So, don't tell me that I don't miss my beloved
I may be travelling afar, but my heart is in my hometown
Around the time flowers bloom on the meadows
And before the beauty of my beloved fades
Me and my honeybee-like travelling companion
We return from the faraway land singing a melodic song
Aro-la, yardo rok
Me and my honeybee-like travelling companion
We return from the faraway land singing a melodic song
Aro-la, yardo rok
Me and my honeybee-like travelling companion
We return from the faraway land singing a melodic song
We return from the faraway land singing a melodic song
Translation by Bhuchung D. Sonam
High Peaks Pure Earth
"ANUism"
By ANU
It may not be sweet but it's a wine that I am drinking
It may not be melodious but it's a song that I am singing
Whatever, burying all the grumblings under the ground
Like before, like myself
I am going on my path
Unhappily I am roaming over foreign lands since I have no power
Though my eyes are wet I am faking a smile on my face
Whatever, burying every memory in my heart
Like before, like a dream
I am walking for the sake of a dream
Now we are left with not much time
Now it's time to go, it's time for us to leave
All the friends and lovers, boys and girls
Do not go too far on the road
Your dream is still way too long
However strong the hope is, don't let it go
Come on, summon up your courage
Brothers and sisters, swindlers and cheaters
Lies and empty talk diffuse like bubbles on water
Ones who can carry out practice stretching like drops of liquid gold
You and them, Arey Pherey Arey
He and she
Take all your trouble
Bury it under the ground, dump it into the water
Scatter it into the wind, burn it in the fire
Please, please
Now if we remain like this making fools of ourselves
Sons fooling their fathers, then this is really auspicious…
It may not be sweet but it's a wine that I am drinking
It may not be melodious but it's a song that I am singing
Unhappily I am roaming over foreign lands since I have no power
Though my eyes are wet I am faking a smile on my face
It may not be sweet but it's a wine that I am drinking
It may not be melodious but it's a song that I am singing
Unhappily I am roaming over foreign lands since I have no power
Though my eyes are wet I am faking a smile on my face
Whatever, burying every memory in my heart
Like before, like a dream,
I am walking for the sake of a dream
Translation by Bhuchung D. Sonam
High Peaks Pure Earth
If you've enjoyed this post, please watch our other music videos from Tibet using this link: http://highpeakspureearth.com/category/music-from-tibet/