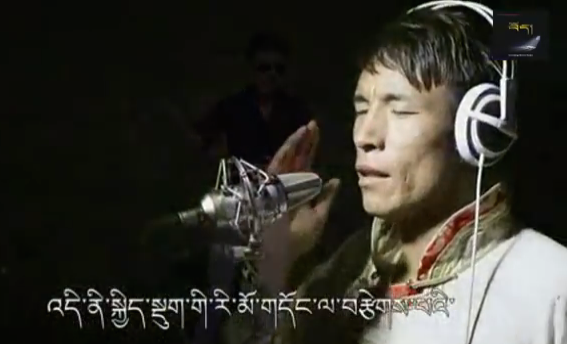 High Peaks Pure Earth has translated a music video called "The Bell at Dawn", written and sung by Bantsang Lobsang from Nangchen in Kham, eastern Tibet.
"The Bell at Dawn" is the title track from Bantsang Lobsang's first album which was released to coincide with Tibetan New Year earlier this year. The album in its entirety has been available online since January 2014 on video hosting sites such as YouTube.
Bantsang Lobsang is multi-talented and wrote most of the songs on the album by himself as well as singing them. Most of the songs also contain very strong meanings in relation to Tibet, Tibetan people and freedom. High Peaks Pure Earth has also included the beginning of the album where Bantsang Lobsang directly addresses the listener/viewer as this was an interesting segment. Before that segment, there is a series of short messages of support for Bantsang Lobsang from popular Tibetan singers such as Sherten, Rigzin Dolma and Dubey.
Although Bantsang Lobsang is from Kham, his style of singing and melodies are very reminiscent of the Amdo style, even the accent. Similar to other songs on the album, this song is also a call for the Tibetans to wake up, stand up and resist Chinese repression. The song also calls for Tibetans to study their own culture to stand alongside other cultures in the world.
This is the 58th Tibetan music video translated by High Peaks Pure Earth since the Wednesday music video series started towards the end of 2012. Please go back and watch our other videos using this link: http://highpeakspureearth.com/category/music-from-tibet/
Below are the subtitled music video and translated lyrics of "The Bell at Dawn":
"The Bell at Dawn" By Bantsang Lobsang from HPeaks on Vimeo
"The Bell at Dawn"
By Bantsang Lobsang
Lyrics: Bantsang Lobsang
Melody: Bantsang Lobsang
Singer: Bantsang Lobsang
Brothers and sisters!
Do not stay there! Get up!
For the sake of our future
To overcome this endless suffering
Let's create a seed to move beyond this suffering
With no freedom but only in dreams
We would have to depart this world
Brothers and sisters!
This is it!
The heap of lines on my face is the secret of my exile
Brothers and sisters!
Don't sleep! Rise up!
For the sake of our people
to live equally alongside other cultures of the world
Study our culture
With no freedom but only as inferiors
Let's liberate ourselves from this repression
Brothers and sisters!
This is it.
This is the bell at dawn
To wake you from your ignorance
Brothers and sisters!
This is it.
This is the bell at dawn
To wake you from your ignorance
This is the bell at dawn
[Translation by High Peaks Pure Earth]
For those unable to view the videos on Vimeo, there is also a High Peaks Pure Earth YouTube channel here with our music videos: http://www.youtube.com/highpeakspureearth