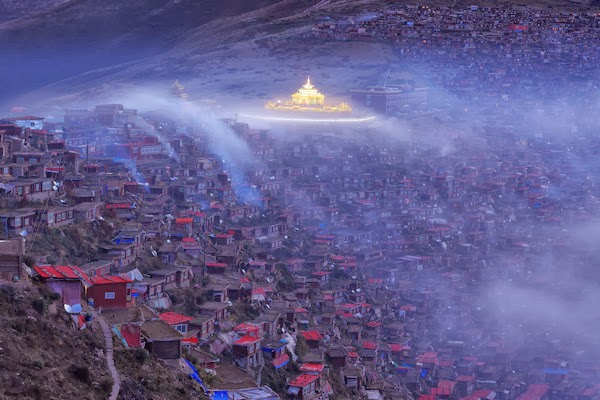 High Peaks Pure Earth has translated a blogpost by Woeser written on January 11, 2014 for the Tibetan service of Radio Free Asia and published on her blog on January 31, 2014.
The post concerns a huge fire that devastated over 100 houses at the Larung Gar Buddhist Institute in January this year. Sadly in the space of just a few months, major towns and monasteries in Tibet suffered from highly destructive fires, see this report by International Campaign for Tibet: http://www.savetibet.org/major-fires-over-past-year-devastate-important-tibetan-towns-monasteries/
For a comprehensive biography of influential Khenpo (Abbot) Jigme Phuntsok, who died in 2004, and the story of Larung Gar, see this page on Treasury of Lives: http://treasuryoflives.org/biographies/view/Khenpo-Jigme-Puntsok/10457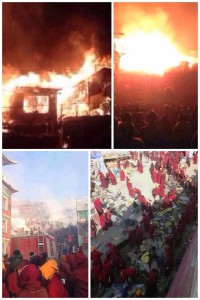 "Larung Gar is not Shambhala"
By Woeser
On the evening of January 9, a disastrous fire broke out inside the Serthar Larung Gar Buddhist Institute. When I opened Weibo, I saw pictures of raging flames and suddenly the images of my visit to Larung Gar a few years ago appeared in front of my eyes, images of this vast area of Buddhism.
The Larung Gar Buddhist Institute was established in 1980 by Khenpo Jigme Phuntsok and became the Buddhist school hosting the largest number of monks and nuns in the whole of Tibet; it was also the most well-known Buddhist campus in Chinese areas, with thousands of Chinese Buddhists living there. This is also why the Larung Gar Buddhist Institute is very different from other Buddhist campuses, it has been home to some of the most outstanding Buddhist teachers who are proficient in both Chinese and Tibetan, like Khenpo Tsultrim Lodoe or Khenpo SoDargye whose fans on Weibo even exceed the one million mark.
The gigantic flames that hit the Serthar Monastery in the middle of the night had devastating consequences, news from the scene kept pouring in on Weibo: "Over one hundred Buddhist nun quarters were burnt down". I forwarded all information about this disaster on Twitter, and I was taken aback when I saw the following notice: "A message from the Khenpos! Please delete all news and pictures related to the fire at the monastery campus; this is to prevent the matter from being exaggerated, to prevent rumours from spreading, information from being misused, and to prevent the monastery campus from facing even more obstacles in carrying out Buddhist teachings…"
I have never seen a more sorrowful request than this one. A Chinese Buddhist nun left another private message on my Twitter, asking me "to quickly delete all pictures that you have posted, don't turn this into a big matter, otherwise the fire brigade may use this as an excuse to close down the campus or create other problems". But I did not agree to this. I do not believe that by simply deleting these photos one can bring peace back to Larung Gar. Neither do I believe that the red devil hiding behind this fire will postpone his persecution simply because the world knows about this disaster. But I do hope that the need to keep "good face" will force this devil to wait for some time, to let the suffering people breathe while they are hit with the most devastating disaster.
A clueless Chinese netizen commented on Weibo: "I am against deleting posts, how is this different from concealing the mining disasters that happened before?" This way of thinking is wrong. Concealing the mining disaster was the work of the local authorities, the purpose was to avoid having to take responsibility, they did it to protect themselves. The Khenpos asking to delete information, however, comes from the profound feeling of helplessness, they do it to protect the Buddhist campus.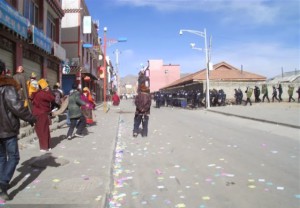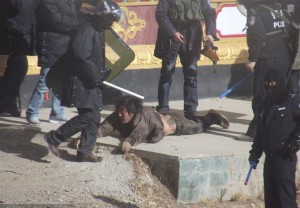 The suppression of Tibetan protests in Serthar county on January 24, 2012
Someone asked: What is it that the Khenpos fear? Ok, let me explain, the worst disaster that Larung Gar ever experienced was between 1999 and 2002 when high officials strongly believed that the monastery was a breeding ground and base for rebel activities; subsequently, several thousand monk residences were razed to the ground, countless Buddhist practitioners were expelled, some even died out of sorrow and anger. Khenpo Jigme Phuntsok fell seriously ill because of this and died a sad death a few years later. In fact, even though the Larung Gar Buddhist Institute enjoys a prominent reputation, it has always stood on the edge of an abyss. Several times, the local authorities instigated fights, trying to close down the school, but monks and nuns always exercised extreme self-control, submitting themselves to the maltreatment without taking any counter actions. In nearby Serthar county, two Tibetans recently self-immolated to express their political resistance, one of them was a Lama belonging to the Nyingma school of Tibetan Buddhism, the same as the Larung Gar Buddhist Institute (25 year old monk Drongchen Tsering self-immolated on February 13, 2013 in Kathmandu, Nepal). On the second day of the Chinese New Year in 2012, hundreds of Serthar Tibetans occupied the main town square, shouting slogans, throwing "lungta" (windhorses), asking for freedom and human rights. The movement was gunned down by military police. The writer Gangkye Drubpa Kyab who documented the protests was arrested and sentenced to harsh punishment, he was a local village teacher from Serthar. In the neighbouring counties, like Drango county, Kardze county, Tawu county, which also belong to Kardze prefecture, in recent years, repeated demonstrations and petitions and also self-immolations happened, which were always suppressed by the local authorities. In neighbouring Qinghai province, in Golog prefecture, another three Tibetans went up in flames.
Larung Gar is by no means Shambhala or some land of joy and plenty (Shangri-la) that allows the peaceful and undisturbed practice of Buddhism. I think that no one will be more aware and alert to the constantly approaching dangers than the Khenpos of Larung Gar Buddhist Institute. And this is why they were so anxious to ask everyone to delete all photos and news concerning the recent fire. I, however, have a different view on this. Since Larung Gar is not Shambhala, it is almost impossible and illusionary that a pure Buddhist land that exists aloof from the world can be created here; since Larung Gar Buddhist Institute is situated in Tibet, a place hit so hard by disasters, and since it is intrinsically intertwined with the elements of this land, when the whole of Tibet is suffering over and over again, how can one single place like Larung Gar be left out?
January 11, 2014
This post is also available in: Chinese (Simplified)