High Peaks Pure Earth has translated a blogpost by Woeser that was posted on her blog on February 1, 2012. The original post, although written in December 2007, was only posted a few days ago along with a new introduction by Woeser that has also been translated below.
The sudden passing of André Alexander has saddened many and he will be greatly missed. For reader who would like to read more about his incredible work with Tibet Heritage Fund, please follow the link: http://www.tibetheritagefund.org/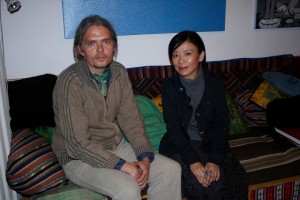 I want to start by saying that I only met André twice but I always wanted to write about him. I once wrote an article, about him and his organisation Tibet Heritage Fund and about how he was made to leave Lhasa by the authorities. He told me not to publish it then because he one day wanted to return to Lhasa.
I often flick through the pages of the heavy photo book he gave me "The Temples of Lhasa", he is the author and in the book is the Lhasa of his mind's eye that today has already changed. Many Lhasa people remember him, they all call him André, remember his slight frame, curly blonde hair and how he liked to wear Tibetan jackets.
I really like the small publication produced by Tibet Heritage Fund 'A Brief Introduction of Historic Architecture in Lhasa Barkhor'. Black and white hand-drawn maps, folded pages, in the style of traditional Tibetan paper. Like a tiny, invisible museum, on display are drawings on paper of the Barkhor. In the fine and simple pictures, I see the life of Lhasa people, giving me endless things to imagine and sets off nostalgia, no matter how much I look at them, I can't look at them enough. However, much has already been badly damaged, mottled traces and crumbling shadows mark the current situation of Lhasa people.
André started to restore old buildings in Lhasa but one day upset the officials. One time, he told experts from the United Nations who evaluate cultural heritage that a department store was built on the original site of an aristocratic house that was three centuries old… In 2002, after being expelled from Lhasa, André and Tibet Heritage Fund did a lot of work for the preservation of Beijing hutongs. It seems that later this could also not be continued. I heard that he went to the Himalayan region of Ladakh and other places where historic buildings and monasteries could be restored. On Facebook I would see photos of him and he'd be amongst ruins or in buildings that were being repaired.
Two months ago I wrote André a letter. Officials and businessmen were collaborating on a large shopping complex in Lhasa near the old city and there was work around the clock to extract groundwater for this "Divine Times Square" project, sending Lhasa people into panic, I asked André if this would all cause damage.
André, grieved, said, "Water is a big problem in Tibet because big hydropower stations are being constructed everywhere. Already, Lhasa's environment has been seriously damaged and polluted, greedy developers, supported by greedy government officials are turning Lhasa valley into a big factory. If the Lhalu wetlands become dry, then it will all be too late."
I still had questions that I wanted to ask him, I also wanted to tell him that that I wrote about him in my book "Tibet: 2008" that was published last year. But the just turned 47 year old André suffered a sudden heart attack and died on January 21 in Berlin… On his Facebook page I looked at all his photos and saw how happy he looked in the photos from when he lived in Lhasa, looking youthful, these were the most beautiful.
André's former girlfriend Lharigtso was our translator when we met, full of sorrow, she shared these touching stories about André:
"André was fascinated by the architecture of Tibet, the nature and the culture, and had a warm connection to it. He could wander around the Jokhang Temple, Ramoche and many small temples every day. He said that the Lhasa fried potatoes street food was his favourite but later said that the potatoes were tasting worse and worse: "When it's made by Gyami (Chinese), it doesn't taste good."
His familiarity with the geography of Lhasa was always something I admired. Every time we would be in the old part of the city, I'd follow him and his brisk pace and discover many small lanes and alleys, it surprised me a lot!
From 2003 to the present, the changed environment of Lhasa upset him to tears. Walking in the Barkhor, sometimes he would suddenly stop, cover his chin with his right arm, his head shaking. I'd see tears welling up in his blue eyes…
He later went to Lhasa several times. In 2008 he went to Amdo with his parents and then took a train to Lhasa. In 2010, 2011 and even a month ago he'd been in Lhasa.
André liked to eat sweet things, he liked to watch films and would sometimes cry when watching cartoons… From 14 or 15 years of age he became vegetarian but he would bite at his fingers and I used to say, you are eating your own meat haha …. he most liked to take his small Swiss army knife and trim his own hair, this was when he was most relaxed…these are the kinds of things he would do …"
A friend wrote the following on André's Facebook and it's also something I'd like to say to André: "Preservation of architectural heritage in the Himalayas will never be the same now that André has left us. May the windhorse of the Himalayas and Tibet take you higher and higher to the field of absolute serenity and peace. And may your journey be filled with new discoveries and may you encounter the Devas, Dakinis, the Protectors, the Vidyadharas of India and Tibet and all those deities of the cosmic lineage and share with them the story of your life.. Bon Voyage my friend, bon voyage gentle soul……….. "
Windhorse, windhorse, please carry André home…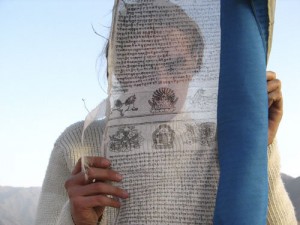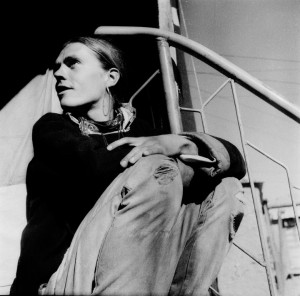 Finally, here is the article I wrote about André four years ago and is my tribute to him. The photos above are from his time in Lhasa.
"The Westerners Restoring the Old Lhasa City"
By Woeser
No one knows how Tibet Heritage Fund (THF) offended the Chinese authorities in Tibet. It has been five years since they were expelled from Lhasa in 2002. THF is a nongovernmental and non-profit international organisation. It was founded in 1996 in Lhasa by André Alexander from Germany, Pimpim de Azevedo from Portugal and a few other people. It mainly focuses on 'researching and protecting the historic city Lhasa'. Even today, many Tibetans in Lhasa including lamas and ordinary people are always thinking of them. They say that they have never seen people who cherished the old buildings in Lhasa so much. THF worked with a more serious attitude than even the local people, and it worked with heart, which sometimes made local people feel guilty. Why did the government have to urge them to leave?
Some say that its work was so excellent that it made the authorities who were meant to 'serve the people' feel ashamed. It is listed on the website of THF that since 1996 when the restoration plan for the old city of Lhasa was started, "THF had completely repaired 12 historic residences and 1 temple, basically restored 3 residences, done emergency repairs for 18 residential buildings, upgraded water supply and sanitation facilities for more than 1,000 residents in the old city, built 2 public toilets, paved laneways, rebuilt 1 and restored 1 stupa, reinforced the fifteenth century frescoes in an ancient temple in the south of Lhasa. The total investment above was over 800,000 US dollars. It had provided job and training opportunities for more than 300 Tibetans." In fact, they have saved 76 historic and traditional buildings in and around Lhasa.
Some say that they had uncovered the reality of the old buildings in Lhasa in both publications and on internet, which enraged the authorities which alleged to well protected Tibetan culture. For example, in the album of paintings named 'A Brief Introduction of Historic Architecture in Lhasa Barkhor', it is said that 'the ancient architecture and blocks in the old city in Barkhor were continually destroyed during the process of urban construction since 1980′. On every Barkhor map that was drawn by local painters, the fragmentary shape and mottled trace of the architecture seems to show that what disappears with the demolition is not only the old buildings, but also a nation's way of life. In their website, THF pointed out that "since 1993, an average of 35 historic buildings have been demolished. If this speed was to be maintained, the remaining historic buildings would all disappear in less than four years' time."
Some others say that what they did was only to work hard with the Tibetan workers, but ignored the prevalent 'hidden rules' that were popular in Lhasa and even the whole of China. Restoring urban buildings is a profitable project, and many corrupt officials, from top to bottom, are hoping to get profit from it. But THF had never bribed the officials, in which case the officials would rather give the project to Chinese construction companies that know the 'hidden rules' well and would make the officials benefit from the project. However, there has to be a good reason to expel THF, and in Tibet, the most severe punishment must have something to do with politics. This is why one day in 2002 the state dictatorship authorities sent a car to take them to a plane to leave Lhasa.
Over the years, I'm filled with adoration and respect to THF's work. I have downloaded all the text and images on its website, and I have also been asking about its situation after leaving Lhasa. Not long ago I looked at the English version of the photo book 'The Temples of Lhasa', and my admiration for THF has increased. If it was not true respect and love for Tibetan culture, there would never be such benevolent spirit and abundant energy for THF to work until today. THF is the eyewitness of how Tibetan traditional culture faces the impact of Sinicisation and globalisation, and how Tibet struggles to maintain its own culture. Just like what André Alexander said sadly, 'each time I go to Tibet, the old houses are significantly reduced – a stone, a brick, a lane, a street, even the dogs are "disappearing"…'
December, 2007
This post is also available in: Chinese (Simplified)