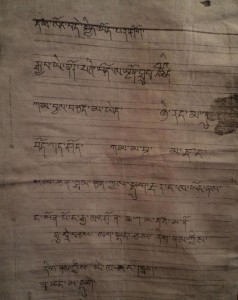 Rikyo: Dzamthang County, Amdo (today's Dzamthang town, Dzamthang county, Ngaba Prefecture, Sichuan Province), nomad, female, 3 children, 33 years old. On May 30, 2012, she self-immolated near Dzamthang Jonang Monastery and passed away at the site. Her remains were put into the monastery. Later her body was solemnly cremated by Tibetans. On August 18, Tibetan Centre for Human Rights and Democracy received a testament from inside Tibet written by Rikyo while she was still alive: "Prayers for world peace and happiness! / To ensure His Holiness the Dalai Lama's return to Tibet, / do not indulge in slaughtering and trading of animals, / do not steal, Speak Tibetan, / do not fight, / Bearing all sufferings of the sentient beings on myself, / Do not resist by fighting if I get into Chinese hands alive, / Be united, Study Tibetan culture, / On fire I burn, do not worry my family."
High Peaks Pure Earth has translated a blogpost by Woeser written in August 2012 for the Tibetan service of Radio Free Asia and posted on her blog on September 12, 2012.
Since this blogpost was written, there has been a dramatic spike in the numbers of Tibetan self-immolations and Woeser has been continually recording, documenting and and posting information about them on her blog, Twitter and Facebook. On November 23, 2012, Global Voices translated this blogpost by Woeser that collects the "Last Words of 19 Tibetans Who Committed Self-Immolation". 
"The Testimonies Left Behind By Tibetan Self-Immolators"
By Woeser
Between February 27, 2009, and August 7, 2012, 48 Tibetans inside Tibet and three Tibetans living in exile self-immolated, making it a total number of 51, including 9 women; 38 of these have already passed away.
In view of so many Tibetans, one after the other, self-immolating, many people believe that it is due to a feeling of hopelessness with regards to reality. Kalon Tripa Lobsang Sangay once pointed out in a speech that self-immolations were related to the election of political leaders in 2011 in Dharamsala, that in order to express their support and unity, Tibetans inside Tibet bathed their bodies in flames.
However, the self-immolations of this many Tibetans can by no means be simplified to this extent: no matter whether it is hopelessness or hopefulness; they should not be understood in a taken for granted sense, they should even less be regarded as resources to be utilised, otherwise this would be highly disrespectful towards those Tibetans that have self-immolated. Moreover, the reason as to why Tibetans self-immolate would be most persuasive if given by someone who has committed self-immolation. Up to the present day, there are about 12 last words, notes or recorded testaments that have been left behind by self-immolators and made public. These are all most precious pieces of evidence, even though they only represent less than a quarter of all self-immolators.
Tenzin Phuntsog who self-immolated and passed away on December 1, 2011, wrote four notes, in which he stated "…how can we trust a government that does not allow us to believe in our religion?" "when I think of the suffering that the entire Tibetan region and our Karma Monastery has gone through this year, I cannot wait and keep on living."
Lama Sobha who self-immolated and passed away on August 1, 2012, recorded a several minutes long testament in which he clearly and calmly stated the reason for why he decided to self-immolate: "…I am taking this action neither for myself nor to fulfill a personal desire nor to earn an honor. I am sacrificing my body with the firm conviction and a pure heart just as the Buddha bravely gave his body to a hungry tigress. All the Tibetan heroes too have sacrificed their lives with similar principles.
Jamphel Yeshi who self-immolated on March 26, 2012 in New Delhi left a letter that included five very clear demands, including "The fact that Tibetan people are setting themselves on fire in this 21st century is to let the world know about their suffering, and to tell the world about the denial of basic human rights. If you have any empathy, stand up for the Tibetan people."
In the note left by the even younger self-immolator Nangdrol and in the recording left by Choepak Kyap and Sonam, it is even more clearly expressed why they self-immolated, such as "because we are unable to remain under these draconian laws, unable to tolerate this torment that does not leave scars" or "because the pain of not enjoying any basic human rights is far greater than the pain of self-immolation" etc.
I am putting together records for every single Tibetan self-immolator, and recently I said to many journalists from CNN and other media outlets: Tibetan self-immolations are not suicides, they are sacrifices! It is the most inhumane colonialists, the evil government that have ignited the bodies of Buddhist monks and lay people, leading them to sacrifice themselves and protest! Facing this raging combustion, this torch of human rights, China remains silent, the West remains silent, the world remains silent. Facing this continually burning torch of human rights, at last there is a voice that believes: the Tibetan chain of self-immolations is the greatest, politically motivated wave of self-immolations as a form of protest.
On the other hand, using self-immolation to protest shows great bitterness and desperation! On March 7, 2012, the US based Arjia Rinpoche, the poet Gade Tsering from Kanlho in Amdo and I jointly signed the following appeal: "Appeal to Tibetans To Cease Self-Immolation: Cherish Your Life in a Time of Oppression". Yet our appeal was in vain. In fact, I was very aware that it would be like this because the military police with fire extinguishers on their backs are still all over Tibet, doing evil things, stirring up trouble; only if they no longer do so will Tibetans perhaps stop self-immolating, this is an absolute and unmistakable fact.
Even though our appeal was in vain, I still want to express that there are many ways of resistance. For us, the resources for our resistance should all come from our own religion, tradition and culture. An example are the 40 thousand monks that came as helpers during the earthquake disaster in Yushu in 2010; it is a force that can fight against any disaster or catastrophe.
August 2012
This post is also available in: Chinese (Simplified), Tibetan