High Peaks Pure Earth has translated a blogpost written by Woeser on November 21, 2012 and posted on her blog on the same day. This blogpost is a follow up to Woeser's blogpost of November 9, 2012, titled "Why Was Ngapo Jigme, Director of Radio Free Asia's Tibetan Service, Suddenly Dismissed?".
Following the dismissal of Ngapo Jigme, Congressman Dana Rohrabacher, Chairman of the House Foreign Affairs Subcommittee on Oversight and Investigations, wrote letters to both Radio Free Asia and also to Lobsang Sangay, the Prime Minister (Sikyong) of the Tibetan Government-In-Exile, calling for an explanation of the "circumstances of Ngapo's termination and departure". The letter to Radio Free Asia dated November 15, 2012 can be found on Rohrabacher's website here: http://rohrabacher.house.gov/news/documentsingle.aspx?DocumentID=312586
The focus of Woeser's short blogpost below is the strong-worded letter that Rohrabacher sent to Sikyong Lobsang Sangay dated November 19, 2012, the full text of which can be found here: http://rohrabacher.house.gov/news/documentsingle.aspx?DocumentID=312591
Finally, on November 21, 2012, Sikyong Lobsang Sangay issued a public statement that can be found online here: http://tibet.net/2012/11/21/statement-of-sikyong-lobsang-sangay-on-allegations-related-to-radio-free-asia-2/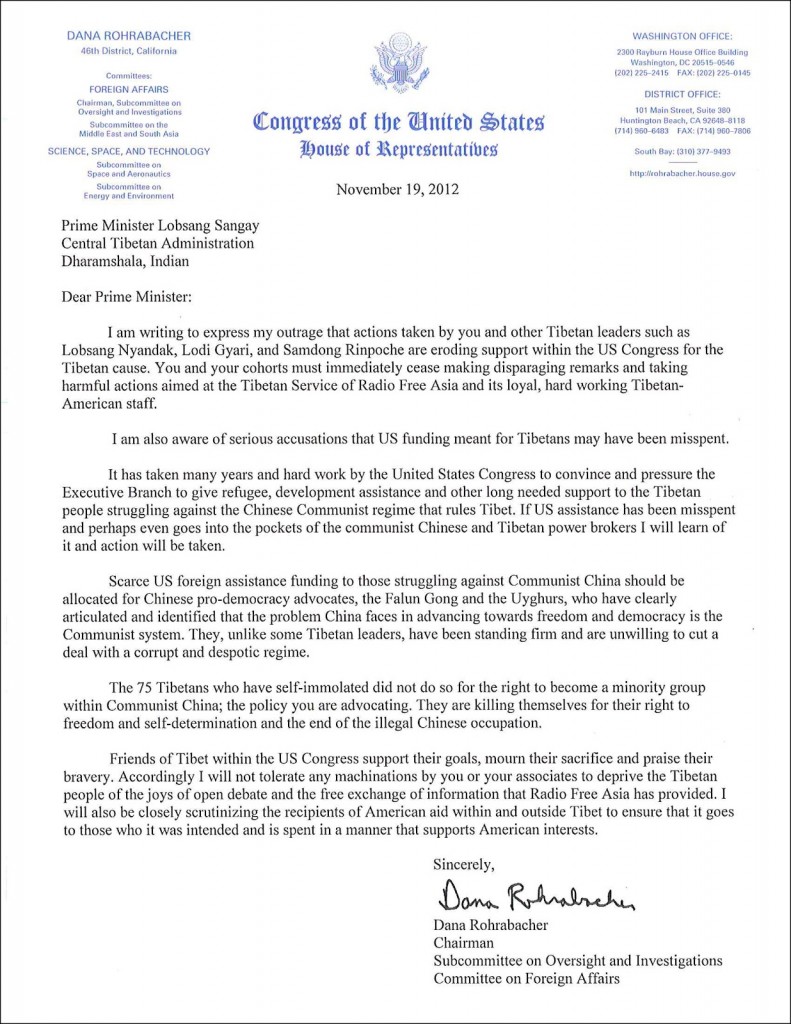 The Responsibility for the Ngapo Jigme Incident Lies with Radio Free Asia
and not with Tibetan Exile Society
——Thoughts on US Congressman Rohrabacher's letter to the
Central Tibetan Administration Sikyong Lobsang Sangay
By Woeser
After seeing US Congressman Dana Rohrabacher's letter to the Central Tibetan Administration Sikyong Lobsang Sangay, I was shocked in the same way as I first heard the news that Mr. Nagpo Jigme was dismissed by RFA. Since at present the information I have obtained so far is incomplete and there is also the language barrier, it might be possible for me to misunderstand the situation. However, based on what I have seen, I feel the need to express my views:
1. Mr. Ngapo Jigme was dismissed by USA's Radio Free Asia and not by the Central Tibetan Administration, therefore, in my opinion, in relation to this incident, Rep. Rohrabacher has to direct the responsibility of investigation towards Radio Free Asia's management, not towards exile Tibetan society.
2. I think that individuals as well as organisations have the right to like or dislike a media, this opinion can be expressed; if this is merely an opinion, this is not overstepping any boundaries.
3. What is important is media independence, external matters or attitudes should not have any bearing on personnel matters or moreover the content of the news, this would be stifling the freedom of the press. Even if Radio Free Asia is motivated by its sympathy to the Tibetan cause, it cannot violate the basic principles of the democratic freedom of the press. That kind of activity would actually be harmful to the Tibetan cause.
4. For more than half a century, the Tibetan exile government has made tremendous contributions that is clear for all to see, Rep. Rohrabacher's criticism of Radio Free Asia's dismissal of Mr. Ngapo Jigme should not turn into sweeping generalisations.
5. I believe that Tibetan exile society needs to raise the level of its own political modernisation. This kind of modernisation is not just the appearance of democracy only on the surface but a real understanding of and compliance with the ideas and principles of democracy, especially to accommodate a variety of views, receive criticism, as well as to monitor those who are in control, these things are the true essence of democracy.
6. I am grateful to Rep. Rohrabacher for his attention to the Tibet issue, at the same time I hope that Rep. Rohrabacher will withdraw criticism directed toward Tibetan exile leaders, and instead direct it towards Radio Free Asia.
Tsering Woeser
November 21, 2012
This post is also available in: Chinese (Simplified)