High Peaks Pure Earth has translated a blogpost by Woeser written on February 11, 2012, for both Mandarin service and also the Tibetan service of Radio Free Asia and posted on her own blog on February 13, 2012.
In this blogpost, Woeser focuses on Tapey, the monk from Kirti Monastery, Ngaba who self-immolated on February 27, 2009. Woeser has been able to write about Tapey's family background and more details about what happened to his body after self-immolating and being shot by Chinese police. For an earlier article by Woeser about Tapey and for background to this article, read: "Why Didn't Kalon Tripa Read Out Tapey's Name?"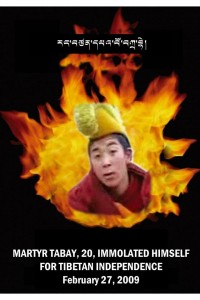 "Remembering the First Person who Self-Immolated
Inside Tibet, Tapey"
By Woeser
To this day, the media and even the international community believe that on April 16, 2011, the monk Phuntsog was the first person to ever self-immolate inside Tibet, subsequently initiating a whole series of self-immolations as a means of protest. But in actual fact, on February 27, 2009, it was the monk Tapey, who came from the same monastery as Phuntsog, who was probably the first person to self-immolate in Tibet.
The reasons for his action lie in the protests that erupted in 2008; Ngaba Prefecture in Amdo was suppressed in a bloody and violent way by local authorities, affecting a pregnant woman and a 5-year-old child and resulting in over twenty 16-year-old female middle school pupils being shot dead. What is more, a year later on the third day of the Tibetan New Year, the mourning ceremony for the departed spirits was cancelled; this is when Tapey left Kirti Monastery, ran into the streets and lit his gasoline-soaked robes. From within the flames he held up the Tibetan flag and a photograph of His Holiness the Dalai Lama; then he was shot by military police.
On that day, some utterly fearless Tibetans dared to spread the news, so foreign media were quick to report on this incident. Xinhua News Agency that usually holds the monopoly on the truth had no choice but to admit that "a man wearing robes" self-immolated. But what they did not say is why this sensible young monk had decided to do so; and even less did they mention the fact that the armed police forces had shot at him.
Another monk, Phuntsog, self-immolated two years later in exactly the same place and was beaten to death by military police. I interviewed two monks from Kirti Monastery and while learning about Phuntsog's life I also found out some information about Tapey. Actually, Tapey's real name is Lobsang Tashi, this is the religious name he obtained after leaving home and becoming a monk, Tapey is his lay name. He was only 20 years old when he self-immolated. His mother is called Meykor, she is 45 years old; his older brother, Tsebo, is 27; and his younger sister, Tsering Kyi, is 18 years old.
Tapey was first taken to Ngaba County People's Hospital and then to the West China Hospital of the West China Medical School in Chengdu. Bullets had crippled his legs and hit his right arm, which he was unable to lift. Because of the fire his cheeks and right arm were marked with large scars. It is said that the hospital attempted an amputation with the aim to remove the traces of the bullets and destroy any evidence but because his mother tried everything possible to prevent this, he eventually was able to stay in hospital. In 2011, he was in the military hospital of Ngaba Prefecture's capital city, Barkham, back then he was with his mother. But he was neither allowed to leave hospital nor could he receive any relatives or monks apart from his maternal uncle. No one knows when he will be allowed to leave and after all the self-immolations that happened recently no one even knows if he is still in that military hospital.
However, whenever Tibetan leaders, including those in exile, list the names of Tibetans who have self-immolated inside Tibet, they always start their accounts from 2011. This is explained as being done for political or journalistic considerations and believed to better reveal the oppressive forces at work and stress the seriousness of the current situation. But I think that this is by no means a good enough reason. No matter whether in political speeches or news reports, one additional sentence or one extra line of writing stating that the first case of self-immolations inside Tibet happened in 2009, would make the messages even stronger in meaning. In fact, 2009 marks the beginning of the self-immolations, it was a model case. Moreover, Tapey has disappeared, no one knows of his whereabouts, whether he still alive or already dead; neglecting him is simply inhumane.
Apart from this, only counting the cases of self-immolations that occurred after 2011, might be likely to result in misunderstandings. For example, there already exist some comments believing that the self-immolations inside Tibet were triggered by the Tunisian peddler of the Middle Eastern "Jasmine Revolution" because he self-immolated in December 2010, which is obviously a mistake.
When giving accounts of incidences as major and important as self-immolations, one must not forget any names and neither must one add any. The dictator Joseph Stalin once said the following cold words: "One death is a tragedy. A million deaths is just a statistic." For us, every single one of the Tibetans who self-immolated represents a human life and cannot be conveyed with numbers that change according to expedient circumstances.
In conclusion, I previously wrote in an article commemorating Tapey: "He is perhaps the first person to self-immolate and thereby show his deepest will inside Tibet. Tapey has to be engraved in the history of Tibet, in the same way as the exiled monk, Thupten Ngodup, who self-immolated during the hunger strikes against the Chinese activities in 1998. The difference is that Tapey was shot by military police. The military police officers that occupied the streets and monasteries since March 2008, faced the burning Tapey and fired bullets into his body."
February 11, 2012
This post is also available in: Chinese (Simplified), Tibetan