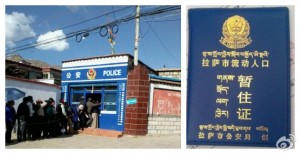 High Peaks Pure Earth has translated a blogpost by Woeser written on June 20, 2012 for the Tibetan service of Radio Free Asia and posted on her blog on July 1, 2012.
This is the third article by Woeser to focus on Lhasa in the aftermath of the self-immolations there by two Tibetans from Amdo on May 27, 2012. See her previous articles, Saga Dawa in Flames and Fire Extinguishers and Apartheid.
After publishing these outspoken blogposts, in addition to being active on Twitter @degewa, Woeser was profiled by The Economist specifically on her use of social media, to read the article, follow this link http://www.economist.com/node/21560618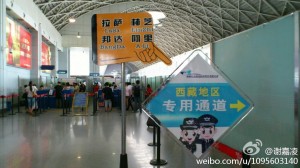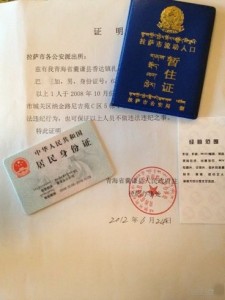 The above photos are from Sina Weibo.
Lhasa: A New "Area of Racial Segregation"
By Woeser
Lhasa has at last sunk into an "area of racial segregation".
Apart from setting up security checkpoints around Potala Palace, in the old town of Lhasa and in monasteries, defences have been established on various levels including at airports, train stations and motorways; non-Lhasa residents who do not have all kinds of paperwork and certificates, "cannot enter Lhasa, unless they have wings", as expressed by a Han Chinese tourist.
All this is related to May 27, when two Amdo Tibetans self-immolated in Lhasa; subsequently the local authorities have been carrying out large-scale "inspections" and the clearing out of Tibetan people, not only Tibetans from Gansu, Qinghai, Sichuan or Yunnan Provinces but also those from Chamdo, Nagchu, Shigatse, Ngari, Nyingtri areas within the Autonomous Region.
Even Tibetans from the seven counties governed by Lhasa (Damshung, Tölung Dechen, Chushur, Meldro Gungkar, Taktsé, Nyemo and Lhündrup Counties) who have been residing in Lhasa for many years, own apartments, have jobs, children that go to school etc., they still have to hurry to get a temporary residence permit. If they cannot obtain one, they are required to return to their place of birth. The seven counties governed by Lhasa are not considered as belonging to Lhasa.
In short, anyone who is not a Lhasa resident but wants to enter Lhasa needs to go through a great deal of procedures or else they are arrested and sent back to their birthplace. It is reported that ordinary people need five different sets of documents, including: 1. A copy of all relevant documents and letters of guarantee by hotels or landlords; 2. A certificate issued by the local neighbourhood committee; 3. Their hukou (household registration) and an introductory letter from their birthplace, including a guarantee showing no criminal records; 4. Identity Cards; 5. A temporary residence permit for Lhasa. Buddhist monks and nuns must also have a monk or nun certificate. Apart from the ID card and the monk and nun certificates, obtaining any of the above documents is extraordinarily difficult.
However, if one is not Tibetan, one can come by plane, by train, by car, by bike or one can even walk into Lhasa without problems. Of course, any people from countries other than China have already been indirectly refused entry into Tibet. If one searches for "Lhasa" on Weibo, one's senses are assaulted with Chinese people from various places happily going to Lhasa to enjoy themselves. A little dog who has been referred to as "Xiao Sa" is most popular because it joined some Chinese cyclist halfway to Lhasa and followed them all the way into the city. This is why some Tibetans pungently wrote on Weibo : "Lhasa welcomes you, but it does not welcome Tibetans."
In fact, Barkhor and Lhasa's old town have already sunk into a sad but shrill spectacle. The excited Chinese tourists all come to see a spectacle, in just the same way that the earthquake ridden disaster area was turned into a tourist region that is now frequented by perverse tourists indulging in "disaster tourism". The military police that are everywhere take up a key role in this spectacle, playing the part of the butcher or prison guard. What about Tibetans? No matter whether they are silently prostrating pilgrims or monks who lock themselves in the Jokhang Temple, this silent reticence is a form of hidden and non-vocal resistance, but it is also the greatest grievance.
Some Tibetans have described the bitter experiences of their families on Weibo: "My 19-year-old Tibetan nephew arranged to cycle along the Qinghai-Tibet route with three of his Chinese classmates but when they reached Lhasa's Umatang Township in Damzhung County, his classmates could pass whereas he was stopped because he was Tibetan. Only with a certificate from a county-level or above unit would he be allowed to enter Lhasa. I made some phone calls to inquire and found out that as a non-Lhasa Tibetan if one wants to job, do business or visit relatives in Lhasa one needs all kinds of certificates and guarantees. Otherwise after passing a certain deadline, one is directly sent back to one's native place. Anti-terrorism measures that divide ethnicities are easily implemented when there are only a few people, but what if there are many?"
This reminds people of the Second World War when the Nazis implemented policies of "anti-semitism" against Jews. In fact, Tibetans have already started sarcastically calling Lhasa a "Jewish district under Nazi rule". The "elimination of Jews" back then and the "elimination of Tibetans" today has led many young Tibetans to spread the following sentence on Weibo about history repeating itself: "just like the Jews said who had to wear the Yellow Badge on their chests: we are unarmed and defenseless, but in the big world out there, no one is brave enough to step forward to help us."
For the past many years, non-Lhasa residence, regardless of their cultural, economic or religious backgrounds, have always been relatively important parts of Lhasa's societal structure. Business people from Amdo, Kham, Changthang, from different areas across the the whole of Tibet have operated businesses in Lhasa, monks have made pilgrimages to Lhasa and according to traditional customs, stayed in one of Lhasa's three main monasteries to study. Traditionally, Lhasa has always been considered the centre, it has always been the holy land that all Tibetans yearn for; but today, it has turned into a place that "eliminates Tibetans".
It is impossible for us to imagine the scope of the "Tibetan elimination" and what level it will reach. But what is certain is that this will lead to the exceptional destitution of the entire society. And who will fill in the incredible vacuum that is created by this? Just three days after the self-immolations happened in Lhasa, Tibetan official media announced that the local authorities would implement preferential policies that attract university graduates from the whole country to come to Tibet; what all this means requires no further explanation.
June 20, 2012
This post is also available in: Chinese (Simplified), Tibetan