High Peaks Pure Earth has translated a poem titled "Kumbum On A Journey" by a Tibetan blogger whose online name is "Madman". The poem was written on July 22, 2011 and posted on his TibetCul blog on August 17, 2011.
Kumbum Monastery featured here on High Peaks Pure Earth in July 2011, we translated an open letter written by the monks and local residents to the authorities appealing for action to be taken over the lack of clean drinking water in the area, brought on by intensive mining activities.

The poem conveys the rather sad thoughts and feelings of the blogger as he visits Kumbum Monastery, mourning what he sees as the loss of the greatness of past, both historic, Tsongkhapa, as well as more recent, Tenth Panchen Lama. Interestingly, this sense of Kumbum's decline was featured in a Wikileaks Cable from the US Embassy in Beijing in September 2009, read more by following this link: http://wikileaks.org/cable/2009/09/09BEIJING2719.html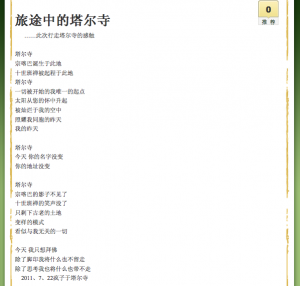 Kumbum On A Journey
— Thoughts and Feelings on Going to Kumbum This Time
Kumbum
The place of Tsongkhapa's birth?
The Tenth Panchen Lama set out from this place
Kumbum?
My only starting point where everything of mine starts?
Rays of sun emanate from your bosom
Glittering in my sky
Illuminate the yesterdays of my compatriots?
My yesterday?
Kumbum
Today, your name hasn't changed
Your location hasn't changed?
Kumbum?
Tsongkhapa's traces cannot be seen
The Tenth Panchen Lama's laughter is gone?
What remains is only the ancient soil?
Transformed into something else?
That seemingly has nothing at all to do with me?
Today, I only want to pay homage to Buddhas?
Apart from footprints, I won't leave any trace at all and leave
Apart from reflections, I won't be able to take anything with me either
July 22, 2011
"Madman" in Kumbum
This post is also available in: Chinese (Simplified)