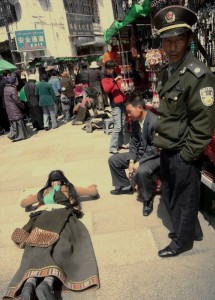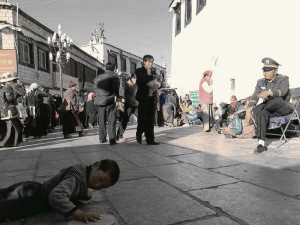 Photos of Lhasa last winter…
"'Ethnic cleansing' in Lhasa" by Woeser
Not so long ago, Zhu Weiqun, a vice-minister of the Chinese Communist Party's United Front Work Department, declared: " The Dalai Lama wants to drive away millions of people of the various ethnic groups who are living in this land, and this reveals a message: If one day, [the Dalai Lama] really seizes power, he will without any compunction or sympathy carry out ethnic discrimination, apartheid and ethnic cleansing."
However, it is very regrettable that Lhasa is currently experiencing ethnic discrimination, apartheid and ethnic cleansing. And those who are responsible are not outsiders but the Communist Tibetan authorities themselves. The complaints of the Tibetans in Lhasa have already been heard everywhere. The reason I have to emphasize the complaints of Tibetans is that this only affects Tibetans and it does not involve any people from Han, Hui or other ethnic groups. Among all Tibetans, all those who do not hold a household registration certificate in Lhasa, or do not hold a temporary residence permit, particularly Tibetans from Amdo and Kham (which have been separated into parts of Sichuan, Qinghai, Gansu and Yunnan provinces as well as the Chamdo prefecture in the Tibet Autonomous Region), whether they have come to worship at the temple or to do business in Lhasa, they are without exception detained and then expelled from the city.
It all started at the beginning of April when authorities at Lhasa's three main monasteries −Drepung, Sera, Ganden− arrested up to a thousand monks from Amdo and Kham who had come to Lhasa to study Buddhism. They used the train link between Tibet and Qinghai to send them to a military prison in Golmud. The monks remained in detention there for three or four months, depending on the situation, before being sent back by various officials or policemen to their native region. This is a form of apartheid and ethnic cleansing towards monks coming from outside Lhasa to study. Later, such operations have been carried out on a larger scale.
Since April 23, the various offices and the neighborhood committees under the local government of Lhasa city proper started to carry out checks on people under their jurisdiction. All the people holding a household registration had to be checked, and had to photocopy their ID and household registration certificate as well as hand in their photograph. Outsiders who did not hold a Lhasa household registration had to register. During this registration process, both the landlord and the tenant had to produce the relevant certificate, ID and temporary residence permit. Besides, the landlord must vouch for his tenant with the "Three Knows": that he knows the tenant's full name, that he knows the tenant's birthplace and that he knows the tenant's profession. Stricter checks were carried out on people who did not hold the three crucial certificates – ID, temporary residence permit and birth certificate. It was reported in Tibet Business Daily that at least two hours were needed to obtain a temporary residence permit, but in reality it is very difficult for Tibetans from outside Lhasa to secure this certificate, which is very simple for Han and Hui people who have come to Lhasa to work temporarily to obtain. And even for Tibetan people who do hold a temporary residence permit, there still is a possibility that they will be expelled.
Every work unit in Lhasa also required all their employees to produce a copy of their ID and household registration as well as a photograph. All people listed on household registration of each employee also had to produce copies of ID and a one-inch photograph for each person − including infants. Each police station also repeatedly sent policemen to carry out checks at workplaces.
After the authorities had gathered information about all Tibetans, they started to implement in Lhasa what was described by Tibetans as a "major ethnic cleansing". If we think about the history of the old city of Lhasa, Lhasa has always been a holy place where Tibetans from all regions head to and has been the homeland with traditional culture built by Tibetans from all regions for a thousand years. And the "major ethnic cleansing" carried out by the authorities, which is much greater than that occurred in the "Cultural Revolution", demonstrates that the Communist regime has damaged and even destroyed the Tibetan people's way of life and traditional culture. Another aspect is that this "major ethnic cleansing", which only targeted at Tibetans, is being carried out as a result of the Chinese authority's effort to prevent any future outburst of Tibetan protests in Lhasa. However, the result is that in the future Lhasa will only be inhabited by a few remaining Tibetans from Lhasa; the rest of the people living in Lhasa will be people from other ethnic groups such as Hans or Huis who evolved from playing the role of guests to the role of owners. And in the course of this large-scale assimilation by ethnic groups from outside, Lhasa will completely lose its identity.
To put it in a nutshell, Lhasa is currently being silenced and experiencing ethnic discrimination, ethnic segregation and ethnic cleansing. And under such a tight control, the outside world experiences difficulties in getting to know the terrible truth of human rights violations. May the outside world support the ideals of justice and fairness and more people understand the intricacies of these events, and speak out for Tibetan people living in fear!
17th November, 2008
This post is also available in: Chinese (Simplified)