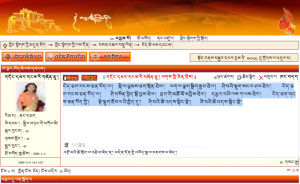 High Peaks Pure Earth has noticed that the main Tibetan language blog sites haven't been updated since 30th January 2009, including the blog site www.tibetabc.cn which hosts blogs from many well-known writers and artists from Tibet. It can't be a coincidence that none of them have updated since the same day.
The Tibetan language forum Tibet Youth is still active, as is the blog site mchod me, but both sites carry a notice from the webmaster urging netizens not to post any illegal or political messages.
However, High Peaks Pure Earth has found and translated this post from someone calling himself, Red Face, Youth of Snowland (gDong dmar gang ri gzhon nu) that was posted on 9th Febuary 2009.
Tibet, our land of snows
Chain around the neck,
Hands cuffed with iron rope
Death and Suffering,
Tibet, our land of snows
Door of death opened,
Submerged in an ocean of blood
Hell on earth.
Tibet, our land of snows
For happiness,
People sacrificed
Compassion to the dead
Compassion to the dead
This post is also available in: Tibetan