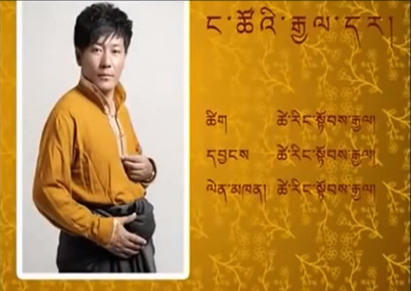 High Peaks Pure Earth has translated a music video called "Our Flag" by Tibetan singer Tsering Topgyal.
The music video has been online on sites such as YouTube since May 2012 but can not be found on Chinese video-hosting websites.
Combining a traditional sound with flute at the beginning and then rapping in between verses, this bold, hopeful and encouraging song calls on young Tibetans to unite and imagines a future time when the Tibetan flag can be raised. The Tibetan flag was also a central motif of the song "Raise the Tibetan Flag, Children of the Snowland" by Lolo.
Similar to last week's music video "My Ancestors" by Tsering Dhondup, the song dedicates a verse each to the Dalai Lama, Panchen Lama and Karmapa. Each of their official seats is also mentioned by name, the Potala, Tashi Lhunpo Monastery and Tsurpu Monastery. Interesting to note that in the third verse, Tsering Topgyal sings "Don't let the cattle be slaughtered", and this is the verse that mentions Karmapa, an environmentalist and vegetarian. This may also be a reference to the religious movement, the Slaughter Renunciation Movement in Tibet.
This is the 53rd Tibetan music video translated by High Peaks Pure Earth since the Wednesday music video series started towards the end of 2012. Please go back and watch our other videos using this link: http://highpeakspureearth.com/category/music-from-tibet/
Below are the subtitled music video and translated lyrics of "Our Flag":
"Our Flag" By Tsering Topgyal from HPeaks on Vimeo
"Our Flag"
By Tsering Topgyal
Lyrics: Tsering Topgyal
Composer: Tsering Topgyal
Singer: Tsering Topgyal
Children of the Snowland, let's unite
In the red Potala Palace
Victorious Tenzin Gyatso
Don't think he can't be seen there
Children of the Snowland, let's unite
Don't change the language and customs
When the auspicious day comes
We will be able to raise our flag
We will be able to raise our flag
[Rap repeats the verse]
Children of the Snowland, let's unite
Seeing Tashi Lhunpo monastery
Panchen, Buddha of Infinite Light
Don't think he can't be seen there
Children of the Snowland, let's unite
Don't lose the karma of this and the next life
When the auspicious day comes
We will be able to raise our flag
We will be able to raise our flag
[Rap repeats the verse]
Children of the Snowland, let's unite
Seeing Tsurpu monastery
Protector Karmapa
Don't think he can't be seen there
Children of the Snowland, let's unite
Don't let the cattle be slaughtered
When the auspicious day comes
We will be able to raise our flag
We will be able to raise our flag
[Rap repeats the verse]
Translation by High Peaks Pure Earth
For those unable to view the videos on Vimeo, there is also a High Peaks Pure Earth YouTube channel here with our music videos: http://www.youtube.com/highpeakspureearth